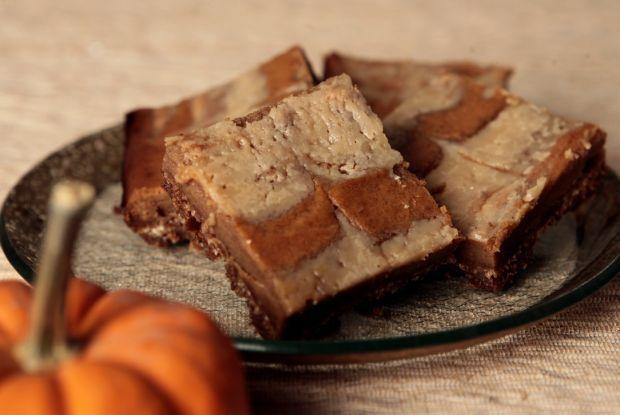 1 cup graham cracker crumbs
¾ cup light brown sugar, packed
6 ounces cream cheese, at room temperature and very soft
1/3 heaping cup pumpkin purée
2½ teaspoons pumpkin pie spice
1 teaspoon vanilla extract
2 tablespoons all-purpose flour
½ cup thick salted caramel sauce, see note
Note: For caramel sauce, either make your own (recipe follows) or use store-bought. But do not use ice cream or sundae sauce made with corn syrup listed as the first ingredient; it will be too thin.
1. Preheat oven to 350 degrees. Line an 8-by-8-inch baking pan with aluminum foil, leaving an overhang on 2 sides, and spray with cooking spray. Set aside.
2. For the crust: In a medium, microwave-safe bowl, melt the butter, about 1 minute on high power. Add the graham cracker crumbs, brown sugar, cornstarch and salt, if using. Mix well with a fork to combine. Pour the crumbs into the prepared pan and use a spatula to pack the mixture firmly into the pan in an even, flat layer. Set aside.
3. For the filling: In a medium bowl (you can use the same, unwashed bowl), combine egg, cream cheese, sugar, pumpkin, pumpkin pie spice and vanilla, and whisk (or use a mixer) until smooth and combined. The softer the cream cheese, the easier the mixture comes together. Add the flour and mix just to incorporate. Do not overmix.
4. Pour the filling into the crust. Top with caramel sauce, swirled in a fanciful design.
5. Bake 40 minutes or until center is set with very little jiggle; some looseness is OK, but there should be no sloshing in the center. A toothpick inserted in the center should come out mostly clean or with just a few moist crumbs. Cool bars in pan for 1 hour before lifting out, using the foil overhang, and slicing. They are best when served chilled: Cover the pan with foil and refrigerate 2 hours or overnight before slicing and serving. Bars will keep in an airtight container in the refrigerator for up to 1 week.
Per serving: 331 calories; 18g fat; 11g saturated fat; 67mg cholesterol; 2g protein; 40g carbohydrate; 34g sugar; 1g fiber; 140mg sodium; 41mg calcium.
Recipe from "Cooking With Pumpkin" by Averie Sunshine
1 tablespoon vanilla extract
½ stick (4 tablespoons) butter
½ to 1 teaspoon kosher salt, or to taste, see note
Note: If using table salt, use less — perhaps ¼ to ¾ teaspoon.
1. In a heavy-bottomed saucepan, combine the sugar and water. Heat over medium-low heat until the sugar dissolves, stirring occasionally.
2. Raise the heat to medium-high and bring to a boil without stirring. Carefully use a wet pastry brush or damp paper towel to wipe down any crystals that cling to the sides of the saucepan. Failure to remove them could result in a grainy sauce. Boil until the mixture is a deep amber color, about 5 to 6 minutes; it will turn color fairly quickly.
3. Remove the pan from the heat and carefully whisk in the cream; the mixture will bubble up vigorously. Add the vanilla; it will bubble up again. Stir in the butter and salt to taste. Transfer the caramel to a glass or heatproof jar with a lid. Caramel sauce will keep airtight for months in the refrigerator.
Per (1 tablespoon) serving: 115 calories; 7g fat; 4g saturated fat; 23mg cholesterol; no protein; 13g carbohydrate; 13g sugar; no fiber; 65mg sodium; 10mg calcium.
Recipe from "Cooking With Pumpkin" by Averie Sunshine