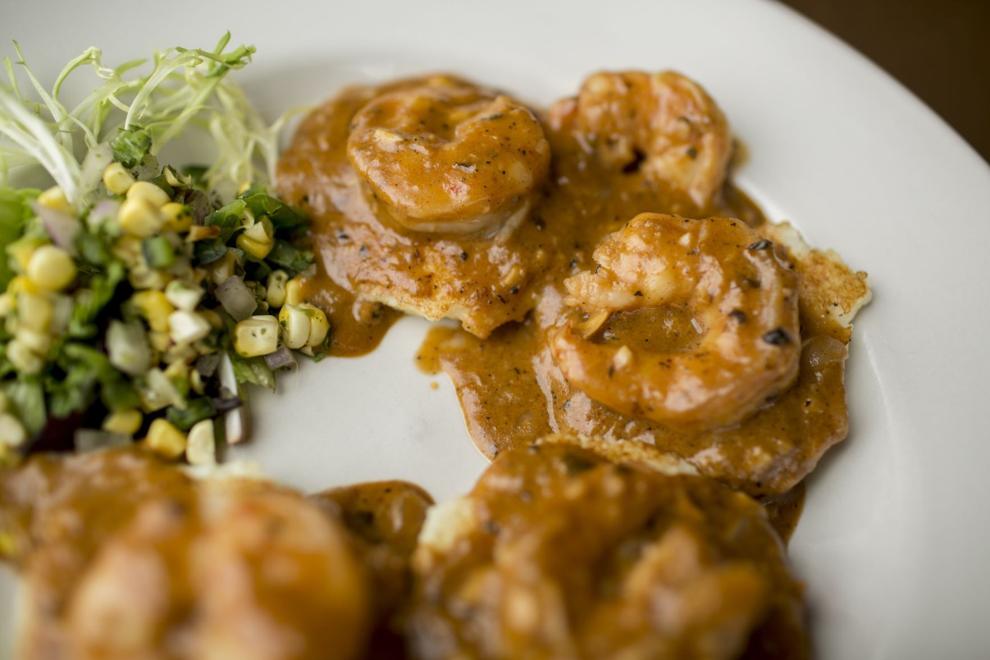 1 ½ teaspoons chicken base
3 teaspoons clam base, divided
½ pound cotija cheese, shredded or finely crumbled
¼ pound provel cheese, shredded
½ teaspoon black ground pepper
½ teaspoon granulated garlic
1 cup fresh roasted or grilled corn kernels cut off cob
¼ cup finely chopped red onion
¼ cup finely chopped seeded poblano pepper
1 tablespoon fresh finely chopped parsley leaves
1 tablespoon sliced green onions, white and green parts
2 sticks unsalted butter, softened, divided
¼ cup Worcestershire sauce
¼ cup Cajun-style barbecue sauce
¼ cup Sriracha-style hot sauce
½ cup white onion cut in ¼-inch dice
1 tablespoon finely chopped fresh sage leaves
2 tablespoons roughly chopped fresh garlic
2 tablespoons all-purpose flour
1 to 2 tablespoons vegetable or canola oil
24 peeled and deveined shrimp (2 pounds shelled)
2 cups mixed leafy greens
Notes: This dish has 5 elements: cheesy grits, corn salsa, clam gravy, compound butter and shrimp.
• The corn salsa and compound butter may be made ahead of time and refrigerated.
• Use regular grits, not quick-cooking grits, for this recipe. The grits will be a little stiff as they will be made into cakes.
• Chicken and clam base are soup bases, available at better grocers. Better than Bouillon, Minor's and Knorr are brand names for these bases.
• Cajun barbecue sauce brand names include Russell's, Daigles and Bulls-eye. You can make your own by adding a Cajun spice rub like Zatarain's to a tomato-based smoky sauce.
• Sister Cities is planning to sell their proprietary Creole rub. For this recipe we used Tony Chachere's Creole seasoning. There is also a Creole seasoning from Zatarain's.
1. To cook the grits, bring water to a boil, then stir in 1½ teaspoons each of clam and chicken bases. Slowly pour in the grits, stirring continuously until the grits are well-mixed. Return the pot to a boil then reduce heat to a simmer. Stir continuously until the grits are done, about 25 to 30 minutes. Pour grits into a large mixing bowl, then stir in both cheeses until thoroughly absorbed. Set aside.
2. Combine the salt, pepper and granulated garlic in a small dish. This seasoning is called SPG.
3. To make the corn salsa, combine corn, red onion, poblano pepper, parsley and sliced green onions. Sprinkle with ½ teaspoon of SPG. Squeeze lime juice over all, then stir to blend, cover and set aside.
4. Next, make the compound butter for cooking the shrimp. Mix 1 stick of softened butter with Worcestershire sauce, barbecue sauce and hot sauce until evenly incorporated. Set aside.
5. Prepare the clam gravy/sauce for the dish next. Melt the remaining stick of butter in an 8- or 9-inch skillet over medium-high heat. When the butter is just melted, add diced white onion, sage and chopped garlic. Stir together, reduce heat to medium, and cook for 3 minutes. Sprinkle flour over the cooked mixture and stir it in. Continually stir for 5 minutes to make a light roux. Continue stirring and slowly pour in the milk. Add the remaining clam base to the gravy and stir in. Bring mixture to a low boil over medium-high heat, then reduce to a low simmer and cook for 5 minutes. Turn off the heat, cover pan and keep warm.
6. To make the grits cakes, use a large nonstick griddle pan or two nonstick skillets. Wipe the surface of the pans with vegetable or canola oil on a paper towel. You will be cooking 16 grits cakes. Heat the pan first. Scoop out the grits mixture using either a No. 20 disher/scoop or scant ¼ cup measure.
7. Place scoops flat side down on the cooking surface. Do not press them down. When the grits cakes get a good sear on the bottom, flip them gently, then form them to make ½-inch thick patties. When both sides are seared, remove to a plate and keep covered in a warm place until done.
8. Next, cook the shrimp. Add the compound butter to a cold large 10- or 12-inch nonstick skillet or large sauté pan. Top with shrimp. Sprinkle shrimp with remaining 1 teaspoon SPG and Creole seasoning.
9. Have dry white wine and ½ cup clam gravy ready at the side of the stove. Cook shrimp over medium heat until the shrimp are about three-quarters done, approximately 3 to 5 minutes. Turn up heat to high. As soon as the butter begins to sizzle, add white wine and stir to deglaze the pan. Reduce heat to a simmer. Swirl in 4 ounces of the clam gravy and simmer on low until the shrimp are done.
10. To plate the dish, you will use 4 grits cakes and 6 shrimp for each serving. Place a small mound of salad greens (optional) on each plate. Top greens with corn salsa. Place cakes on plate, top with shrimp and pour remaining clam gravy over the shrimp and grits cakes, not over the greens and salsa.
Per serving: 1,273 calories; 80g fat; 46g saturated fat; 477mg cholesterol; 57g protein; 80g carbohydrate; 17g sugar; 9g fiber; 3,284mg sodium; 867mg calcium