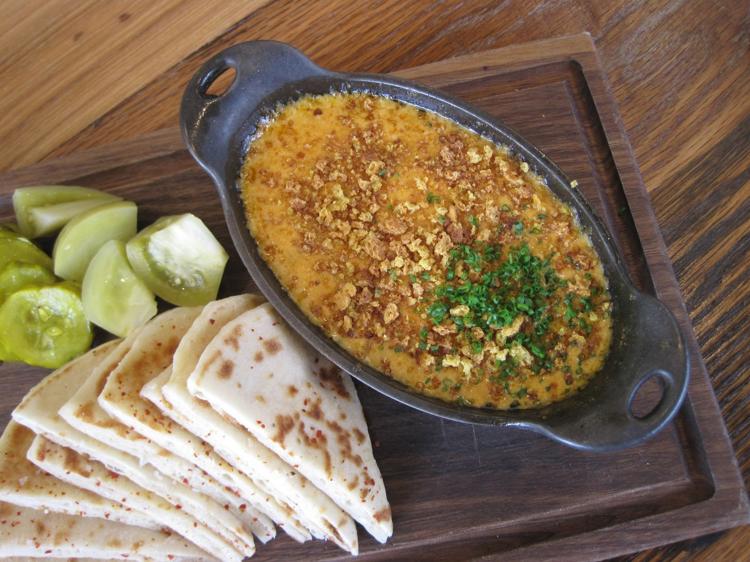 Yield: 8 servings
1 red bell pepper
¼ pound yellow cheddar cheese
¼ pound white cheddar cheese
¼ cup southern-style mayonnaise
½ teaspoon Dijon mustard
¼ cup cream cheese (optional)
¾ teaspoon smoked paprika
Pinch of cayenne pepper
1 tablespoon hot sauce
1 tablespoon fermented pickle juice
Salt to taste
2 tablespoons cornbread crumbs
2 tablespoons minced fresh Italian parsley
Notes: Keep the cheeses cold in the refrigerator until ready to grate them.
• Juniper uses Duke's mayonnaise for this recipe, which has a distinctive flavor.
• Be sure to use smoked paprika for this dish.
• Juniper uses Crystal Hot Sauce as the hot sauce.
• While Juniper uses a flavorful garlicky juice from the pickles they make in house, any pickle juice will do.
• The optional ¼ cup of cream cheese adds an extra creaminess and keeps the dip from separating, but it is not used in the Juniper recipe.
• The dip is baked and served in cast iron at Juniper, which helps it retain heat. You may use individual 6- or 8-ounce ramekins for this appetizer. Adjust the timing of the bake accordingly.
• The bread Juniper uses with this dip is similar to a pita or to the Indian bread naan. Choose your favorite breads or crackers here.
1. Preheat the oven to 350 degrees, or 325 degrees for glass pans.
2. Rinse, then roast the red pepper, using your favorite method — oven roasted, broiled, flame roasted or charred on the grill — until the skin is evenly blistered. Place roasted pepper in a paper bag and let rest 10 minutes.
3. Remove, then cut the pepper vertically down one side and open it flat. The stem and seeds should pull away easily. Wipe away any loose seeds with a paper towel. Turn the pepper skin side up and work the blistered skin away from the flesh. Cut the roasted pepper in a ¼-inch dice and set aside.
4. Grate the cold cheddar cheeses using the large holes on a box grater or a food processor fitted with a grating disc. Toss the cheeses together in a mixing bowl. Add the diced red peppers and fold into the cheese.
5. In a separate mixing bowl, blend the mayonnaise, Dijon mustard, smoked paprika and cayenne pepper. If using the optional cream cheese, add it in this step.
6. Stir the mix into the cheeses. Add hot sauce and pickle juice and stir to blend evenly.
7. Taste. Add salt if needed.
8. Transfer the mixed dip into a 1-½ quart baking dish. Bake for 15 minutes, then remove and top with cornbread crumbs. Return to the oven and bake an additional 5 to 7 minutes.
9. Remove to a wire rack to cool slightly.
10. Top with chopped parsley.
11. Serve with assorted pickles, breads or crackers.
Per serving: 198 calories; 18 fat; 8g saturated fat; 41mg cholesterol; 8g protein; 3g carbohydrate; 1g sugar; 1g fiber; 281mg sodium; 224mg calcium