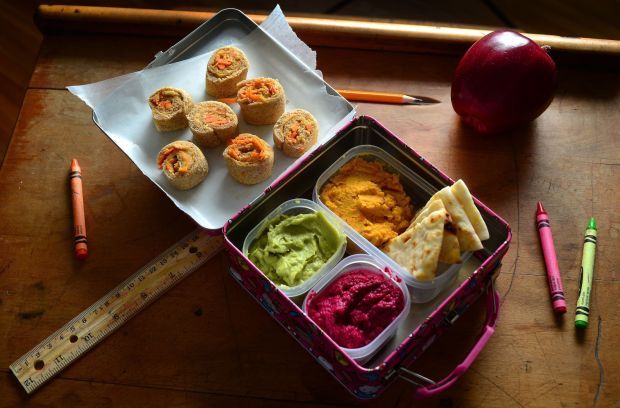 What's the first lesson of lunch?
Yes, it has a weird name (say it like we're humming together — "hum us.") And yes, it is usually made from ground-up chickpeas, which sounds like it should have all the joy of eating library paste.
But stick with me on this: If you think of it as the Middle East's answer to peanut butter, it can be your best friend when it's time to pack tasty, healthful lunches, for kids and adults both.
"I use it for everything," agrees Catherine McCord, the editor of the children's food website Weelicious.com. "I almost always have a batch in the refrigerator. It's so easy, it's inexpensive, it keeps for a week, plus."
It also can be a lot more than just ground-up beans. And tasting like library paste? That attitude is so 20th century.
McCord's 2013 book, "Weelicious Lunches," was the first place I saw a recipe for Roasted Carrot Hummus and realized that hummus didn't have to be boring.
Pretty soon, I started seeing hummus variations everywhere — beet hummus, edamame hummus, pumpkin hummus, red pepper hummus. Georgia chef Hugh Acheson even makes a boiled-peanut hummus (it's darn tasty, too).
In America, hummus has taken off lately: In 2006, it was found in only 12 percent of American households. That's now up to 20 percent and growing fast. Because chickpeas are high in protein, grinding them up and mixing them with a few other ingredients make them a filling and affordable alternative to high-fat snacks. If you're not a vegan or vegetarian, getting to know this basic technique a little better has plenty of advantages.
Hummus, of course, has been around the Middle East for centuries. People eat it almost every day there, always as a dip with pita bread, always made with chickpeas and tahini, the sesame seed paste that's called tarator in Lebanon. The word "hummus" actually means "chickpea."
To consider hummus in its native setting, I reached out to Joumana Accad, the author of the new book "Taste of Beirut." Accad divides her time between Texas and Lebanon, where I reached her by email.
In Beirut, she told me, people still stick to the traditional version. A few chefs try variations, but those haven't caught on. It's definitely everywhere, though, and eaten almost every day.
"In Lebanon, hummus is as common as hot dogs and tater tots to kids in the U.S. Everybody eats it, children and adults."
In America, though, even Accad mixes it up with her hummus. Her new book includes beet hummus, and her blog, tasteofbeirut.com, includes variations like zucchini. She's even made it with green Hatch chiles.
McCord has branched out even more: White bean basil hummus, avocado hummus. She started playing with hummus as a baby food when her kids were small. Now that they're 5 and 7, she's found it's a great way to get them to eat different vegetables.
"Once your baby gets past that 12-month phase, you want to get as much nutrition in them as possible," she says. "A lot of parents complain they can't get their kids to eat anything nutritious.
"Hummus is something that even the pickiest of eaters would want to eat."
It's also a good lunchbox solution, and not just for vegan and vegetarian kids, she says. Children with peanut allergies can often eat hummus because it's made with tahini instead of peanut butter. (Read the label carefully, though: Some tahini includes peanut oil or is processed in plants where nut butters are made.)
McCord uses it as a sandwich spread, and she sends her kids to school with different flavors of hummus and lightly steamed or raw vegetables for dipping, including all colors of bell pepper strips, sugar snap peas, cherry tomatoes and celery.
"How many kids will eat beets?" she says. "But red beet hummus — it's vibrant, it's colorful, it's pink. I've seen both of my kids eat fistfuls of it."
You don't have to use hummus only with pita triangles. Use it for:
• Deviled eggs, mixed with cooked yolks.
• Salad pizza. Spread it on flatbread and bake, then top with fresh greens tossed with oil and vinegar and crumbled feta.
• Chicken salad or egg salad, to replace or cut down on the mayonnaise.
• A warm dip. Top it with a little butter and pine nuts and bake it.
• Pasta salad dressing. Mix a little with oil and vinegar.
Traditionally, "hummus" means chickpea, and it is made with olive oil, lemon juice and tahini.
• Chickpeas. Called garbanzo beans in Spain and ceci in Italy. You can use canned beans or cook dried beans. For really smooth hummus, skin them: Add 1 teaspoon baking soda to the cooking water for dried beans, or lightly squeeze rinsed canned beans.
• Tahini. A paste of ground sesame seeds. Look for it in the supermarket near the peanut butter or on the international aisle. Stir it well to remix the oil (try an immersion blender), then refrigerate it almost indefinitely. You can substitute natural peanut butter or almond butter in many recipes.