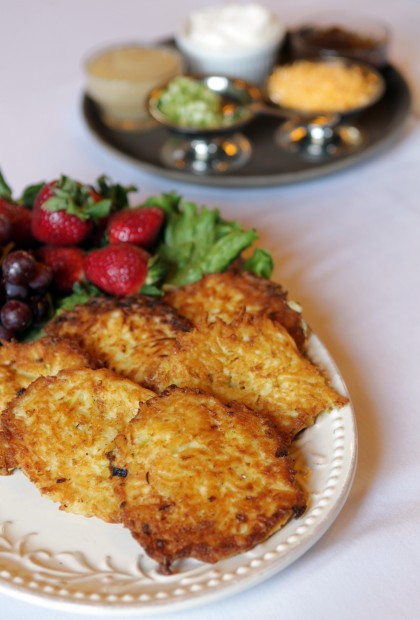 Q: Would you please get the recipe for the potato pancakes at the Bevo Mill?
A: If these walls could talk, oh, the stories they might tell.
The five-story Dutch windmill at Morgan Ford Road and Gravois Avenue has been a St. Louis landmark for nearly 100 years. August Busch Sr. selected the site at the midpoint between the Anheuser-Busch Brewery and the family's home at Grant's Farm. The mill was completed in 1916, the same year that Anheuser-Busch introduced Bevo, the non-alcoholic beer that helped the company survive Prohibition.
In the late 1970s and early 1980s, Milan Manjencich grew up in the Bevo neighborhood. He rode his bicycle past the windmill but never passed through its doors: His family didn't have the means for coat-and-tie restaurants.
In 2009, In-Bev acquired Anheuser-Busch and quickly deeded the Bevo Mill to the city of St. Louis. The city selected Manjencich and Louie Lausevich of L&M Catering, which also owns Gourmet Food Works, as the restaurant's new operators.
L&M invested $500,000 to restore the restaurant's porcelain murals, stained glass, wood fixtures, Missouri-stone fireplaces and stone-carved gnomes from the 1898 Paris Exhibition, Manjencich said. Both dining rooms are bright with natural light and retain the feeling of Old-World tradition and casual elegance.
The Bevo Mill now serves a lavish brunch on Sundays and hosts weddings, parties and private events. Come warm weather, Bevo Mill will open the patio on Friday evenings and offer live music.
Manjencich spends the week in the kitchen preparing the dishes that will be served for Sunday brunch and weekend events. Much of the food, he said, is made from scratch. He would like Bevo Mill to be as much a food destination as a fond memory.
These traditional German-style potato pancakes are inspired by a recipe from his Austrian godmother. Manjencich grates two kinds of potatoes, Yukon Golds for sweetness and structure and russets for creaminess and binding. Baking powder transforms the patties into real pancakes, not just grated potatoes fried crisp like hash browns. On the side are sour cream, chopped green onion, horseradish or, for an authentic German experience, applesauce.
As for those stories, as Sunday brunch begins to quiet down, Manjencich moves from table to table, often lingering to hear the tales that Bevo Mill patrons are happy to share.
Special Request is written by Kirkwood resident Alanna Kellogg, author of the online recipe column KitchenParade.com and 'veggie evangelist' at her food blog about vegetables, A Veggie Venture.