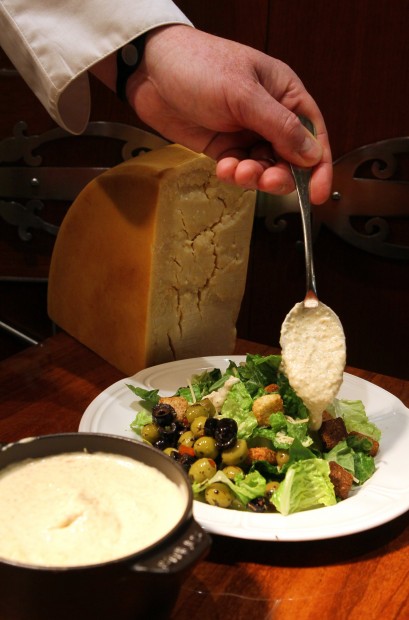 Q: The Smoky Onion Caesar Salad Dressing at The Great Food Exposition at River City Casino is delicious and unique. In all of the restaurants we have visited across the country, we have never tasted a salad dressing like this one.
A: Winning big at a casino is a long shot — but the odds favor discriminating eaters at the area's newest casino.
River City Casino opened last year along the Mississippi River south of downtown St. Louis in Lemay.
John Johnson, the executive chef, heads a food operation with five restaurants (the buffet at The Great Food Exposition, a burger joint, a casual cafe, a steakhouse and a restaurant featuring craft beers) and the equivalent of a sixth restaurant, the employee dining room, where 900 to 1,200 meals are served each day. He says that most of the food is made on site from scratch, including smoked sausages, fresh cheeses, pizza doughs, sushi and homemade ice creams.
He developed the smoky onion dressing during his tenure in Las Vegas, upping the mustard a touch to adapt to the tastes preferred by St. Louisans. The dressing starts off with a smoked onion — home cooks can smoke onions in an outdoor smoker or a stovetop smoker. Johnson says that at home, he smokes onions on his grill, letting them cook slowly over low heat, adding wet wood chips to produce a good smoke.
What surprises Johnson most about the food tastes of his St. Louis guests? "Vegetables!" he answers. "People here love fresh vegetables. Sweet potatoes. Green beans. Even Brussels sprouts."
Special Request is written by Kirkwood resident Alanna Kellogg, author of the online recipe column KitchenParade.com and 'veggie evangelist' at the food blog about vegetables, A Veggie Venture.