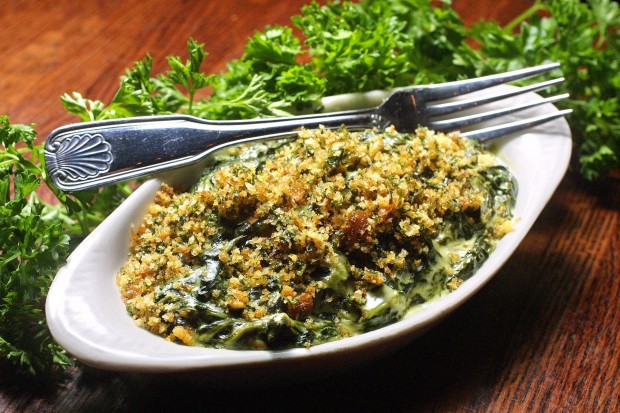 Lotawata Creek Southern Grill
Yield: 8 generous servings
1/4 cup ( 1/2 stick) butter
1/2 cup diced white onion
1/2 teaspoon minced garlic
5 tablespoons all-purpose flour
3/4 cup plus 2 tablespoons heavy cream
1 tablespoon plus 1 teaspoon granulated sugar
1/2 teaspoon ground black pepper
1/2 teaspoon garlic powder
Garlic bread crumbs (see note)
Preheat oven to 350 degrees.
Dunk spinach into a large pan of boiling water, stir a minute until soft, then remove to a colander to drain, pressing occasionally to remove excess liquid. Do not squeeze dry.
In a soup pot or Dutch oven, melt butter. Add onion and garlic; saute over medium heat until just beginning to brown. Stir in flour; cook 2 to 3 minutes, stirring frequently until flour is golden brown. Add half-and-half and cream; mix well. Cook until thickened, about 5 minutes, stirring frequently; stir in sugar, salt, pepper and garlic powder. Stir in drained spinach; remove from heat.
Coat a 7-by-10-inch baking pan with cooking spray; add spinach mixture. Bake about 20 minutes, then top with garlic bread crumbs and bake about 20 minutes more, until sides begin to brown.
PER SERVING: 258 calories; 20g fat (70 percent calories from fat); 12g saturated fat; 71mg cholesterol; 6g protein; 13.5g carbohydrate; 5g sugar; 4g fiber; 408mg sodium; 188mg calcium; 471mg potassium.
Note: Garlic bread crumbs are a byproduct of the restaurant's homemade garlic croutons. To make just the crumbs for garnish, crumble a few slices of dry white bread, toss with melted butter, toast in the oven at 325 degrees until golden, then sprinkle with garlic powder.
Testers' note: Don't cook the spinach before adding; dip it in hot water just until it becomes pliable, then drain well.