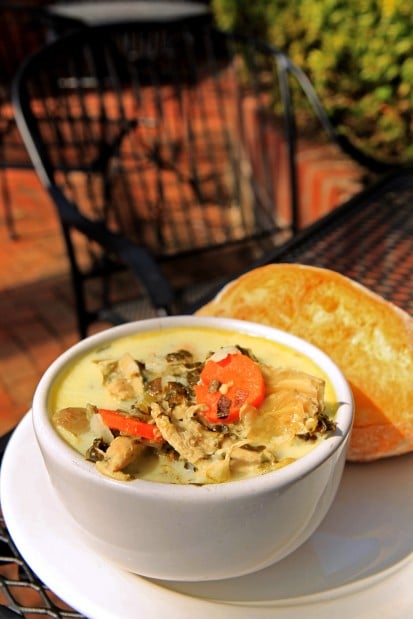 Q: A friend and I had lunch at Companion at the Market Place in Ladue, where we had the best soup I've ever eaten. It was a Chicken Artichoke Brie Soup. Would it be possible to obtain the recipe?
Catherine A. Faught, Chesterfield
A: It's early spring in St. Louis — not only the season invoked by the calendar but the one that surprises us with a noticeable new cast in the afternoon light, an earthy dampness as early plants muscle their way out of the ground, a certain friskiness in the squirrels. We shed winter coats for spring jackets, and we decide it's time to swap out winter's braised meats for lighter but still hearty fare.
Companion's Chicken Artichoke Brie Soup can help bridge the seasons. It's creamy but not heavy with cream. It's packed with fresh vegetables but contains a good measure of tender chicken.
Companion co-owner Jodi Allen says that the soup is a customer favorite at its Ladue and Clayton cafes, especially with one of the bakery's signature French rolls alongside. As part of a rotation of homemade soups, it makes the menu about once a week. Allen recommends checking for the day's soup and other daily specials on Companion's website, CompanionStl.com.
Better yet, make the soup at home, especially if there's time to make homemade chicken stock beforehand. Like roadside daffodils, this soup just might become a hallmark of spring in our city.
Special Request is written by Kirkwood resident Alanna Kellogg, author of the online recipe column KitchenParade.com and "veggie evangelist" at the food blog about vegetables, A Veggie Venture.