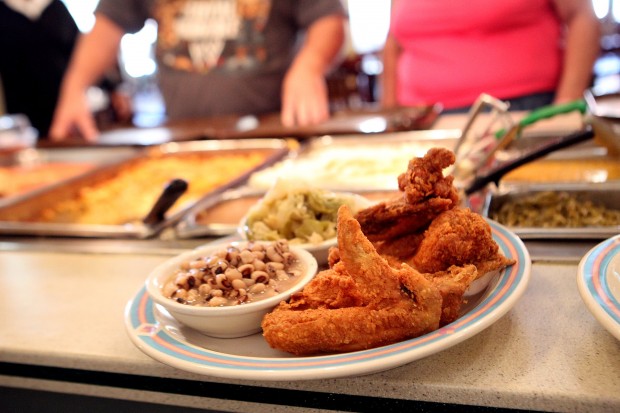 While it might take an average home cook several minutes to break down a whole chicken into parts, John "Pop" Banks cleaves through a half-dozen birds in less than two minutes.
Banks' well-honed knife skills come after years of practice in restaurant kitchens, the past three as a cook at Sweetie Pie's at the Mangrove in the Grove neighborhood.
"When you've been cooking as long as I have, you just get a feel for these things," said Banks, 68, whose kitchen posts have included a 15-year stint at the old Playboy Club on Lindell. "We gotta work quick back here, or else they run out of food out there (in the dining room) real fast."
Starting at 8 p.m. Saturday, television viewers nationwide will get a weekly glimpse behind the line at the St. Louis soul-food staple when "Welcome to Sweetie Pie's" premieres on Oprah Winfrey's OWN network. The new docu-reality series follows Sweetie Pie's owners Robbie Montgomery and her son Tim Norman, as well as their family, customers and employees like Banks, as they move toward opening a third restaurant, in Grand Center (the original location is in Dellwood).
"Most of the time, it's pure comedy — the cooks fighting over recipes, and Mom and I always arguing," said Norman. "But there's definitely some drama in there, too."
Outside of the kitchen, the drama from this week's episode revolves around Norman deciding whether to propose to his girlfriend, Jenae Wallick, and Montgomery putting up her home as collateral for a loan for the new restaurant.
The show also promises to deliver a good dose of heat from the Sweetie Pie's kitchen, which maintained a brisk pace during a weekday lunch rush last week. Montgomery opened the 150-seat restaurant in the Grove in 2003, where about 2,000 customers a week line up for her mac and cheese, fried chicken, oxtail, cornbread, Salisbury steak, braised cabbage, slow-cooked green beans, peach cobbler, and other Southern specialties.
A longtime performer — Montgomery was an Ikette, one of Ike and Tina Turner's backup singers — she is as comfortable charming diners as she is behind the stove. That's where she found herself at 6:30 a.m. Tuesday last week, when her head cook called in sick.
"In everything I've done — whether it's singing or owning a restaurant — I've always had the attitude that you have to do what it takes to make it work," she said during a supply run to Restaurant Depot. "The show must go on."
Even when she's not in the kitchen, Montgomery's presence is felt. A sign taped on a wall reads, "Do not alter Sweetie Pie's recipes under any circumstances. — Robbie." Some of those recipes, like her fried-chicken breading, are closely guarded secrets.
"It's got flour, seasoning salt, black pepper, a little garlic powder, and some behind-the-back stuff I can't tell you about," cook Steve White said with a laugh.
As the fried chicken man, White is responsible for one of Sweetie Pie's most popular items. His bag of tricks includes folding and tucking the wing tips into the shoulders before plunging them into the deep-fryer.
"This chicken is the first thing on the line," White said, talking about the cafeteria-style food line in Sweetie Pie's dining room. "People only have so much room on their plate, and just about everybody wants some fried chicken."
Other recipes, like for Montgomery's rich, three-cheese mac and cheese, are posted in plain sight in the kitchen, but her cooks have it committed to memory. You won't find any measuring cups or scales here, either.
"After a while, you get to know what an ounce feels like or how much a cup should be," Banks said.
That's the type of cooking Montgomery hopes to teach when she opens her new restaurant (spoiler alert: Her loan gets approved, and a Sweetie Pie's is set to open at Delmar and Grand early next year), which will include a soul-food culinary school.
"It's not going to be anything fancy or fussy," Norman said of his mom's plans for cooking classes. "She just wants to teach young people how to make mashed potatoes and things like that. She wants to show them how to cook like we do — from the heart, not from a cookbook."
That kind of cooking has earned Sweetie Pie's a loyal following in St. Louis and all over the country. The debut of "Welcome to Sweetie Pie's" on Saturday is sure to add more customers — and more fans.
"Every time I come back to town, I come here for the fried chicken and the candied yams," said Julia Duke, a Miami resident and former St. Louisan who stopped in to Sweetie Pie's for lunch last week. She said she plans to tune in to the show but hopes it doesn't make the restaurant so busy that she can't get in on her next visit.
"It probably will get even more popular than it is now," she said. "But I'm not sure if that's even possible."