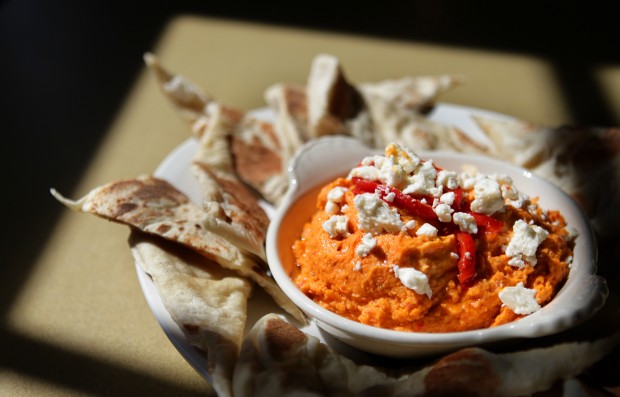 Q: My wife, Jan, and I had wanted to try PW Pizza since it opened. The high point of our meal was the Roasted Red Pepper Hummus.
— Charlie Raiser, Kirkwood
A: Take a whiff outside of PW: The yeasty-tomato-cheese aroma announces that good pizza is served inside.
PW Pizza opened this year. It's the newest restaurant from Paul and Wendy Hamilton, the "P" and the "W" in the pizzeria's name. Their first restaurant in the neighborhood was Eleven Eleven Mississippi, which is around the corner. PW Pizza takes up much of the first floor of what was once the malt house for the Joseph Schnaiders Brewing Co., which was one of the top three breweries in St. Louis in the 1870s. The late-Victorian building is now on the National Register of Historic Places. The Hamiltons have filled it with Vin de Set, an upscale bistro with a rooftop bar overlooking downtown; Moulin and the Malt House Cellar, venues for special events and corporate meetings; and Grand Petite Market, a small kitchen store.
Pamela Moore is PW Pizza's general manager. "Our pizza is styled after the pizza that Paul grew up with in Philadelphia, hand-tossed with a bubbly edge and great flavor," she said.
The pizza crust plays an important role in the hummus appetizer, which arrives in a big red mound topped with feta and roasted peppers and surrounded by warm wedges of pita made from the pizza dough but baked thinner and crisper.
"Everything here is house-made," Moore says. "The meatballs. The soups. The dressings. And of course, the pizza dough. We think we're the only place that makes gluten-free pizza dough from scratch."
---
8 ounces roasted red peppers, drained
2 (15-ounce) cans garbanzo beans, rinsed and drained
1/2 teaspoon grated lemon zest (colored portion of peel)
1 tablespoon fresh lemon juice
1/2 teaspoon freshly ground black pepper
1/4 teaspoon ground cumin
Ground red (cayenne) pepper
2 1/2 tablespoons olive oil
2 tablespoons crumbled feta cheese
Warm pita wedges or fresh vegetables, for serving
1. Cut a few strips of roasted red pepper to use for a garnish; set aside.
2. In a food processor fitted with the steel blade, combine the remaining roasted red peppers, garbanzo beans, garlic, lemon zest, lemon juice, black pepper, cumin and a dash or two of cayenne. Pulse to chop and combine ingredients. With the motor running, slowly add the oil through the feed tube, processing just until combined. Stop the processor to scrape the sides as necessary.
3. To serve, mound hummus on a platter. Top with feta cheese and reserved red pepper strips, then surround with warm pita wedges or fresh vegetables.
Per 1/4 cup serving: 175 calories; 5g fat; 1g saturated fat; 2mg cholesterol; 6g protein; 26g carbohydrate; noa sugar; 4g fiber; 465mg sodium; 50mg calcium.
Recipe adapted for home kitchens by the Post-Dispatch
Special Request is written by Kirkwood resident Alanna Kellogg, author of the online recipe column KitchenParade.com and "veggie evangelist" at the food blog about vegetables, A Veggie Venture.