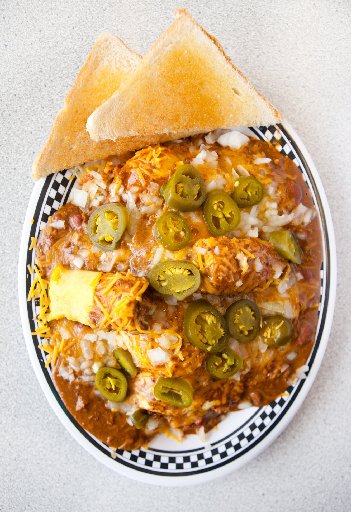 After midnight each Friday and Saturday night, the party crowd eases onto full-swivel stools at the original Courtesy Diner at 3153 South Kingshighway and at the newer location at 1121 Hampton Avenue. They come for coffee, for jukebox tunes, for easy banter with the waitresses. They devour slingers by the dozens.
These towering platters of fried eggs nested on a bed of hash browns, topped with a hamburger patty and diced raw onion, slathered in chili crowned with mounded grated cheese are the St. Louis late-night fave. Those who dare super-sling it by adding jalapeño slices, a tamale, a burrito and more chili.
"We'll serve 70 to 90 slingers each weekend night," said Courtesy owner Larry Rugg. "Some restaurants like to call themselves diners, but when you can see your food cooked right in front of you, that's a diner."
Look for more St. Louis favorites in this month's issue of Feast magazine, distributed widely at St. Louis-area supermarkets, restaurants and other venues and online at feastSTL.com.
Pat Eby contributed to this report.