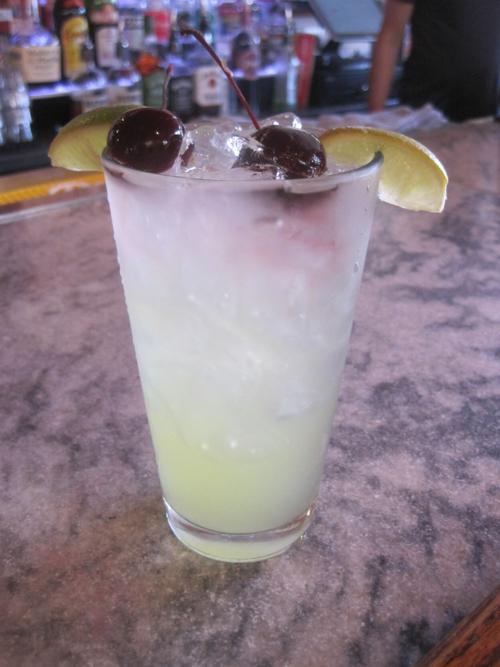 Q • I enjoyed the Baby Yoda Cocktail at Steve's Hot Dogs and would love to make it at home. Will they share the recipe? — John Seavers, Grand Center neighborhood
A • Fans of Steve's Hot Dogs already know owner Steve Ewing's collection of Star Wars collectibles is pretty amazing. When Baby Yoda showed up as a drink on the cocktail menu at Ewing's first bar inside his new location at the former Mangia Italiano on South Grand, it quickly became a best-seller.
With its bright cherry eyes and lime wedge ears, this drink's resemblance to the Child who came to the public's consciousness in "The Mandalorian" can't be dismissed. And, like its namesake, this drink steals the show.
"Baby Yoda is by far the best-selling cocktail on our drink menu," general manager Nick Ford says, "followed by Steve Ewing's favorite drink — Getting Hectic, our house-made margarita, and the Yippee Ki Yay."
So what hot dog pairs best with Baby Yoda? "Well, it's a Caribbean drink, so you can't go wrong with the Hawaii Five-O, and its spicy version, the Kilauea, and the Bacon Bacon Jamaican hot dog all complement the Caribbean flavors," Ford says.
For Ewing, the move to South Grand into the space formerly occupied by Mangia Italiano expanded his restaurant to 60 seats at well-spaced tables. "We only had 16 seats in our former location," he says. "We also have outdoor seating, and on Wednesdays we'll have music in the amphitheater next door," Ewing says.
Fans of the old Mangia will be glad to know the mural painted by the late artist Wayne St. Wayne remains in place. Ewing's extensive Star Wars collection has been pared down, however, to a few choice items hanging from the ceiling and to a heavily laden long shelf above the order counter. Still, there's plenty of Star Wars for fans to love, including the Baby Yoda Cocktail.
3145 South Grand Boulevard
Would you like to request a recipe from a restaurant that is still open in the St. Louis area? Send your request along with your full name and the city you live in to reciperequest@post-dispatch.com.