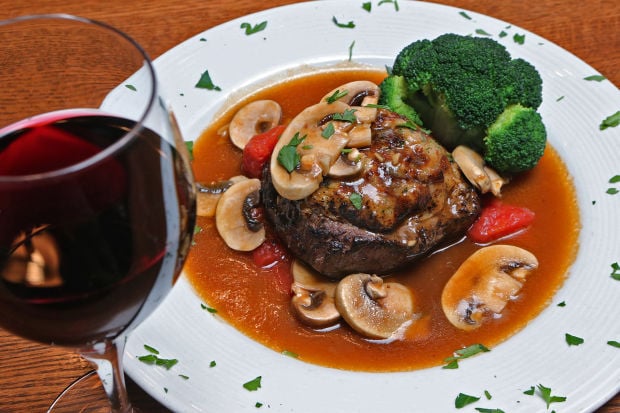 Q • I love re-creating dishes from special restaurants. My absolute favorite is the crabmeat-stuffed beef tenderloin from Bartolino's. — Jennifer Ramsey, O'Fallon, Mo.
A • Greg Jones has cooked for Saracino-family restaurants for 37 years and runs the kitchens for Bartolino's South on South Lindbergh Boulevard and Bartolino's Osteria on the Hill. The restaurants are a longstanding multigeneration tradition, he says. "People come in today, they first came in when they were kids."
Over the years, Jones has watched customers become more health-conscious. "People aren't eating those giant steaks anymore." Customers understand, he says, that Bartolino's tenderloin is a special treat. "It's got your beef. It's got your seafood. A bit of everything. One customer comes in every other week and every third visit, orders the tenderloin. That's her thing."
Jones offers several tips for home cooks. First, the meat. "Buy a good grade of meat, use the center cut of a tenderloin." Next, the crabmeat filling. To mix it, Jones says, "fold" the ingredients together but don't "knead" them, this helps the crab stay firm. Finally, the cooking. "The meat needs to cook quickly; otherwise, the stuffing will ooze out like a pancake." Under high heat, he says, the cheesy crab mixture can develop a little brown color; that is natural. But if it gets too dark, it's easy to peel it off.
Year-round, Bartolino's Crab-Stuffed Tenderloin is available upon request and is especially popular during the holidays. This week only, Bartolino's will offer the filet as a nightly dinner special at both restaurants. This week, Bartolino's Osteria is also participating in Restaurant Week on the Hill, three courses for $25 (not including the Crab-Stuffed Tenderloin).
---
5914 South Lindbergh Boulevard
Special Request is written by Town and Country resident Alanna Kellogg, author of the online recipe column KitchenParade.com and "veggie evangelist" at the food blog about vegetables, A Veggie Venture.