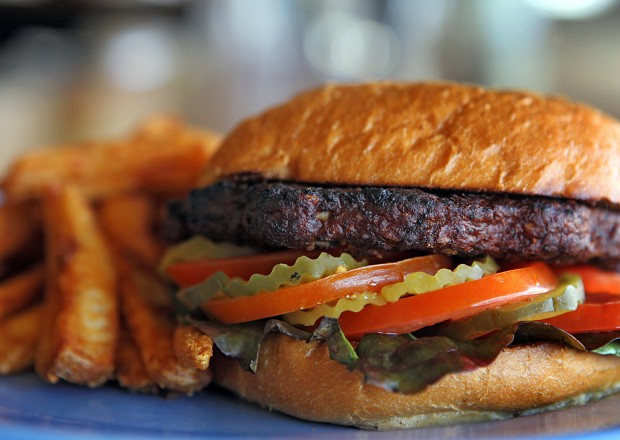 Q: Recently my 9-year-old granddaughter, Sydney, and I rode our bikes in Forest Park and decided to have lunch at the Boathouse. I ordered the Black Bean and Corn Veggie Burger and was surprised at how tasty, moist and satisfying it was. I've tried several recipes at home and have been disappointed. Would the Boathouse share its recipe?
A: "Everyone is more health conscious," says Boathouse executive chef Ali Iglesias, and more and more customers ask for vegetarian choices.
Basil hummus topped with feta and olives is a popular vegetarian appetizer. For something more substantial, Iglesias developed two sandwiches, a cold veggie wrap and a hot veggie burger.
"Our veggie burger has a smoky Southwest flavor," Iglesias says. The burger would fall apart on the grill, so he bakes them until warmed through, then browns them in a skillet.
The burgers are served on brioche buns, with lettuce leaves and slices of tomato, red onion and dill pickles. Iglesias says that diners some times ask the kitchen to add a slice of cheese.
The Boathouse's high season is May through November, when its outside seating is popular. Last year, the Boathouse opened an outside bar for drinks and appetizers only. It's outfitted with a line of colorful Adirondack and rocking chairs overlooking the lake. "People love the outside bar," says Iglesias. "It's the only place in the park where you can buy a drink. People just want to sit and look."
Special Request is written by Kirkwood resident Alanna Kellogg, author of the online recipe column KitchenParade.com and "veggie evangelist" at the food blog about vegetables, A Veggie Venture.
To request a restaurant recipe: Send the name and location of the restaurant and a description of the dish to RecipeRequest@post-dispatch.com. Restaurants featured in this column must be in the St. Louis area. Include your name and daytime phone number.