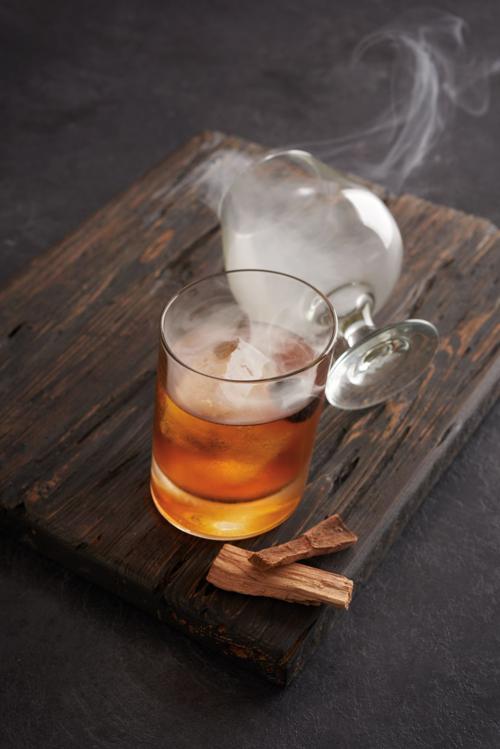 Q • I'd like a recipe for a classic smoked cocktail, one that works for drinks around the firepit in the fall. It could be an interesting drink for social gathering with a few friends. — George Buzkij, Webster Groves
A • This recipe from Bonefish Grill for a Smoked Old-Fashioned cocktail would be perfect to sip around the fire pit — at home, or on the patio at the St. Louis location of this fresh fish restaurant and bar in Brentwood, which celebrated its sixth anniversary in October.
At Bonefish, the drink is made with Woodford Reserve Bourbon, a silky smooth bourbon with notes of toffee, caramel and spices. What makes this drink especially nice around a fire on a perfect fall night is watching the smoke wisps waft and curl in the night air, a great visual. The smoke doesn't affect the taste of the drink much, but it adds a delicious wood fire smell to the sipping experience.
The cocktail was inspired by the wood-grilled technique Bonefish uses for fresh fish, translated to bring the same oak flavors to a drink. It's an impressive date-night cocktail, especially when paired with the appetizers and dinner at Bonefish on the patio, or in the spacious dining room.
"Our patio, which seats 40 guests, is covered, but it isn't closed in," says managing partner Nathaniel Nordstrom. "We have hanging ceiling heaters. We've had some beautiful days and nights this fall. Even if it's cold, if guests request it, we'll seat them on the patio."
The Smoked Old-Fashioned will be on the menu throughout the fall and winter, and will soon be joined by another favorite chill-chasing cocktail. "We're bringing back our infamous Winter White Cosmopolitan. People call me all year long. 'When is that coming back?' It's our own recipe, a mix of Vodka, Cointreau, St. Germain, fresh lime juice and white cranberry juice. To make it look pretty we drop in three frozen cranberries. It's picturesque, and it looks just as good as it tastes."
If a night out at Bonefish isn't in the cards, order online from the restaurant's full menu to make an evening at home by the fire even more special. Check their menu for Family Bundles, which are available for online ordering.
Each bundle includes a main selection paired with salad, fresh bread and pesto, and house-baked cookies to feed a crew of four or five. "Family bundles are a great, great value," Nordstrom says. "If you don't want to do the cooking, let us do the cooking for you. We also do delivery with Door Dash and Uber Eats.
"I'm actually a first-time father. My baby girl turned 2 months old November 5" he says. "My wife sends me pictures of what she's doing, and I run around the restaurant showing everyone how cute she is. It's how I've centered myself in these times. Bringing another human being into the world, and realizing now I'm responsible for somebody beside myself has given me a new perspective.
"Before I leave the restaurant, there's always a text message to the wife. 'Do you want me to bring home dinner tonight, or are you cooking something for us?' I sit there and wait for the response, and if needed, I'll go back into the kitchen and whip something up."
---
8780 Eager Road, Brentwood
Would you like to request a recipe from a restaurant that is still open in the St. Louis area? Send your request along with your full name and the city you live in to reciperequest@post-dispatch.com.
37 recipes from the top restaurants in St. Louis