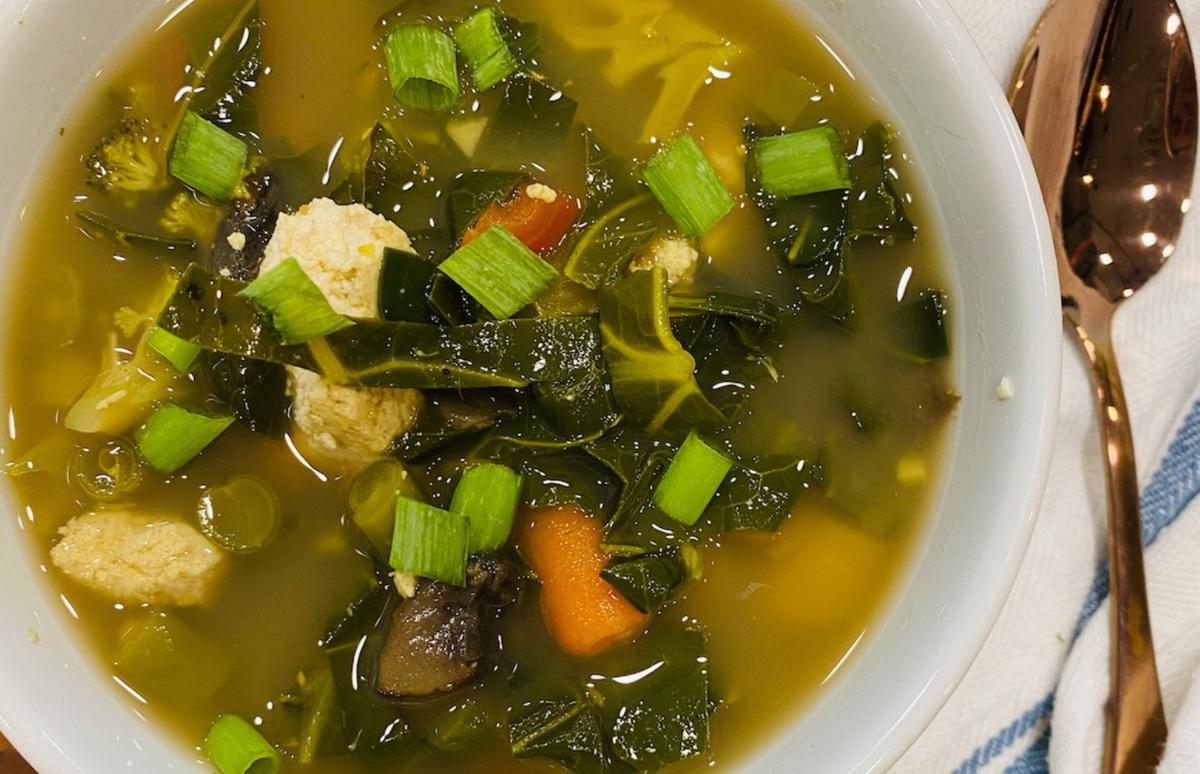 Q • I would like to have a recipe for a vegan or a vegetarian soup with a slightly different flavor, not tomato based, with lots of vegetables, greens and some protein. I do like the vegan chili recipe featured last year. — Peter B. Keen, Carondelet
A • Last year we featured Caryn Dugan's Big Bold Chili recipe, a vegan chili with two kinds of beans, good-for-you vegetables, tomatoes, herbs, mushrooms and bulgur as one of the comfort foods chefs loved in the early stages of the COVID-19 pandemic. We went back to Dugan at the Center for Plant-Based Living in Kirkwood to see what kind of vegan or vegetarian soup she might have. Her twist on a hearty vegetable soup introduces the Asian flavors of ginger and miso in a soup that's low in calories and high in nutrient density.
For this soup, Dugan uses nutrient powerhouses like mushrooms, collard greens, extra-firm tofu, broccoli, bell peppers, turmeric and even green tea to advantage. She varies the vegetable cuts from nubs of green beans, to bite-sized pieces of red bell pepper and fine ribbons of collards to create interesting textures and colors.
We cooked this test during the coldest days in St. Louis in years and enjoyed it for lunch and dinner as a first course. We also ladled it into small Japanese bowls as a low-calorie mid-afternoon snack. The recipe makes 12 to 14 cups of this flavorful soup. Unlike Dugan's vegan chili, it doesn't hold up well in the freezer. We tried it half-sized as well. It is easily divided for smaller households except for the tea bags, so we used two green tea bags for the half-sized version, which worked well.
Dugan maintains an active Facebook presence, and her Instagram account gives great detailed information about food, the plant-based community in St. Louis and resources for people who want to switch to vegetarian or vegan eating.
Dugan has a wealth of experience teaching people to "put a plant on every plate" with virtual classes, and small, socially distanced classes at the Center for Plant-Based Living in Kirkwood usually fill up on the first day of registration. Dugan's inventive classes help make the transition to plant-based cooking and eating easier. She has a core group of followers who show up for many of her classes. "I call them my plant posse," she says.
Since we last visited with her, she and Dr. Jim Loomis have developed a joint online teaching venture with a curriculum of health-based online classroom modules for nutrition, cooking and health called the Plant Based Academy.
"By far we've had the most requests for a safe and healthful plant-based weight-loss program, so that's the first series we will offer," Dugan says.
Details of the Weight Loss and Maintenance six-week program can be found at the Plant Based Academy on cpbl-stl.com. Registration for the program is open now.
The Center For Plant-Based Living
131 West Jefferson Avenue, Kirkwood
Would you like to request a recipe from a restaurant that is still open in the St. Louis area? Send your request along with your full name and the city you live in to reciperequest@post-dispatch.com.
45 recipes from some of St. Louis' favorite restaurants