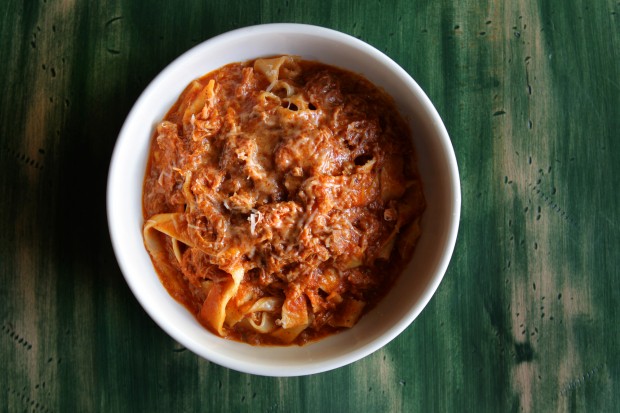 Q: I enjoy the entire menu at Mad Tomato in Clayton but I'd particularly love to have the recipe for one of their pasta dishes.
— John Griffin, University City
A: Vito Racanelli opened Mad Tomato in 2011 with the goal, he says, of serving "good food."
Racanelli's mother was born in Calabria in far southern Italy, his father in Puglia in southeastern Italy. "When I was a kid growing up in the Bronx, we would go back and forth to Italy," he says. "As I get older, I yearn to return to my roots, to what's familiar, what's comfortable."
What's comfortable at Mad Tomato is simple, rustic Italian food. When you order Maccheroni Larghi (pork rib ragu), Racanelli says, you're getting "Sunday dinner at Mom's house."
Food — and restaurants — run in his family. His brother John owns Racanelli's New York Pizzeria in University City, Kirkwood, Webster Groves and the Central West End. His brother Sam is Mad Tomato's "pizzaioli" (peet-za-YO-lo, pizza maker), fashioning hand-made pizzas on the restaurant's hearth, a blazing oven.
Mad Tomato also employs a "pastio" (past-EYE-oh, pasta maker) to craft tender, supple noodles from flour and water. "That's the way it should be," Racanelli says. "We save the eggs and oil for our sauces."
Special Request is written by Kirkwood resident Alanna Kellogg, author of the online recipe column KitchenParade.com and "veggie evangelist" at the food blog about vegetables, A Veggie Venture.