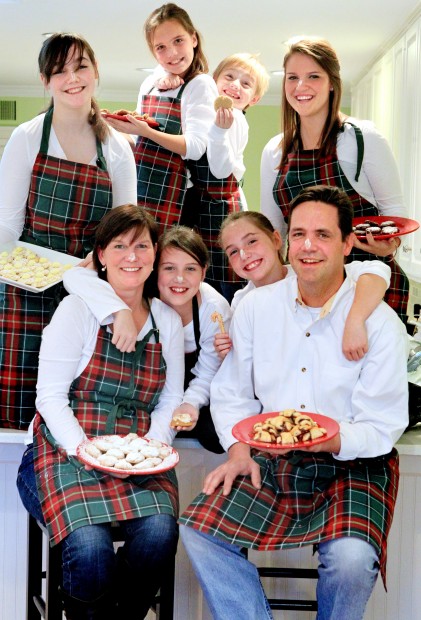 The Judd family of Kirkwood takes the annual ritual of holiday cookie-making to an entirely new level.
Patrick Judd, 46, has been a baker almost his entire professional life, opening Nuz Pudz sandwich shop in University City more than 20 years ago and transforming it into the Daily Bread Bakery & Cafe in 1993. It's now at 11719 Manchester Road in Des Peres.
Both Patrick and his wife, Carrie, 45, are the sixth in families of six children. And now they have six children of their own: Molly, 19; Meghan, 16; Annie, 12; twins Patty and Katie, 11; and Joe, 7.
The Judd family tradition is for each person in the family to pick a favorite cookie and for Patrick to bake it with them one on one or just a few at a time.
Patrick is self-taught. He remembers baking chocolate chip cookies when he was about 10, and he went back to that staple as the first baked-in-house sweet he made at the sandwich shop.
"I didn't have a mixer, so literally, we made all the dough by hand in a huge metal salad bowl," he says. "The first oven I bought was about the size of a microwave, so I could only make six to eight cookies at a time."
When Patrick wanted to expand his repertoire, he turned to a local bakers' cooperative to find mentors for time-tested baking techniques. These included, among others, the late Alphonse Dirriger, founder of La Bonne Bouchée in Creve Coeur, and Gunther Lorenscheit, who taught Judd to make strudel and other German pastries.
He eventually added more and more equipment and staff as the bakery side of the business grew. At the same time, Patrick's schedule became close to all-consuming.
"At one time, when we were doing wholesale, I barely had time to do anything else," he says. "I'd start my day at 1 or 2 in the morning."
Today, the Daily Bread is closed only for four days during the year, but the wholesale part of the business has gone away. Patrick's staff now includes a general manager and a team of bakers and support staff, a total of 42 full- and part-time employees.
The business still means many 12-hour days, but Patrick is also able to find enough time to bake even more when he comes home and to continue a unique family ritual.