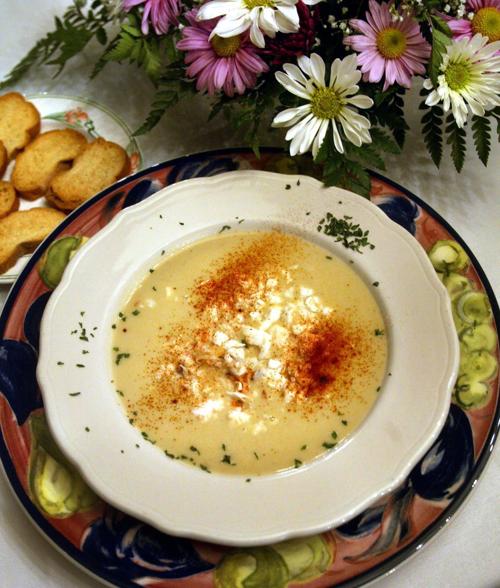 Old joke: A waiter says, "Sir, how did you find your steak?"
And the man says, "Simple. I just looked under the potato, and there it was."
I recently celebrated my wedding anniversary, a happy event that always creates a problem: Where to eat? We want the meal to be memorable. We want it to be celebratory. We want it to be special.
This year, as is often the case, we were confronted by a culinary conundrum. Did we want to try something new, hip, au courant? A place where people in the know know to go? A place that constantly experiments and explores, that searches for new worlds of food and new ways to present them?
Or did we want to try somewhere stolid, sure and secure? A restaurant committed to the time-honored methods of cooking, a place that represents a recognized standard of food preparation and service?
There was another consideration. Either type of place we went was going to cost a great deal of money. It's an anniversary, a special event. We're OK with that, even though the bill was pretty much guaranteed to come to more than I made in an entire week at my first job (it turns out that my plan to get rich in journalism was ill-advised. Who knew?).
When I shell out big bucks for a meal, I want to be more than dazzled. I want to be more than impressed. I want to feel like I've actually eaten something.
Eventually, we narrowed our selection down to two choices. One, I'm told, represents the pinnacle of new cooking. It does miraculous things with food, using ingredients in bold and adventurous new ways.
Eagerly, I looked up pictures of its food online. I saw exquisitely rendered plates with artfully arranged creations, each one containing between perhaps three and four tablespoons of food. Admittedly, a meal is supposed to consist of four or five of these plates.
So all told, we're talking about a good-sized appetizer. As in "I just looked under the potato, and there it was."
I haven't been to this particular restaurant, but I have been to a downscale spot run by the same chef. The last time I was there, I had what they claim, despite all evidence to the contrary, to be a full-sized sandwich.
When the manager came by to ask how we had enjoyed our food, I told him I very much liked my sandwich and that I planned to stop off at a place on the way home to get dinner. To his credit, the manager sent over another appetizer, which helped.
The other place we were considering for our anniversary was Al's Restaurant, the steakhouse just north of Laclede's Landing. It's as St. Louis as it gets. It has been owned by the same family in the same location for 91 years and is such an integral part of this city that I don't think I know anyone who has ever actually been there.
It's an old-school place with old-school service and old-school food. They've got Steak Oscar and Steak Diane, filets mignon both large and small — and stuffed a couple of different ways. They have Chilean sea bass, a pork chop and lamb, and so much more.
And when you eat there, you feel like you've had a meal.
I started with the rich and creamy lobster bisque, which may be the single best bowl of soup I have had in my life. We both had salad (it was OK), and then I had a center-cut New York strip steak. It was beefy in the best way, hearty and substantial, and the epitome of everything a steak should be.
For a side dish, we split an order of Al's penne which, not to repeat myself, may be the single best plate of pasta I have had in my life. The sauce is made with cream and tomato, and just enough Sambucca (a licorice-flavored liqueur) to make it fascinating. You don't really taste the licorice in this sauce, it just tickles the back of your palate to cut through the cream.
My wife had the wonderful lobster tail — it must have been an enormous lobster — cut into pieces, coated with breadcrumbs and served with drawn butter.
She couldn't eat it all (especially because we also had bananas Foster for dessert), so she brought it home along with the leftover Al's penne. She made a meal of the leftover lobster for the next two nights — which is a good thing, considering its cost.
As spectacular as the meal was, perhaps the most interesting moment came before we sat down to eat. We first went to the bar — it's decorated like a steamship — for a drink before dining. There was only one other guy there, and as often happens at a congenial place, we began to talk.
He was in town for a convention of the International Brotherhood of Electrical Workers, waiting for another couple to join him for dinner. He had just come from the nearby Lumière Casino, so naturally I asked how he had done that day.
He did OK, he said, but two weeks ago he'd had a good day at a casino in Joliet, Ill.
"I won half a million dollars," he said.
When his friends came in, they said they wouldn't be surprised if he treated them to dinner.