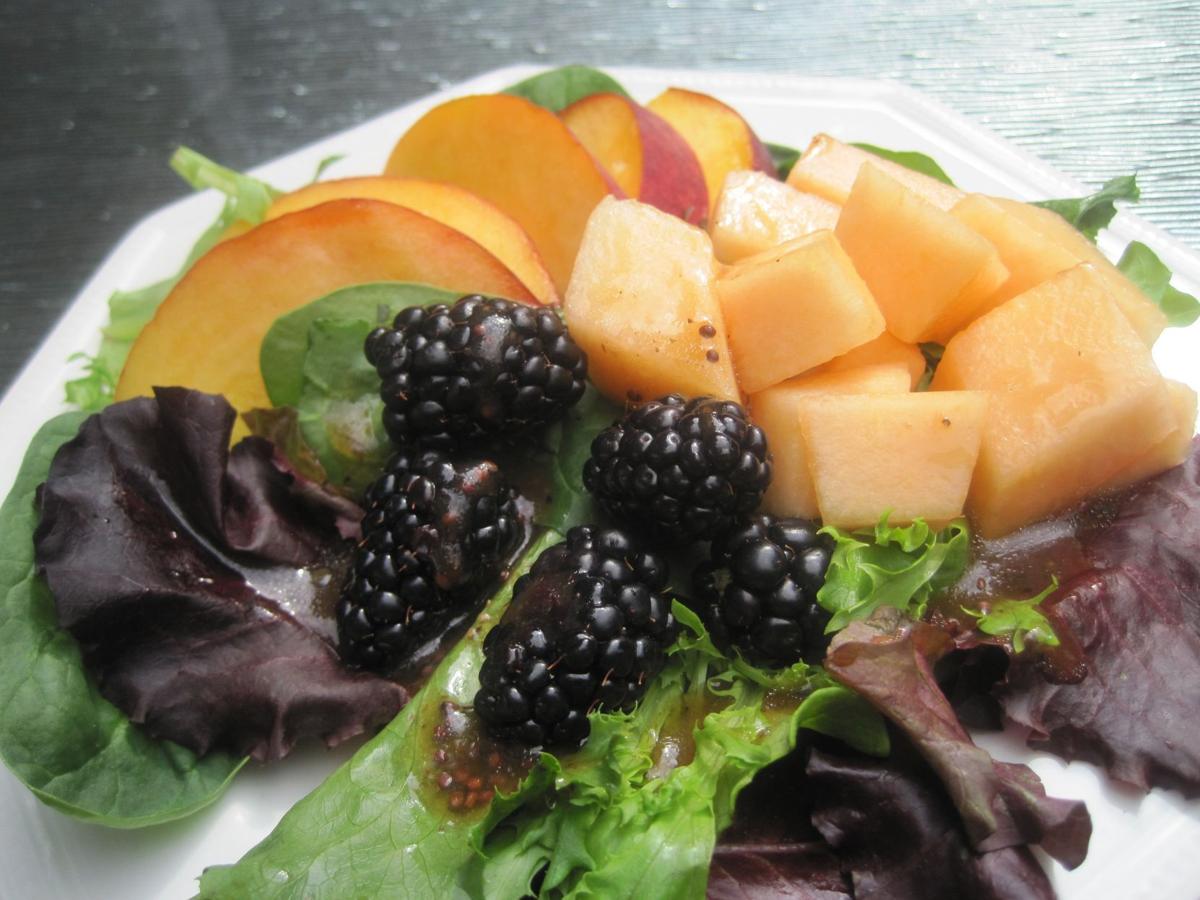 Q • I am excited about peach season starting in our region, and I have lots of delicious dessert recipes. Do you have any recipe ideas for salads featuring fresh peaches? — Jacque Dearborn, St. Louis
A • For this summer fruit salad with fresh peaches, cantaloupe and blackberries with a poppy seed dressing we turned to Angie Eckert of Eckert's Orchards. The composed salad not only looks beautiful, but the combination of textures and tastes in the locally grown fruits also works well with the sweet and sour poppy seed dressing recipe.
Cooks in the greater St. Louis area can now find fruits and vegetables from the Eckert's orchards at two locations. Stop in at the Belleville Country Store to find this salad as a special in the deli department for the next two weeks. Eckert's Summer Market, which is located in Rock Hill in the space that formerly housed Lucky's Market, carries most of the necessary ingredients for this salad and other produce from Eckert's farms.
Eckert's Country Store favorites including freshly baked seasonal fruit pies, muffins and jams are also available at both locations. The stores also carry cheeses, summer sauces fruits and veggies to pack for picnics as well as sausages, bacon and brats for barbecues for the grill. Visiting the Belleville farm is always a treat, but to have the same fresh produce closer to home for many St. Louisans makes this seasonal pop-up store a regional favorite.
Angie Eckert, vice-president of retail operations at Eckert's, has a favorite way to eat a peach that doesn't require any recipe. "One of my very favorite things about peach season is picking a ripe peach off the tree and making it part of dinner a few hours later. There is just nothing better than a tree-ripened peach no matter how you prepare it," she says.
---
Eckert's St. Louis Seasonal Market
9530 Manchester Road, Rock Hill
Eckert's Country Store in Belleville
951 South Green Mount Road, Belleville