At any given time, Mark Overbay, president of Big Spoon Roasters, is keeping a running list of 40 or so nut butter recipe ideas.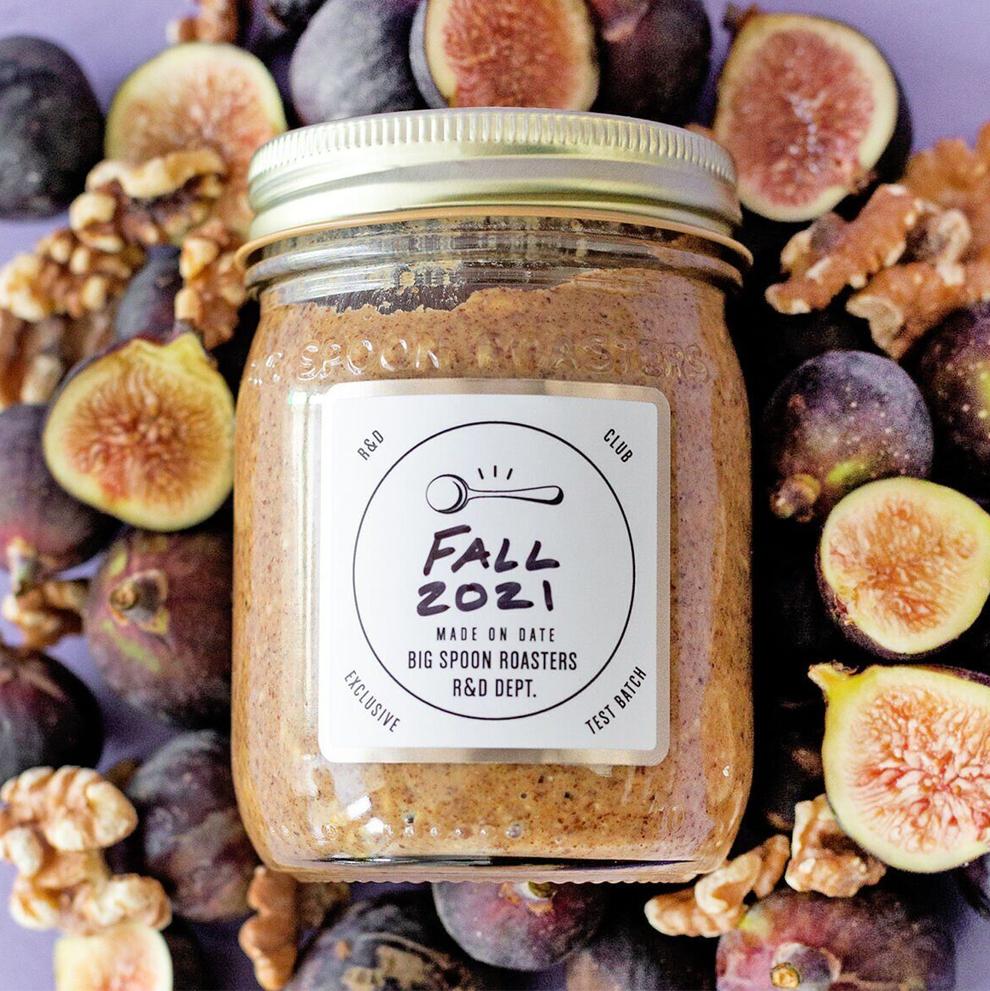 These ideas go beyond the Durham, North Carolina-based company's existing lineup of nut butters, which already features ingredients like chai spices, espresso, Fiji ginger and toasted coconut. There's also a carrot cake almond-walnut butter, a lemon-coconut cashew butter and "Hot Mamba," a spicy-sweet flavor inspired by a traditional Haitian recipe. Big Spoon does a pecan and peanut butter blend with wildflower honey, and another with maple and cinnamon, and a dark chocolate and sea salt almond butter. And that's not all. But Mark's brain is always going … "What about pistachios? Figs? Pineapple and lime?" Well, that's where the R&D club comes in.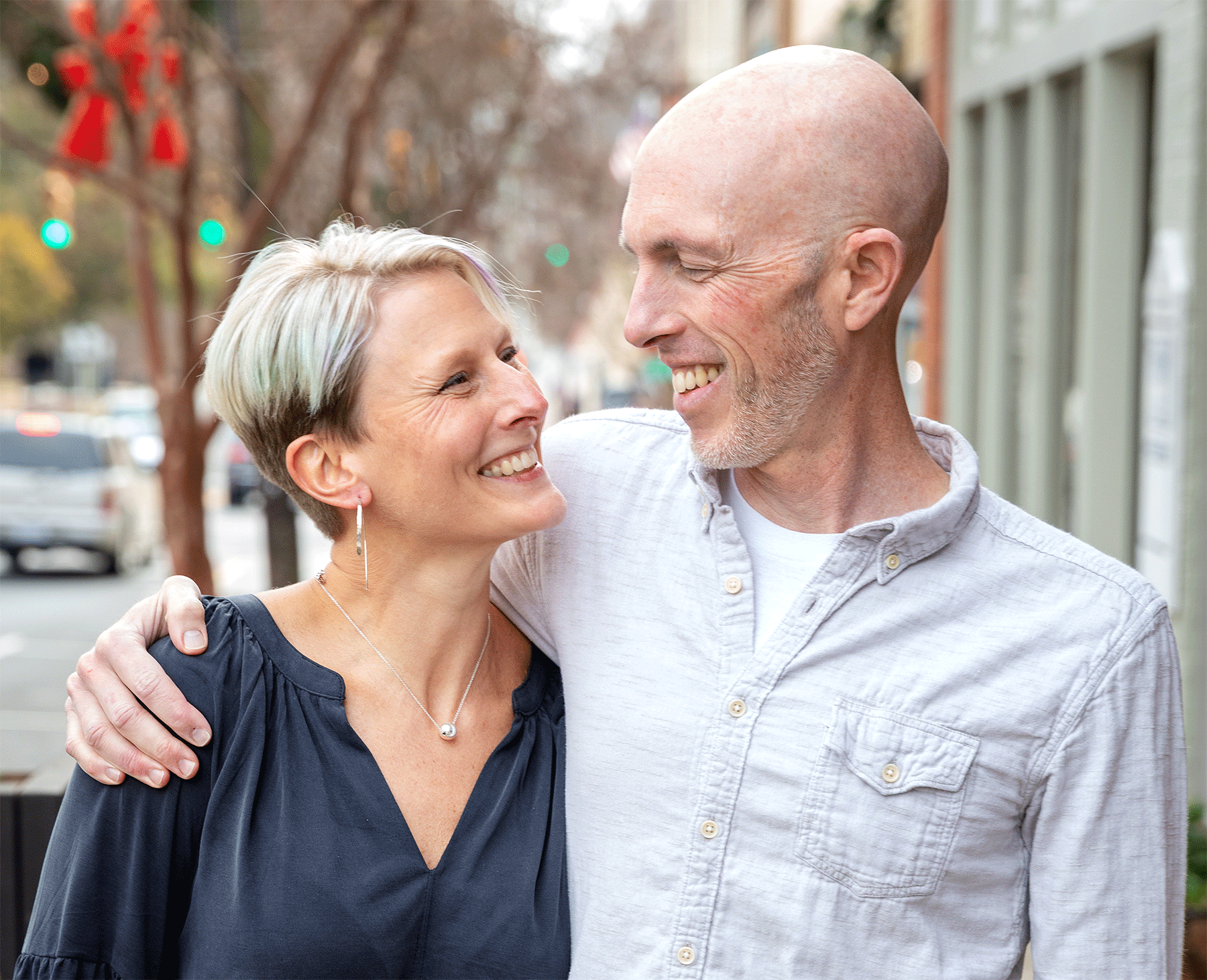 Comprised of Big Spoon's biggest fans, "The R&D club gets exclusive access to test recipes that we ship directly to their home," explains Megan Overbay, COO of Big Spoon. "It's an exciting way for us to engage with a connected customer base, and to also get input on what would be successful."
Just talking about nut butters as a category of products is exciting to the Overbays, who are co-owners (and husband and wife). The couple first debuted their products in January of 2011 at a local bike race near their North Carolina home and, by that spring, they were selling at area farmers' markets. While people eagerly grabbed up the spreads, they didn't quite understand what Big Spoon was selling.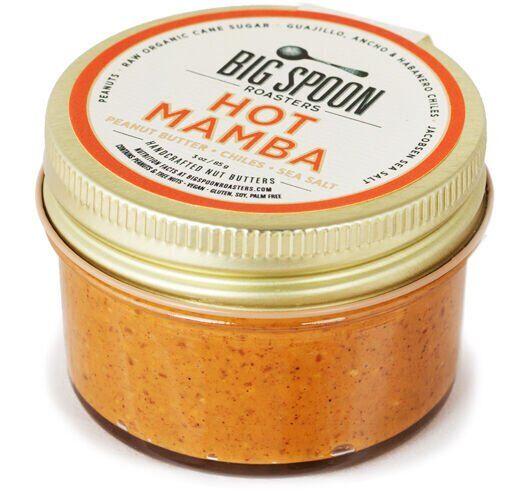 "At farmers' markets and events, we had a sign that said 'handcrafted nut butters' and a lot of people came up to the table and said, 'What's that? What's a nut butter?'" recalls Mark. "You had peanut butters, almond butters, cashew butters, etc. But no business that we knew of was using that term to describe a whole category of goods that they made."
---
Organic growth
Mark cites living in Zimbabwe as a Peace Corps Volunteer in his early 20s as part of Big Spoon's origin story. But he also credits "the instinct and appreciation of preserving food" that was "baked into me from an early age."
"My great-grandparents in Tennessee had a basement with shelves of canned tomatoes and green beans and okra and corn, just anything you could grow in the summer," Mark says.
In 2010, while Mark was working in marketing at the third wave North Carolina coffee roaster Counter Culture, he and Megan hatched the idea for Big Spoon.
The couple wanted to source ingredients as locally as they could, bringing slow food and sustainability values to the brand. "It was clear in my mind how I wanted the brand to feel," says Mark. "Pre-digital, timeless, a reaction to the over-industrialization of food."
At Counter Culture, he learned about the channels of specialty retail, coffee shops and grocery stores. He also developed relationships with press reps at national magazines.
"Thankfully, we got a lot of really early press, and we didn't pay anything for marketing for a really long time," says Megan. "We kind of walk the walk, doing what we do. We're carved out a new section of the market and the attention we've received has all happened very organically."
To the Overbays and their small team at Big Spoon, "walking the walk" means taking into account the full spectrum of sustainability.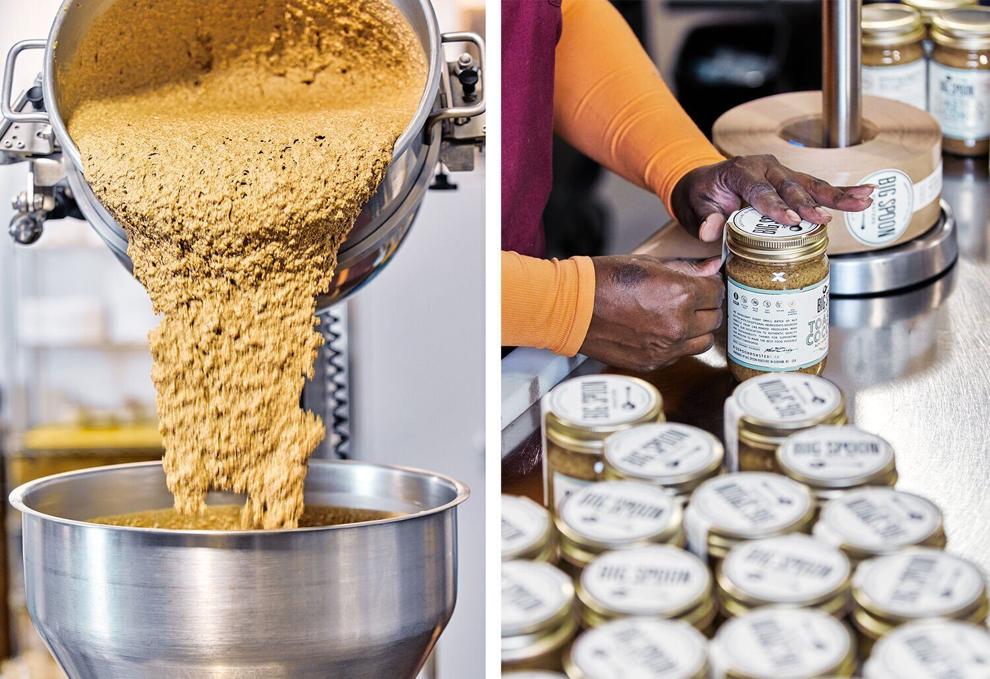 ---
Committed to sustainability
Unconvinced by improvements in "eco-friendly" palm production, the company has committed to never using palm oil, which decreases separation in nut butter but has negative environmental consequences.
And when it came time to expand into almond butter, Mark tested some 30 nuts before settling on an heirloom variety from Texas called Mission almonds. "They're sometimes considered throwaway almonds because many people think they're ugly — they're short and squatty and wrinkly. But I think they're beautiful. You'll never see them in a bulk bin at a grocery store," Mark says. "But some genius shelled these almonds and roasted them, and they're incredible. They're sweeter, they're crunchier, they have slightly lower moisture, which means they require less water to be cultivated."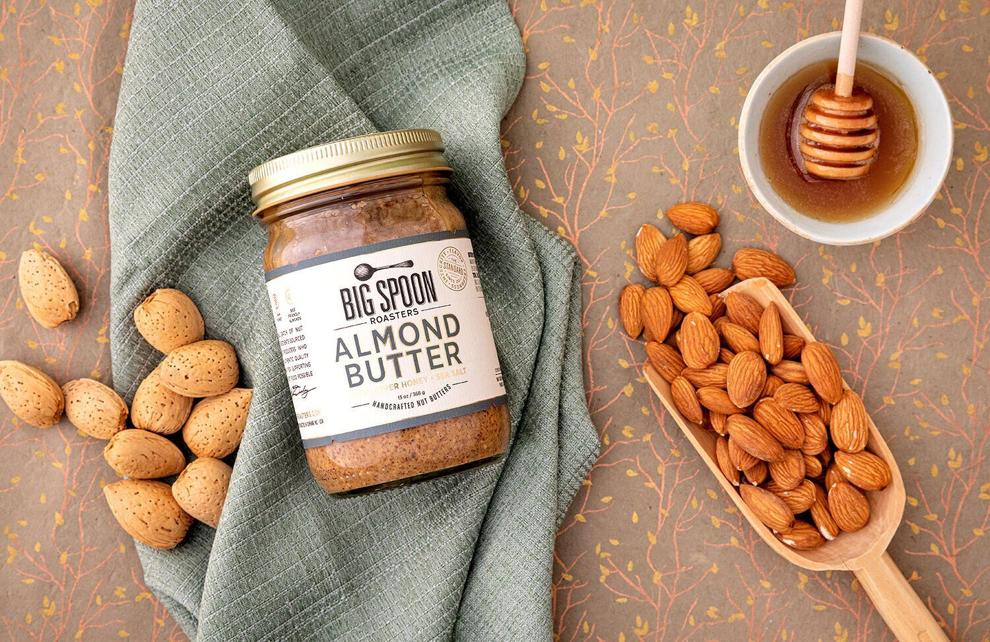 Even better, the company's California-based almond processor, Treehouse, is "on the cutting edge with low water cultivation," explains Mark, a frequent concern with almond production. It all fits into the overall story Big Spoon wants to tell, about why and how they make their butters the way they do.
"As more people have entered our market and made similar claims, we have had to be much more intentional about helping people understand the choices we make," Megan says. "They see the value in the experience you have when you taste it. But on the shelf, things like values, process and mission can be challenging to convey."
That's why, now, you'll see little symbols on the packages: "non-GMO," "bee-friendly almonds," "palm free."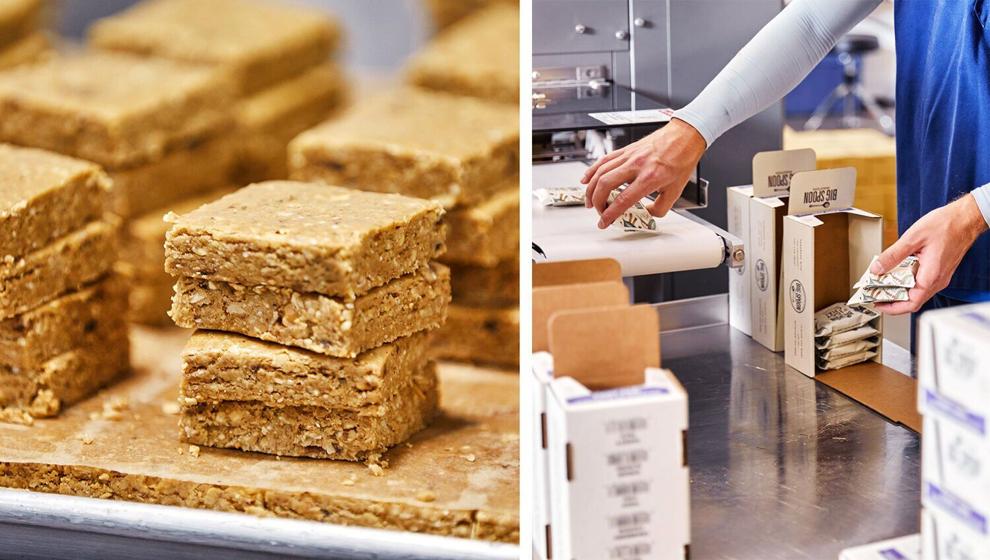 ---
Bigger batches
Big Spoon Roasters is looking to the future with a planned expansion to a larger facility in nearby Hillsborough, North Carolina. They continue to workshop new ingredient combinations for their portable, handmade nut butter bars, with already come in flavors like cranberry cashew, apple ginger, lemon blueberry, cherry pecan and "figgy chai."
"Our vision is that nut butter doesn't have to be this kind-of-salty, kind-of-sweet source of nutrition," Mark says. "It can actually be a really phenomenal, delicious food experience."
As for those R&D club members, they point the way forward. A small-scale test that does well could go on to become a limited batch. A limited batch that turns out to be well-loved could move to the big leagues, and possibly join the starting lineup.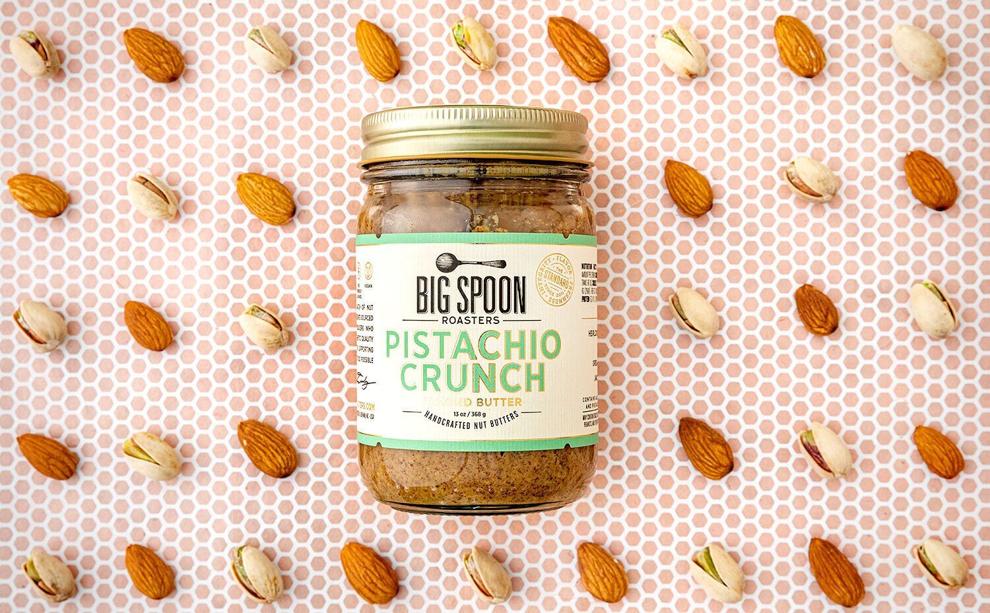 One recent promotion, a limited batch of pistachio crunch almond butter, earned them loads of "unexpected love mail," as Mark calls it.
"Really funny things!" Megan adds, laughing. "A customer wrote in saying 'it's so good I wanted to smack my mama!'" laughs Mark.