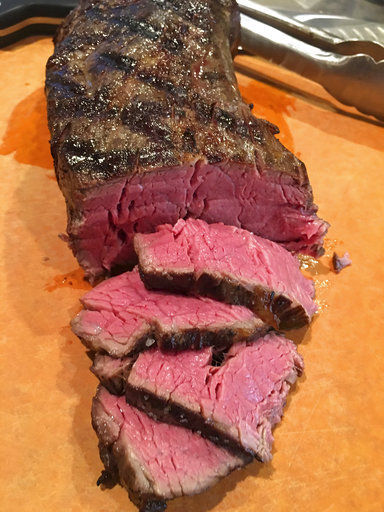 If you are a meat geek, then you have read about the reverse sear, which has gained popularity in the grilling and barbecue world in the past few years. Reverse-sear is a technique where you cook the meat slowly using a low indirect heat and when it is almost done, you sear it over a high direct heat to brown the outside.
I practiced the "reverse-sear" for larger pieces of meat such as a beef tenderloin that I smoked the day before and seared or charred just before serving. This is my favorite way to cook a tenderloin, but it assumes that you have a smoker. I tried to reverse sear a steak like all the reverse-sear advocates by cooking the steak by indirect heat on a grill and then searing it over high direct heat at the end of the cooking time, but I never got a good sear on my steak so I abandoned the idea of reverse sear for a grilled steak. I sear my steaks over direct heat first and then finish cooking them over indirect heat (I call that the combo method) because I get better grill marks and more smoky caramelization and they taste better. I never bought into the searing keeps the juices in, because the only thing that keeps the meat juicy is oiling the food to create a barrier so the natural juices won't evaporate during the cooking time.
However, as an advocate of indirect cooking, I know why cooking meat with indirect heat gives you superior results. So, I decided to re-visit the sous vide circulator. When I first experimented with sous vide, it was a clumsy process that required vacuum-sealed meat, a large plastic container and various clamps to keep the circulator upright.
That has all changed since the Joule circulator has been introduced. The Joule is magnetic, and so small that it fits easily in your drawer — it is shorter than an immersion blender and even easier to use. I tested a center-cut piece of tenderloin (a.k.a. chateaubriand). I prepped it simply with a light coating of olive oil, and a sprinkle of coarse sea salt, dehydrated garlic and rosemary. I didn't have a vacuum sealer so I put it in a re-closeable freezer bag, pushed out the excess air with my hand, and clipped it to the side of a stock pot with a chip clip. I filled the pot up about halfway with warm water, slipped the circulator in the water and let the bottom magnet secure it, and turned it on using the handy phone app.
Two hours later, the tenderloin was cooked to a perfect rare. I removed it from the water and let it cool to room temperature. A few hours later, I removed it from the bag and gave it a little pat with a paper towel to remove any excess surface moisture. Next, a light brushing of oil to prevent stickage and seal in the juices, and I took it to the grill. I seared it over a high direct heat for 1 to 2 minutes on all sides, making crosshatch marks on the top and bottom and the two sides. You must do this with the lid down so that you get really good grill marks and it has a chance to warm the center of the tenderloin. The total cooking time is about 6 minutes depending on the size of your tenderloin.