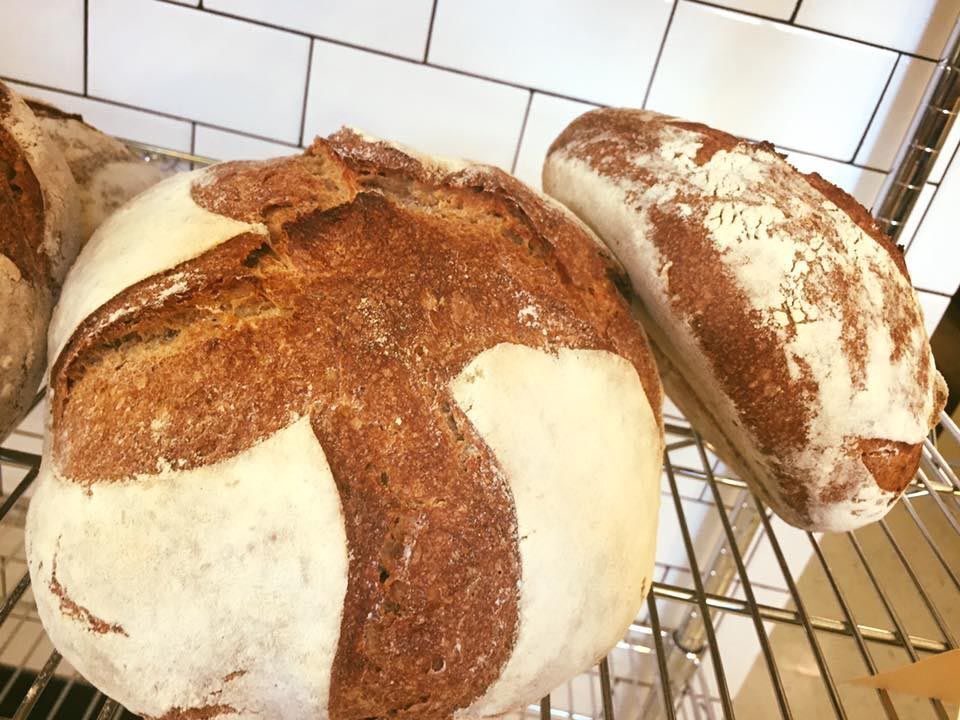 So many choices. So many choices.
It was a Saturday, and we were out of bread. I volunteered to pick some up, because that is the kind of handy-around-the-house guy that I am, but then I was flummoxed. Where to go?
We actually had a conversation about it: Whose bread should I get? I could grab a loaf from Red Fox Bakery, which is baked in an outdoor, wood-burning, hand-built brick oven behind Grove East Provisions, where it is sold. I could get one at Union Loafers where each loaf, as with Red Fox, is naturally leavened. I could head to Red Guitar Bread. Or I could go to Schnucks where, along with some groceries I also needed, I could grab a loaf from La Brea Bakery.
And that's all just within a couple of miles of my house.
I realize that La Brea Bakery is a national, mass-produced bakery out of Los Angeles, but they deserve credit (and our thanks) for kickstarting the artisan bread movement. Besides, have you tried their baguettes? Anyway, if I wanted great locally produced bread from a supermarket, I could drive not too terribly much farther to another Schnucks and buy a loaf by Companion.
Not that it matters, but I went with a country wheat bread from Red Fox. The fact that I could also buy one of their salted chocolate-rye cookies may have had something to do with the final decision.
As I was trying to decide where to go, it suddenly hit me: Great artisanal bread is being baked all over the place here. I mean all over the place. We even have a St. Louis Bread Company.
We should count ourselves lucky. Other cities I have lived in have, at most, one bakery turning out consistently great bread.
What did we do to deserve such good fortune?
Ted Wilson, a baker at Union Loafers, has a theory. It is the beer.
"This is a town kind of built on fermentation," he said while shaping loaves of the popular light and mild bread.
Fermentation is the secret behind some of the area's best bakery breads. As the mixed dough rises it undergoes fermentation, and it is this process that gives bread much of its flavor and texture. Sourdough breads, which are produced at many of these top bakeries, benefit from the long, slow-acting fermentation that results from using naturally occurring yeast.
It's not an easy way to do it, Wilson said. "We've chosen probably the least-advanced way to make bread as far as technology and time," he said.
But the difference can be huge, said Chris Sheets of Red Fox Kitchen.
"Sometime around World War I, commercial yeast, natural gas and (electric) mixers were all introduced, and that changed the way bread was made, that sped up the process a lot. That made it easier for bakers to make money, but it also decreased the quality of the bread. If you're using commercial yeast you're not getting the fermentation, and if you're using a mixer you're damaging the starch," Sheets said.
What makes the current crop of bakers stand out is their willingness to take the time and effort to make bread the way it was made before these technological innovations.
Not surprisingly, they were inspired by books. Wilson cites Jim Lahey's recipe for no-knead bread as starting an artisanal bread revolution that Lahey further encouraged with his book "My Bread," and Sheets said he became interested in sourdough after reading "Tartine Bread," by Chad Robertson.
But there was an early culture of bread-baking here that also helped begin the artisanal trend. The St. Louis Bread Co. began selling high-quality, crusty breads in 1987, when most people expected their bread to be soft and chewy. In 1993, Companion joined the fray with its own sturdy and toothsome breads.
We who live in the area are the beneficiaries of these artists of flour and yeast who have the knowledge and the passion for baking. Every day, they give us something to sink our teeth into.