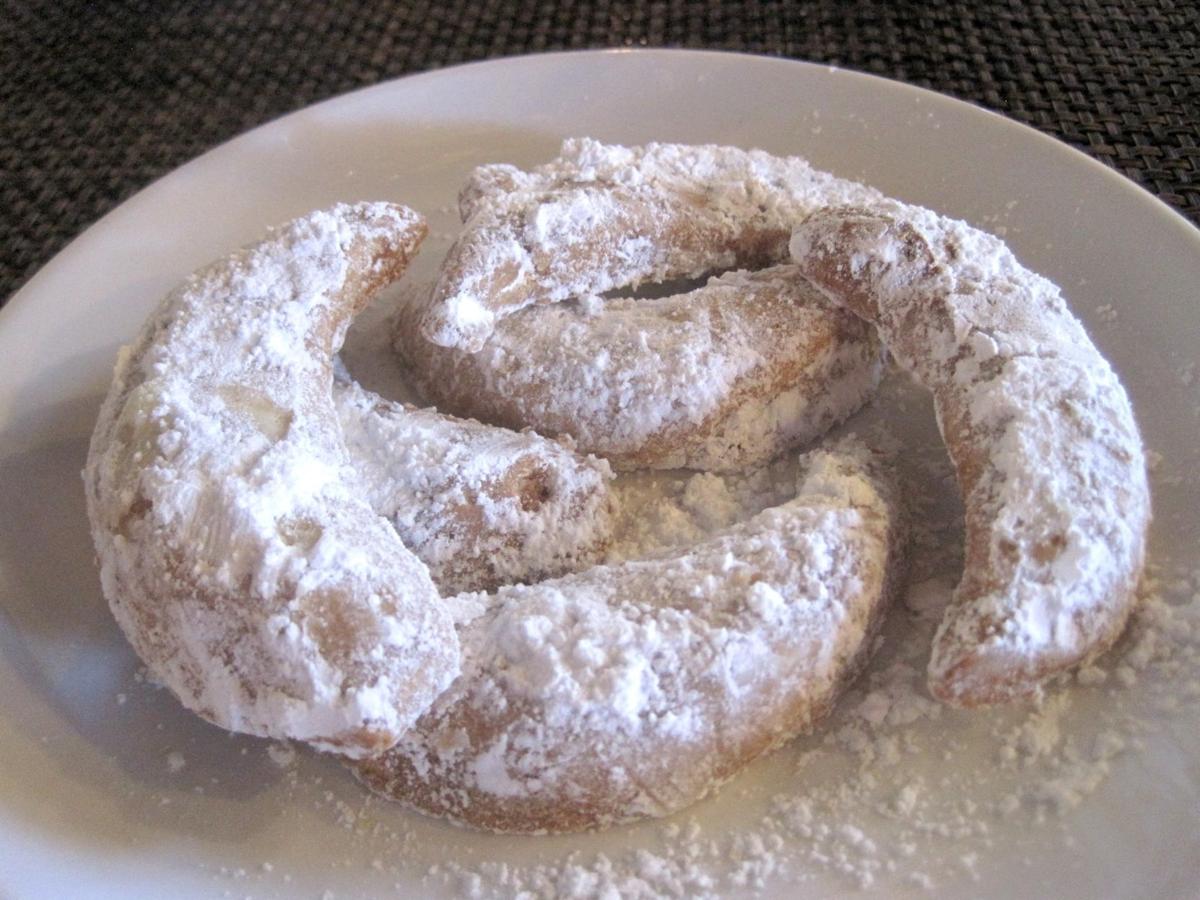 The light and buttery Kourabiethes cookies at the Greek Kitchen make a sweet finish to a meal or a great treat to share with a friend over coffee at this restaurant where everything from soups to sauces is made in-house.
Chef Lisa Nicholas grew up eating these cookies in her Greek family, but it wasn't until she began cooking at the Olympia Kebob House & Taverna that she made them herself.
"I learned to make these from a relative, Marietta Potsos, who was well-known in St. Louis for her off-the-boat Greek cooking," Nicholas says. "These cookies are also known as Greek Wedding cookies and are popular at all kinds of celebrations."
Today, she bakes them often in double batches to satisfy customer demand for the crescent-shaped delicacies. "The crescent-shaped cookies have finely chopped almonds in the batter. Because so many people are allergic to nuts, I make another version, which are just round cookies, without almonds," she says.
One of the things we loved in testing this recipe is her inclusion of one of the secrets to success with this cookie. She puts a little baking soda with lemon juice, which amplifies the leavening effects of the baking powder in the recipe.
It makes a good cookie even better.
The Greek Kitchen features a large wrap-around patio for outdoor seating, well-spaced tables inside and a private dining room that can be reserved for eight people or more. "People are coming out to eat more now," she says. "Our private room is very popular as is the patio. I always tell people to come when they're comfortable; not to rush it, but dining out is definitely coming back."
Be sure to check the Greek Kitchen's website and Facebook page for information about holiday cookie boxes, which make great gifts and are perfect for family parties. "This year the cookies (may not be) as available, so please check our website and Facebook pages for updates," Nicholas says.
---
343 South Kirkwood Road, Kirkwood
Would you like to request a recipe from a restaurant that is still open in the St. Louis area? Send your request along with your full name and the city you live in to reciperequest@post-dispatch.com.