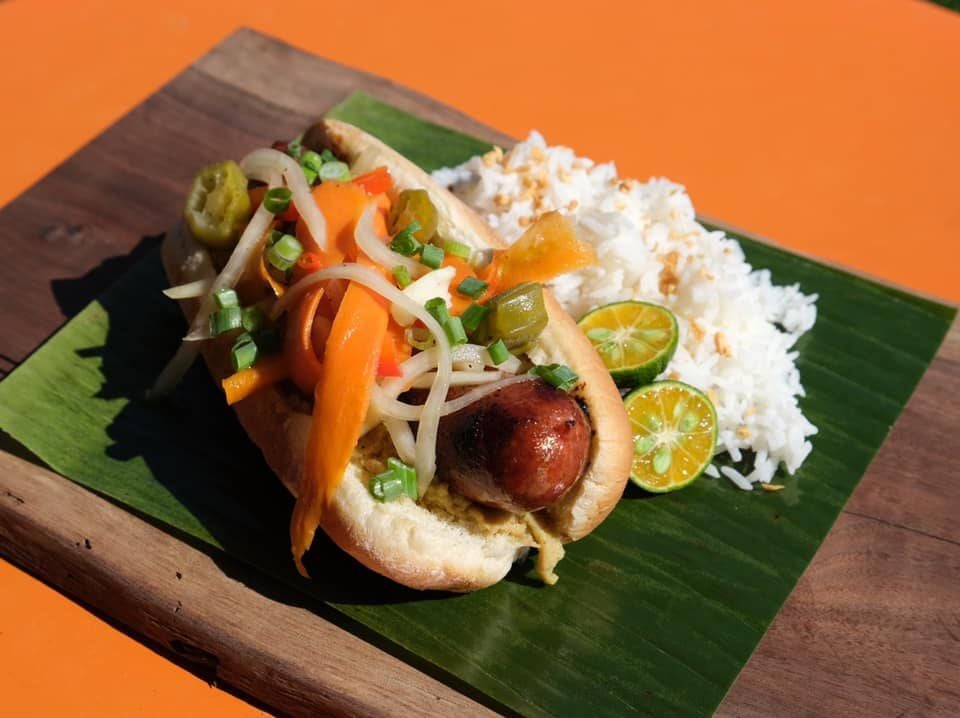 Q • I was wondering if you could post the full recipe for the Banana Mustard recipe from Brian Hardesty of Guerrilla Street Food. — LeAndra Woodruff, Waterloo, Illinois
A • When Guerrilla Street Food wanted to do a collaboration featuring longganisa Filipino sausages, as part of its celebration of Filipino American History month, chef Brian Hardesty knew just where to source them.
The Fattened Caf, a St. Louis-based pop-up restaurant and catering company specializing in Filipino barbecue now sells four varieties of the delicious longganisa at 67 Schnucks stores across the region. Hardesty chose the sweet and spicy pork longganisa to create the Fatt Boi.
Yield: 3 ½ to 4 cups mustard; approximately 60 servings of 2 tablespoons
"It's a take on a hot dog, but with some twists, like we put on our dishes at Guerrilla Street Food," Hardesty says. "There's a woman in the Philippines famous for creating banana ketchup, and it's really popular. It was the inspiration to create an original — banana mustard. It works well with the longganisa. We use house-made pickles on the sandwich — papaya, onions, okra, carrots, chiles and sweet peppers — kind of giardiniera style." He garnishes the Fatt Boi with green onions and serves it with a side of garlic rice.
In the home test kitchen, Hardesty's recipe for banana mustard came together quickly. It makes between three and four cups of this original condiment, so we tried it on ham and turkey sandwiches, following Hardesty's lead to add pickled veggies, and it tasted great. We found the mustard revved up things a bit when mixed into yogurt or sour cream as a dip for pretzels. Added to cream cheese it worked great as a spread for crackers and crostini. Friends who sampled it loved the sweet and tangy taste.
The Fatt Boi will be available through Oct. 30 at the brick-and-mortar restaurant in Webster Groves as well as on the Guerrilla Street Food Truck.
---
43 South Old Orchard Avenue, Webster Grove