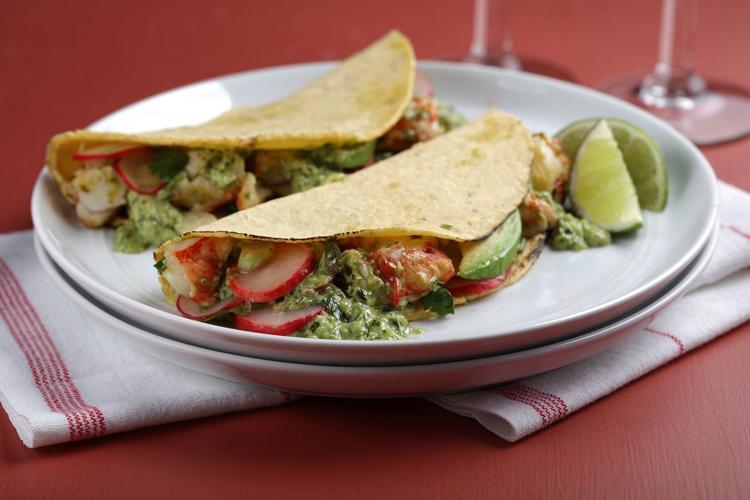 Yield: 4 servings
Green onion-cilantro sauce:
6 green onions, roughly chopped
1 jalapeno roughly chopped
1 cup fresh cilantro, packed
½ cup vegetable oil
1/3 cup fresh lime juice
Kosher salt
Cilantro radish salad:
2 green onions, thinly sliced
½ cup roughly chopped fresh cilantro
1 bunch radishes, trimmed, thinly sliced
2 tablespoons lime juice
2 teaspoons vegetable oil
Kosher salt
Lobster:
1 tablespoon oil
Zest of 2 limes and 1 tablespoon lime juice
2 green onions, thinly sliced
12 ounces cooked lobster, chopped into bite-size pieces
8 corn tortillas
Lime wedges
Avocado slices
1. For the sauce, combine the onions, jalapeno, cilantro, vegetable oil and fresh lime juice in a blender. Puree on high until you have a smooth green sauce. Season to taste with salt. Set aside.
2. For the salad, gently combine the green onions, cilantro, radishes, lime juice and oil in a small bowl. Toss to coat; season to taste with salt. Set aside.
3. For the lobster, heat a medium skillet over medium heat; add the oil. Then add the lime zest and the green onions. Stir in the cooked lobster; gently warm the lobster with the onions and lime zest. Season well with kosher salt; sprinkle with the lime juice.
4. Heat the corn tortillas (I do this by toasting them in a dry nonstick pan on both sides or on my flat top griddle).
5. Spoon some of the cilantro-radish salad onto the tortillas. Top with a generous amount of the lobster and then drizzle with the green onion sauce. Serve immediately with avocado slices and lime wedges.
Per serving: 389 calories; 22g fat; 1g saturated fat; 61mg cholesterol; 29g carbohydrates; 2g sugar; 20g protein; 347mg sodium; 4g fiber
Recipe from Heather Christo