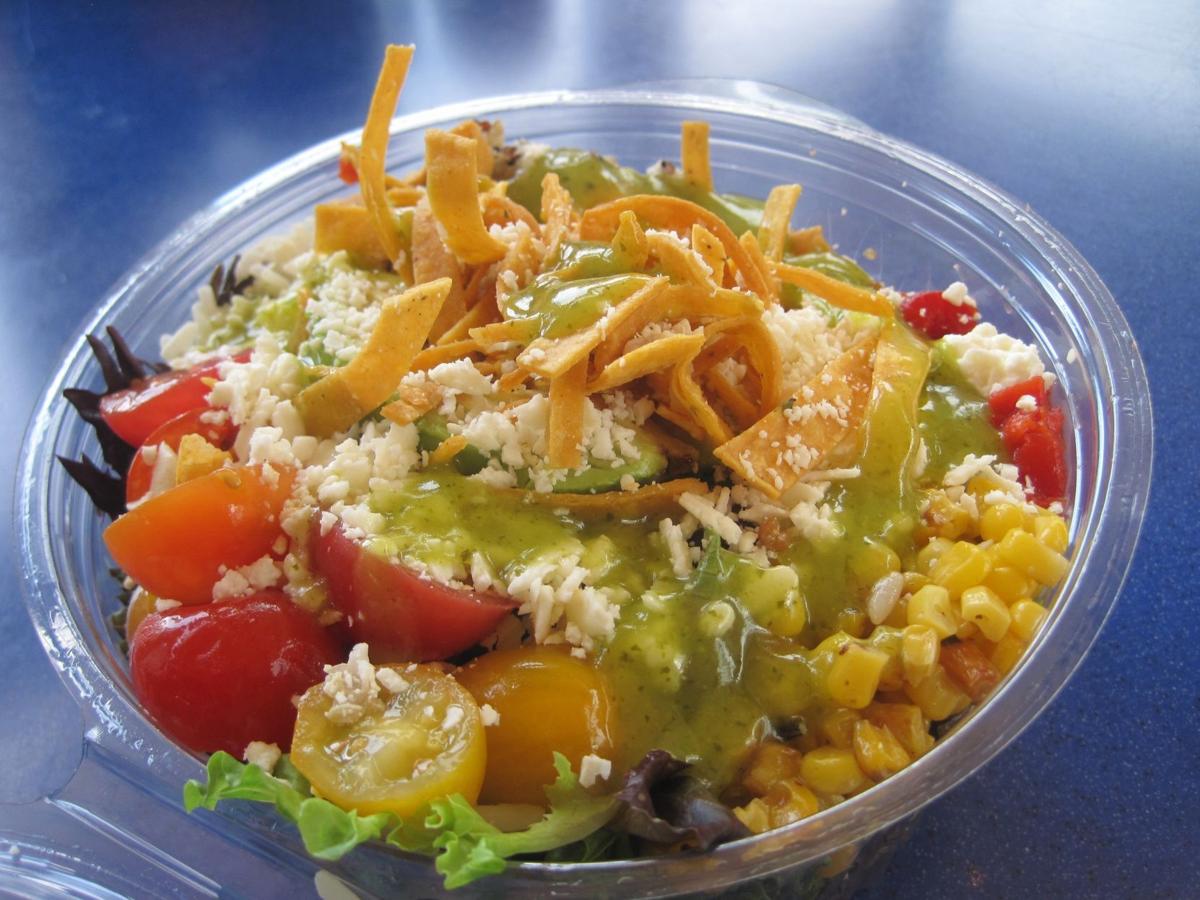 Q • I recently switched to a keto diet and enjoyed the Grains and Greens Salad at the Hi-Pointe Drive-In on McCausland. I would like to make the salad at home if they would share the recipe. — P.B. Keen, Bevo Mill
A • The Hi-Pointe Drive-In restaurants are better known for burgers, fries, sandwiches and shakes than the lesser-known salad featured here, but it's one hearty salad for sure.
The combination of greens, grains, roasted corn, red peppers, tomatoes and avocado topped with cotija cheese and crispy tortilla strips, served with a lime vinaigrette plays with favorite Southwestern flavors.
The inspiration for the salad came to owner Mike Johnson when he took a trip to the West Coast 10 years ago.
"I noticed restaurants adding grains to their salads. I saw the merit in having a grains salad for the Hi-Pointe," Johnson says. "Pretty much everything on our menu is made from scratch, using the highest quality ingredients, but some of our menu items are higher in calories, plus not everyone eats meat."
The salad comes to the table at the Hi-Pointe in a huge, clear, deep-dish bowl, the colors of lettuces, peppers, tomatoes and corn nearly jewel-like. The grains, which are placed on top of the greens, aren't immediately visible, but from the first forkful, you get a bite of them.
The creamy avocado in the center plays very well off the crisp tortilla strips, and the lime vinaigrette adds a little zip and sweetness to it all. The cotija cheese with its distinctive earthy, salty taste and crumbly texture is a great addition to the salad.
When we tested the salad at home, there was enough to make three good-sized composed salads. For the test, we used red quinoa, which looks beautiful. To keep the quinoa crisp rather than mushy, we used an uncovered cooking method from the Cookie & Kate blog that keeps the individual grains crisp. We mixed cooked wild rice with leftover cooked brown rice in the test.
The salad will be on the Hi-Pointe menu at their newest location in Kirkwood when the restaurant opens in late August. The day we spoke, Johnson had just returned from the new spot. "It's going to look different than the other locations," he says. "We're going with a different theme, but it will be awesome."
---
Kirkwood location (opening in August):
951 South Kirkwood Road, Kirkwood