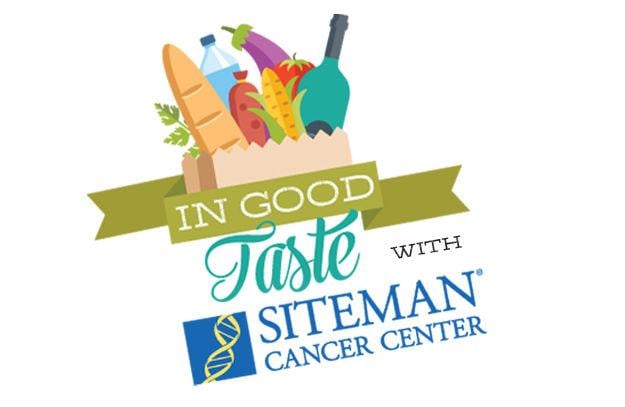 We have been told that it isn't wise to compare apples and oranges because they are so different from each other, but few people would even bother to compare, say, mangoes and almonds when it would be quite easy to do so: They are both stone fruits. Also known as drupes, stone fruits are so named because of the hard pits found at their centers that pass nutrients from the tree to the developing fruit. And like other members of the Prunus family, including apricots, peaches and cherries, they provide some of summer's tastiest and healthiest treats. Better still, there are plenty of opportunities to add them to your plate.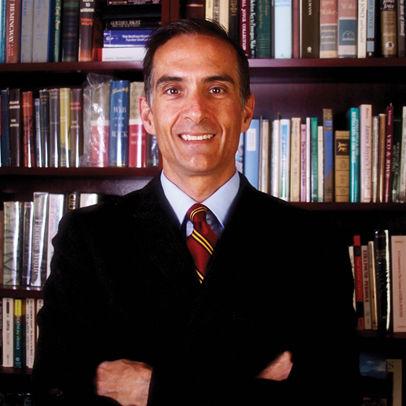 "One important part of a healthy diet is eating a wide variety of fruits and vegetables, and stone fruits are nothing if not filled with variety," says Hank Dart, who works in prevention and control for the Siteman Cancer Center at Washington University's School of Medicine. "They come in all sorts of types, shapes, sizes and wonderful colors."
Not only are there lots of stone fruits to pick from, there are interesting hybrids too, such as pluots (more plum than apricot, these have been around for hundreds of years) and even apriums (more apricot than plum, these weren't developed until the 1980s). Stone fruits work well as grab-and-go snacks, side dishes and even on the grill. You are in for a treat if you haven't tried grilled mango yet: The intense heat caramelizes mangoes' naturally occurring sugars, deepening the fruit's sweetness. Incorporating tart stone fruit into otherwise protein-heavy meals (think cherry-glazed ribs or pork chops) adds welcome lightness and brightness during these thick, humid summer days.
Though they'd fit right in at a beach-themed barbecue, stone fruits' tropical hues for aren't just for show. "Brightly colored fruit and vegetables tend to have more nutrients and catenoids than standard fruits," such as apples and oranges, Dart says. Compact and flavorful, stone fruits bring a host of nutritional benefits in small packages, and right now they are in their prime. "Stone fruits are juicy and naturally sweet, and they're rich in vitamins, minerals, fiber and other healthy compounds. They fit perfectly into a healthy, plant-based diet, which can help keep weight in check and lower the risk of high blood pressure, heart disease, stroke and certain cancers," Dart says.
As always, when it comes to cooking and eating, creativity is key. "If you don't like one type, you'll probably like others. Mix things up, and try options you haven't had before. You may find some new favorites," Dart advises. "They are really, really tasty, and they're a great way to add more fruit into the diet, which is always a good thing."
---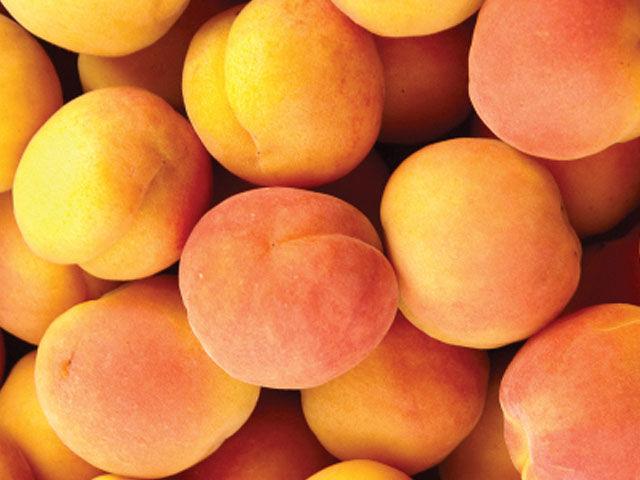 Apricots
To hold a sweet golden apricot is to hold late summer in the palm of your hand. These discs of sunshine are an ancient fruit that thrive in warm weather. Apricot trees are vulnerable to heavy rains and late frosts, and they're among the first to bloom in the spring. It is thought that they got their start in China thousands of years ago, and today California's Central Valley is by far the largest producer of apricots in the United States. Tart, tangy, and excellent sources of vitamins A and C, they're a natural fit for pies and jams, or eaten right off the tree.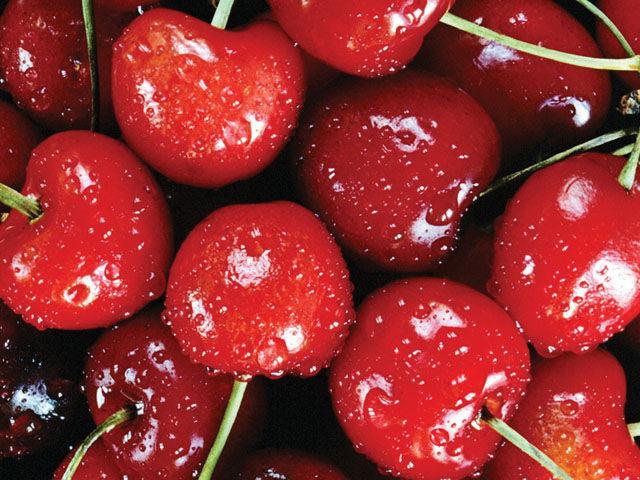 Cherries
In the winter, "cherry" flavors are most closely associated with the lozenges and medicines that keep coughs and colds at bay, but it turns out the fruit can do the work of ibuprofen in its natural state: A study from the University of California-Davis suggests that cherries are among the top foods for combating inflammation. According to the USDA, one cup of cherries is fewer than 100 calories yet manages to pack loads of vitamins A and C, as well as calcium and iron. Though sweet Bing cherries are by far the most popular variety in the U.S., try the mellow, orangish-pink Rainier variety for something a little different.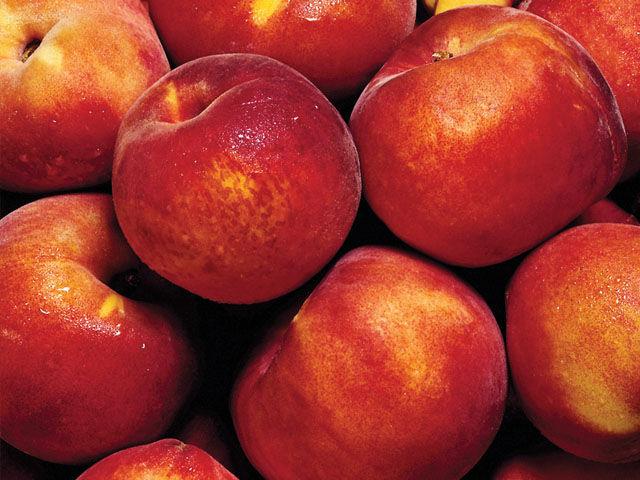 Nectarines
Wondrous things can happen during cross-pollination (why hello, broccoflower!), and nectarines are among them. These smooth-coated fruits are closely related to peaches — so much so that peaches and nectarines can grow on the very same tree. It all comes down to dominant versus recessive genes: Peaches are typically larger and softer while nectarines are smaller and firmer. Most farmers and chefs agree that the differences between peaches and nectarines are negligible, though nectarines are more finicky to grow and keep. Simply choose whichever looks best at the market and enjoy!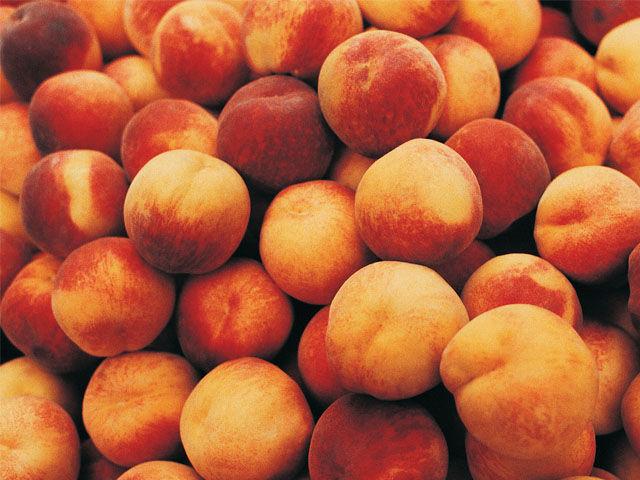 Peaches
There have been a surprising number of pop-culture touchstones devoted to peaches: Kramer praised the Mackinaw variety as a "circus in your mouth" in a classic Seinfeld episode, and the Presidents of the United States of America's 1995 ode to the drupe is as ridiculous as it is delightful. And why not? The U.S. is home to more than 300 kinds of peaches. The color of a blazing summer sunset, peaches can have either white or yellow flesh (white peaches are the sweeter of the two), and their firm but tender insides are a master class in taste and texture.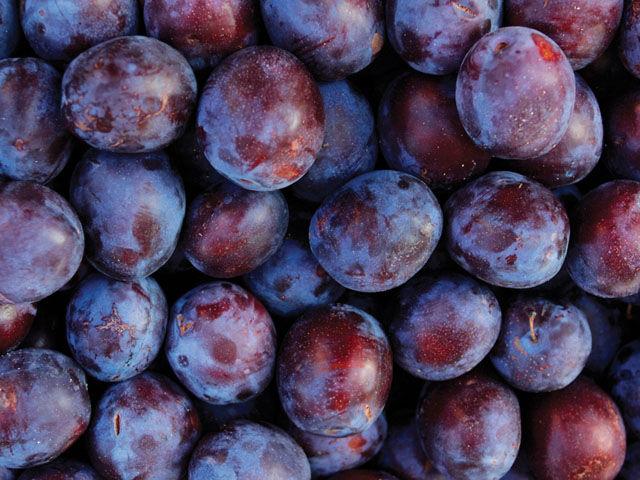 Plums
Plums have an unusual set of traits: skin that's at once tough, tart, thin and waxy. Insides that can be red, white or yellow, acidic or sweet. And then there's their rich, inky color. Along with other blue and purple fruits like figs and passion fruit, plums are among the very best sources of anthocyanins — a compound found within the fruits' pigment — that may help prevent memory loss, cardiovascular disease and certain types of cancer. Plums are superstars in the kitchen and can make for some memorable late-summer desserts, including cakes, torts and sorbets of all kinds. Held in the palm of your hand, plums should yield ever so slightly — but check the area around the stem to look to make sure they aren't overripe.

In Good Taste is brought to you in partnership with Siteman Cancer Center. Watch for more healthy, seasonal cooking ideas each month.