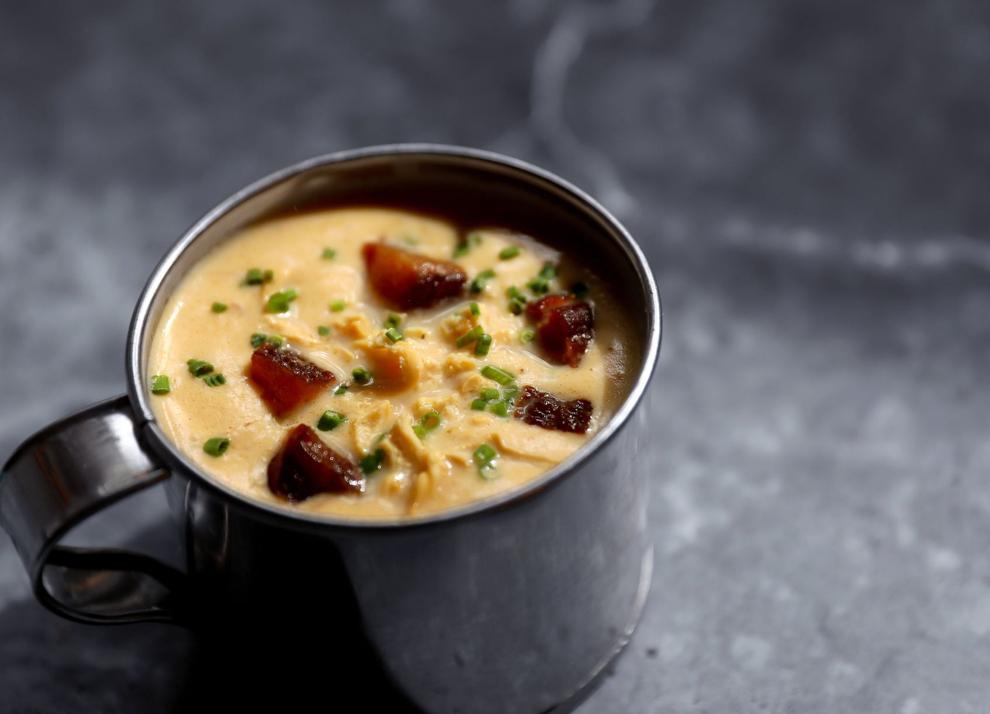 Yield: 12 servings
For the light roux
1 ¼ cups (2 ½ sticks) butter
2 cups all-purpose flour
For sachet
1 tablespoon dried thyme leaves
1 tablespoon whole black peppercorns
½ tablespoon fennel seed
2 long strips lemon peel (see note)
1 bay leaf
For the chowder
½ tablespoon butter
½ cup Nueske's slab bacon, cut into large dice
2/3 cup onion, diced
2/3 cup celery, diced
1 teaspoon minced garlic
4 tablespoons Worcestershire
2 tablespoons Tabasco
5 cups clam juice
4 cups housemade chicken stock
½ cup white wine
½ cup lemonade (not too sweet, though)
Sachet
Light Roux, ¾ to start, more as needed
4 cups ¾-inch diced red potatoes
¼ cup heavy cream
¼ cup half-and-half
Salt
1 tablespoon butter
12 ounces fresh clam strips
For serving, fresh chive and oyster crackers
Notes: Use a vegetable peeler to slice two peels of lemon skin, the yellow part only, about the length of the lemon.
• At Peacemaker, for freshness, an ounce of clams is sautéed-to-order for each serving; the same could be done at home as well.
1. Make a light roux. In a medium-size heavy saucepan, melt 1 ¼ cups butter on medium heat. Whisk in flour and let cook, whisking often, until flour turns light gold. Spread thin on a sheet tray and let cool. (The roux may be made in advance. You may not use all of the roux; use what's left to make a roux-thickened soup or sauce.)
2. Make sachet. Wrap thyme, peppercorns, fennel, lemon peel and bay leaf in two layers of cheesecloth, sealing the sachet with kitchen twine.
3. Make chowder. Melt ½ tablespoon butter in a large, heavy saucepan on medium heat. Stir in bacon and gently cook, just until beginning to soften without crisping. Stir in onion and celery and gently cook, just until beginning to soften. Stir in garlic and let cook for just a minute. Stir in Worcestershire and Tabasco, let liquid cook down by about half. Starting slowly, stir in clam juice, chicken stock, white wine and lemonade. Stir in sachet. Bring to a gentle boil and let boil until liquid reduces by about 1/8.
4. Remove sachet and increase heat to bring liquid to a heavy boil. A large spoonful at a time, stir in about three-fourths of the light roux; stir until liquid returns to a heavy boil before adding the next spoonful. Once three-fourths of light roux is added, the mixture should be the consistency of a thin gravy; if not, add some or all of the remaining light roux, remembering that the mixture will continue to thicken as it cooks. Reduce heat to maintain a slow simmer, let mixture simmer for 30 to 40 minutes.
5. Stir in potatoes and let simmer until potatoes are fully cooked. Stir in cream and half-and-half, bring just to a boil. Add salt to taste.
6. Cook clams. Just before serving, heat a skillet on medium heat and melt 1 tablespoon butter until sizzling. Drop in clam strips and cook just until done. Chop into bite-size pieces and stir into chowder. (See note.)
7. To serve Peacemaker-style, pour a cup of chowder into military-style tin soup cups. Garnish with fresh chive, serve with oyster crackers on the side.
Per serving: 292 calories; 17g fat; 9g saturated fat; 11mg cholesterol; 18g protein; 26g carbohydrate; 4g sugar; 2g fiber; 1,204mg sodium; 85mg calcium
Recipe adapted for home kitchens by the Post-Dispatch.