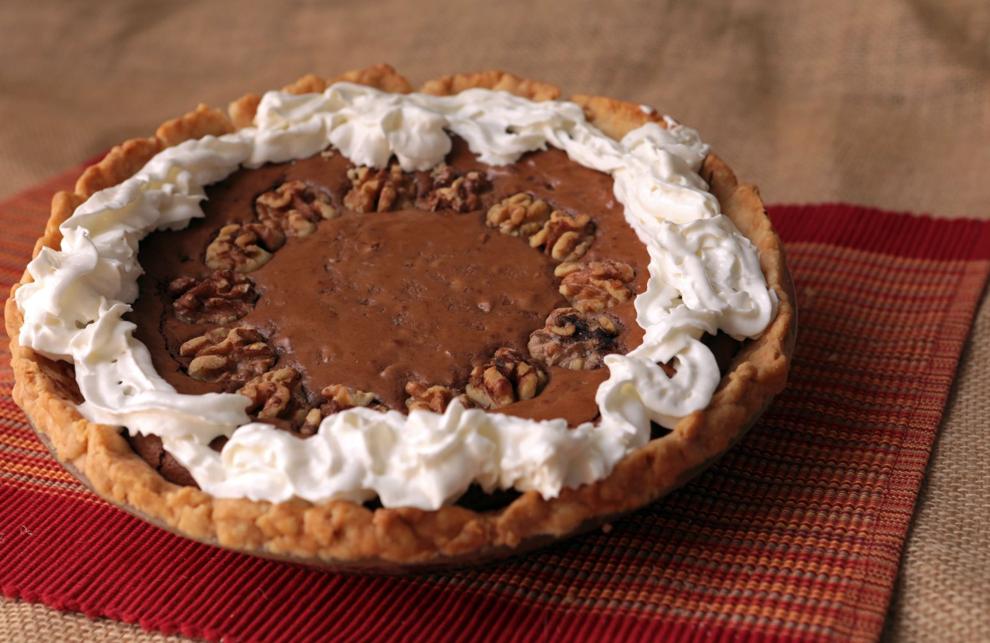 Yield: 8 servings
½ stick (¼ cup) butter
¾ cup brown sugar
3 eggs
12 ounces semisweet chocolate chips, melted
2 teaspoons instant coffee powder
1 teaspoon rum extract
2 tablespoons rum
1/3 cup shredded or flaked coconut
¼ cup all-purpose flour
1 cup coarsely broken walnuts
9-inch pie shell
½ cup walnut halves for decoration
Whipped cream, optional
1. Preheat oven to 375 degrees.
2. In a large bowl, use a mixer to beat together butter and sugar until fluffy. Beat in eggs one at a time. Add melted chocolate, instant coffee, rum extract, rum and coconut. Stir in flour and broken walnuts; pour into pie shell. Top with remaining ½ cup walnut halves. Bake 25 minutes. Cool. Top with whipped cream, if desired.
Per serving: 595 calories; 36g fat; 15g saturated fat; 85mg cholesterol; 8g protein; 66g carbohydrate; 46g sugar; 5g fiber; 138mg sodium; 63mg calcium.
Recipe by Wayne Fick