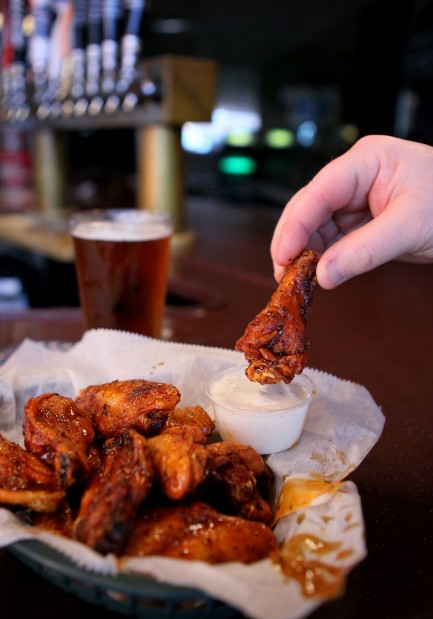 Q: Would you please ask for the recipe for the delicious wings from Lemmons? They are peppery and unique to the area.
— Jesse Klitzing, Benton Park
A: Old-timers fondly remember the original Lemmons for fried chicken and lemon meringue pie. The restaurant was closed and the building vacant when Mike Gross purchased the spot 10 years ago.
Lemmons Fine Food's vintage neon sign still marks the building. "I feel sad when folks come in, hoping to find the old restaurant," Gross says.
Lemmons is now a music venue that showcases original-music bands three nights a week. But food is important too. "We don't want people to have a couple of drinks and then leave to get something to eat," Gross says. Still, he emphasizes, "We're a bar, not a restaurant."
Two items anchor the menu, peppery wings and homemade Chicago-style deep-dish pizza. Lemmons offers a free pizza buffet on Mondays. Trivia nights are Wednesdays and Thursdays.
Gross developed the wing sauce and says that while lots of people love Lemmons' wings, some don't like them. "The taste is really different than other St. Louis-area wings," he says. "They're kinda hot and kinda sweet. And most importantly, they make you want a beer."
To best re-create the wings at home, Gross recommends cooking the sauce for a long time to slowly concentrate the heat. "If I don't get a little sweaty eating a wing or two, the sauce hasn't been cooked long enough," he says.
Special Request is written by Kirkwood resident Alanna Kellogg, author of the online recipe column KitchenParade.com and "veggie evangelist" at the food blog about vegetables, A Veggie Venture.