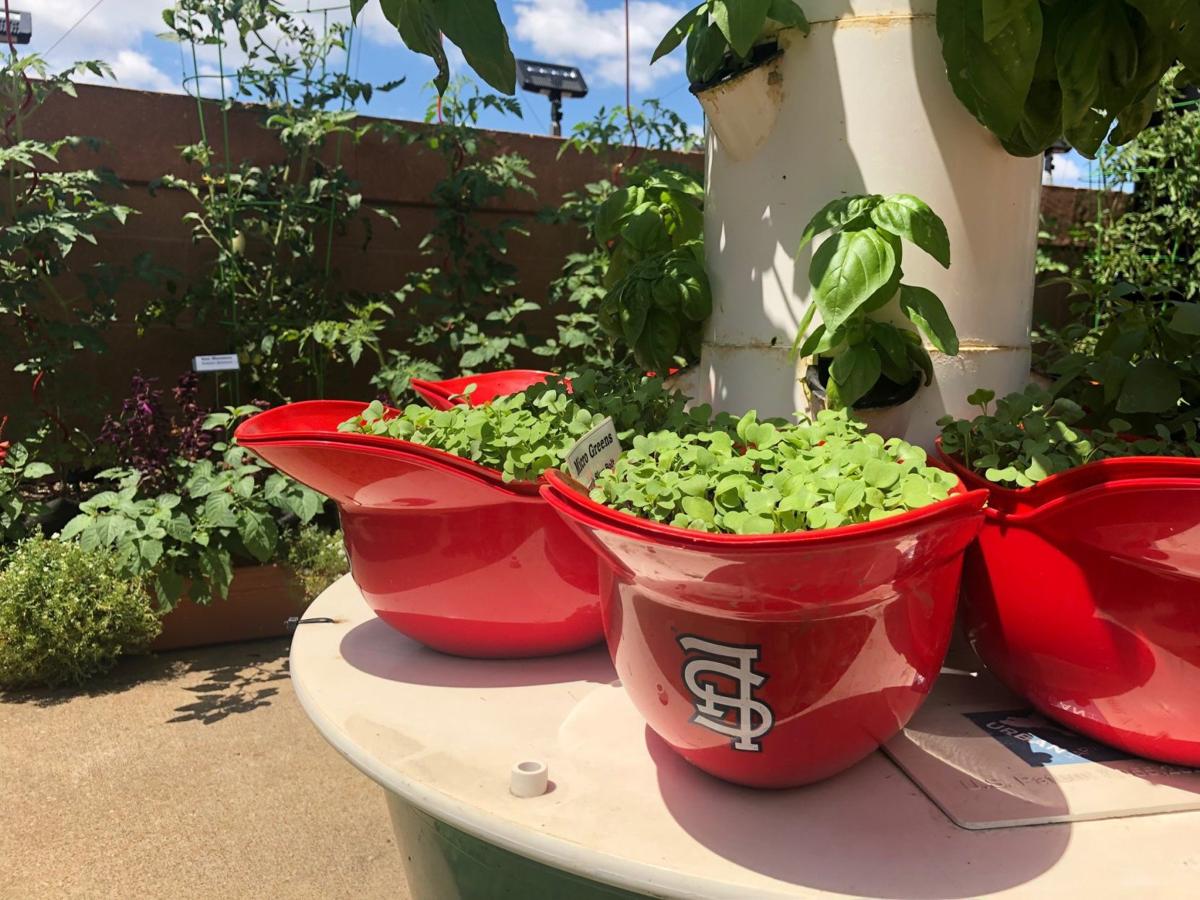 Over here are some San Marzano tomatoes. Rosemary is there. Eggplants and strawberries are over there.
And way down there? Way down there is home plate.
A garden grows at Busch Stadium, full of vegetables and fruits and other delights. It's out of the way, behind the Terrace Market in Section 450, but not hidden. If you're driving east on Highway 40 (Interstate 64) and you see the big Busch Stadium sign, the garden is just below it.
Most of the all-organic garden's harvest goes to feed the players. The basil may end up on chicken dishes, the tarragon on fish. Microgreens can add an unexpected — and nutrient-dense — pop of flavor to a salad or a sandwich.
More than 20 varieties of microgreens adorn the stadium, from micro beets to micro lettuce. Many grow in upside-down souvenir batting helmets, the kind more commonly used to serve nachos and popcorn.
The garden, officially called Busch Stadium Red Bird Garden, is the brainchild of Larry Johnson, the stadium's executive chef. Johnson, who works for the stadium-food service company Delaware North, first began the garden three years ago.
Johnson said he was inspired when he saw some of the players who own their own farms coming into the clubhouse with bushels of tomatoes and cucumbers. That is when he realized there was a demand for the freshest possible produce grown on site.
"I'm not a baseball guy. I said, 'there's a perfect spot in the outfield,'" Johnson said, meaning the batter's eye just above the centerfield wall.
Once the team management stopped laughing, Johnson searched for an appropriate spot to put the garden. It had to get sun and be out of the wind. What began as a fairly small plot has now tripled in size to 2,500 square feet, and Johnson looks to expand next year to an unused strip under the St. Louis Cardinals sign overlooking Spruce Street.
The garden is notable for its variety: six different kinds of basil; 12 kinds of tomatoes; 10 different peppers, including a couple of plants with the insanely hot Carolina reaper.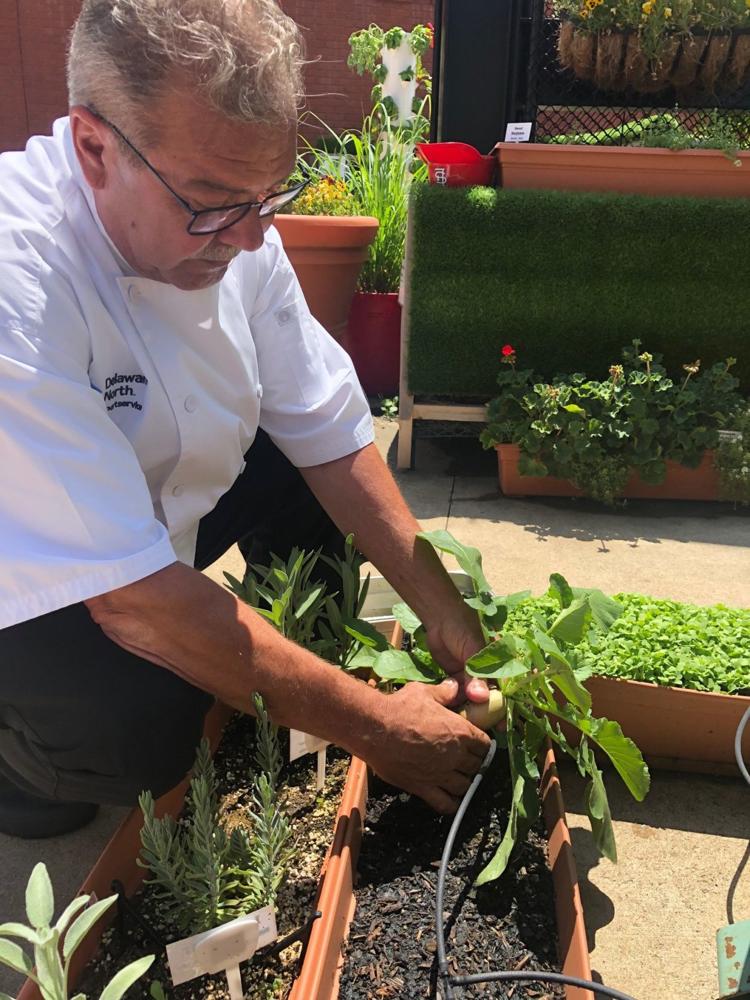 "Last year, Carp (third baseman Matt Carpenter) really got into salsa," Johnson said, explaining the proliferation of peppers.
Some of the peppers have a specific use. Johnson grows aji dulce peppers to use in sofrito, a base used in much cooking in the Dominican Republic and Puerto Rico — José Oquendo "walked us through," he said. Johnson also grows culantro, an herb both similar to and quite different from cilantro.
Culantro is also popular in Latin American cuisine, and it can be difficult to find in the St. Louis region. That's the idea behind the garden in general, to have a fresh source of produce that is not easily found here.
They don't just grow tomatoes, they grow heirloom tomatoes. It's not just radishes, it's watermelon radishes.
Actually, the watermelon radishes were a problem. Johnson planted 72 seeds. Only five grew.
"You feel like you're a bad dad. Seventy-two kids. Five turned out right. The others went south," he said.
Trying to grow plants at a baseball stadium is an educational experience, and each year Johnson takes what he learns to design the next year's garden. A lot of help comes from Urban Harvest, a charitable organization that specializes in growing food in urban settings, including roof tops. The Red Bird Garden gives half of its produce to Urban Harvest, which then donates it to food banks.
Even though the garden is high in the air and surrounded by concrete, pests are still a problem. Spider mites were wreaking havoc earlier in the season, so Johnson imported 4,500 ladybugs. Within a week, the spider mites had all been eaten and the ladybugs flew off to find more food.
Meanwhile, Johnson said he tried to grow basil at his own home three springs ago. It was all eaten by birds.
Maybe they were cardinals.