Sarah Becan — Cor Jesu Academy class of '94 — was interested enough in art to make it one of her two majors in college. The other was modern languages.
But, "at the time, I thought it was not realistic to make a career out of art. You should go into business or get an MBA," she said from Chicago, where she now lives.
And then she had an epiphany.
"You don't have to be a rock star to make a career out of music, and you don't have to be a Picasso to make a career out of art. There are lots of little niches."
Becan is the illustrator of a comic-book cookbook, "Let's Make Ramen!" In the still-new world of printing cookbooks in comic-book form, Becan is kind of a Picasso.
She will be at the St. Louis Small Press Expo on Saturday with copies of the book, other comic books and art prints.
"Let's Make Ramen!" is an expansive look into all things ramen, including the history of the dish, the ingredients used in making it, the best methods for cooking and enjoying it, and plenty of recipes. And it's all in the style of a graphic novel.
"I'm very biased, but I think comics are the perfect format for instructions, because you can pare away the ancillary information that you don't need and just show the sequential instruction very quickly," she said.
"It's like Ikea instructions."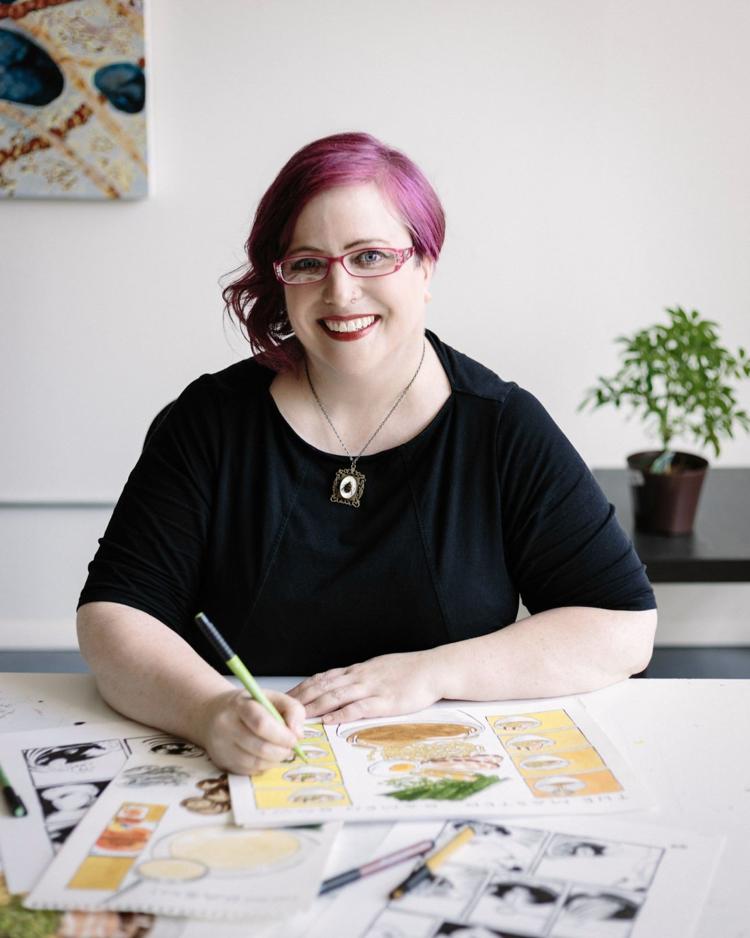 Becan was introduced to comics by her grandfather, who shared with her his collection of Pogo cartoons by the legendary Walt Kelly. And so, as she put it, her first jobs out of college as a graphics designer "helped fund my hobby of making comics."
For several years, she drew an autobiographical web comic called "I Think You're Saucesome." The strips were often about food. So when a restaurant called Fat Rice opened in her neighborhood and she tried it with her boyfriend, it is not a surprise that she drew a little sketch of the food.
The next week, the restaurant called her and asked if she would make some art for them. Soon, she was designing their posters, hot sauce labels and T-shirts.
As it happens, one of the sous chefs at the restaurant was Hugh Amano, who co-wrote the cookbook "The Adventures of Fat Rice." Amano is also the author of "Let's Make Ramen!" but their collaboration on that book did not begin at Fat Rice.
Ten Speed Press — which is owned by a company that is owned by Penguin Random House — became interested in the idea of cookbooks written as comic books (they are becoming increasingly popular in Asia but were little known here). They approached Becan and said they would be open to a proposal for a comic-book cookbook about ramen.
"I love ramen. I think it's amazing," she said. In fact, on a trip to Japan she once visited the "incredibly charming" Shin-Yokohama Ramen Museum.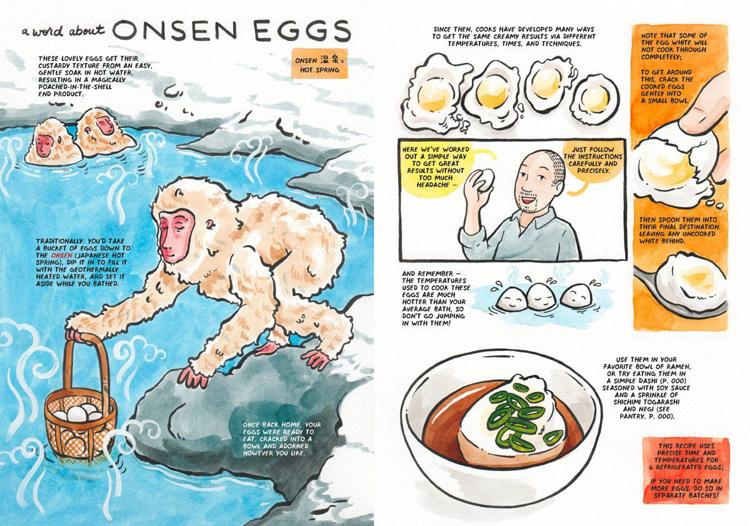 "The first floor had a bunch of museumy exhibits about ramen" including tools used to cook ramen in the 1940s and '50s, she said. "Unfortunately, at the time we were there, most of the exhibit was in Japanese, and I am not functionally literate in Japanese."
The most exciting part for her, though, was the basement, which she said "is like the Colonial Williamsburg of ramen. They have re-created old Japan, with streets and shops and actors playing policemen."
Nine different shops there sell ramen in the style of nine region of Japan, and though "I was determined to try all nine," she only made it through two.
Once she decided to work on the cookbook, she had to find an author. Amano had left Fat Rice by that time and was working as a corporate chef, so he had the advantage of not trying to hype his restaurant, as had been the case of a couple of other chefs they had considered.
On top of that, his father is Japanese, so he had grown up eating ramen.
"It was an extremely collaborative cookbook," Becan said. She served not only as illustrator, but also as a sounding board, offering suggestions on which recipes to include and also, most important, giving feedback on whether the recipes were easily understood by an ordinary cook using an ordinary kitchen.
That was the goal: to make the recipes approachable and accessible.
Becan has been drawing food for years and finds it especially easy to depict a food she loves, such as ramen. But she had one notable problem with the book, depicting a type of broth called tonkotsu.
"It is the most intense of the ramen broths that you are going to make. Some restaurants that make this will boil it for 48 yours. You put a lot of trotters and bones and collagen and random pig parts into a broth. After it's boiled and boiled and boiled, it's essentially liquefied pig."
Part of the difficulty was just in depicting the thick, gelatinous texture. But the color of the broth was a bigger, unforeseen problem: It turns out to be the same color as the watercolor paper she used.
Sarah Becan will be at the Opening Night Kick-Off Party for the St. Louis Small Press Expo from 6 to 8 p.m. Friday at the Contemporary Arts Center, 3750 Washington Boulevard, and will be at the expo from 10 a.m. to 5 p.m. Saturday at the St. Louis Public Library Central Library, 1301 Olive Street. Both events are free.