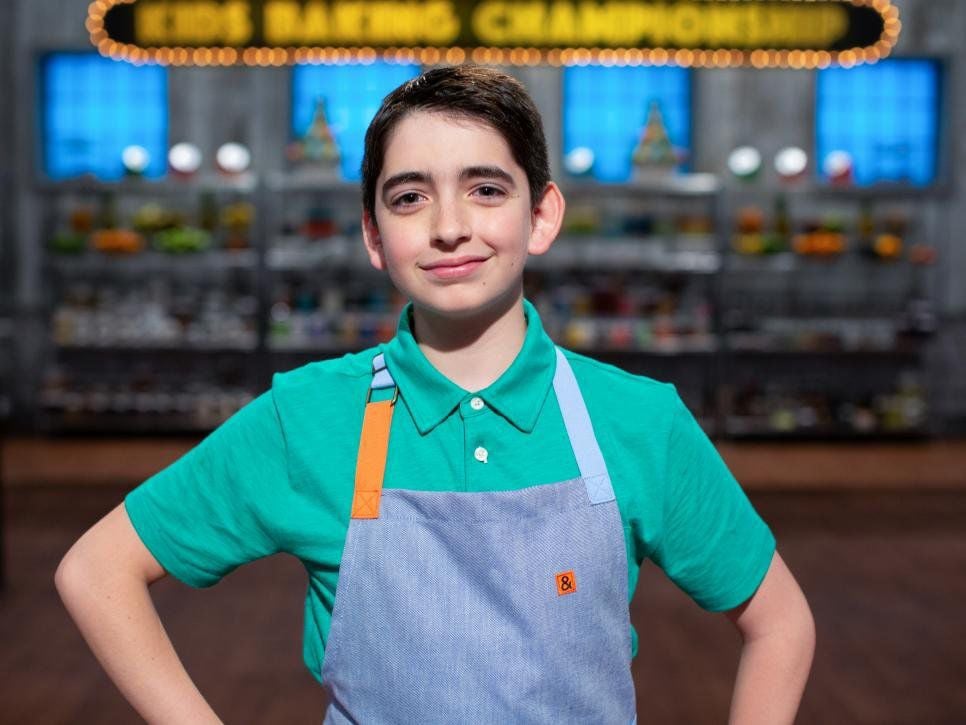 Tarek Husseini likes to bake. He really, really likes to bake. And his proficiency at baking has landed him a spot on a nationally televised baking championship show.
Which is pretty good, considering that he is just 13.
Tarek is an eighth-grader at Ladue Middle School. He plays violin. He plays piano. He likes math and science, and he especially likes building things out of Legos.
But what he is now known for across America is his baking. He is one of the nine young competitors on the "Kids Baking Championship," which airs on the Food Network.
Actually, at the moment he is one of the five young competitors, having made it safely through the first four episodes of the show, which eliminates one contestant each week.
He has already made a chocolate cake with chocolate ganache and raspberry filling with chocolate and vanilla buttercream; lemon cupcakes filled with lemon curd and topped with lemon buttercream decorated to look like the Angry Bird character Chuck; a chocolate devil's food bundt cake shaped like a doughnut with miniature doughnuts on top; and an assortment of sweets that resemble ramen (chocolate pudding for broth, crepes for noodles, vanilla cake dusted with cocoa powder for the meat, and more).
Now might be a good time to remind you: He is just 13.
Then again, Tarek has been baking since he was 5 or 6, he said last week. He began by helping his mother make cupcakes. He started baking on his own when he moved to Saudi Arabia during fifth and sixth grades.
"Then, for the past two years I started going really hard by myself," he said.
That persistence paid off, in the form of a coveted spot to appear on the "Kids Baking Championship" show. This was such a cherished goal for him that he once created a copy of the show's kitchen out of Legos, with a Lego character of himself cooking in it, in the hopes that he would one day be on the show.
The show was taped in Los Angeles in May and early June, and Tarek is, of course, sworn to secrecy about how well he did.
The whole experience "was really, really cool, because I walked in and thought 'What are we doing today?' It's so awesome."
But then he did not have time to be awed, because once they were given their challenge he only had two hours to plan and execute his intricate creations.
And the young bakers received no help from the show's hosts, celebrity cake expert Duff Goldman and actress-turned-cookbook-author Valerie Bertinelli. The children had to know how to make everything before they got to the show.
""I had to memorize a lot of recipes and I had to learn a lot of techniques at home. Once the challenge started it was my brain having to recall the recipes that I was going to do, and then I had to make it," he said.
It sounds stressful. Not only were they competing for $25,000, and on national television, but they were given a limited amount of time to make and decorate a dish that would challenge a baker of any age.
"Cooking in front of the camera was kind of intimidating at first, but I got used to it before the end of the first episode and it was really fun after that," he said.
Even when things went wrong, as they are bound to do, he said he and the other bakers were still fairly relaxed and worked methodically to correct the problem.
The kitchen was not cutthroat because the competitors are all kids. "Once we met, we instantly became friends," he said. And they are all still in touch with each other now. It's like sharing a foxhole during wartime: You make your closest friends during times of shared duress.
It especially helps when everybody is eating buttercream.
"Kids Baking Championship" airs on the Food Network at 8 p.m. Mondays, and each episode is rebroadcast four more times over the next two weeks.
And if you want to sample Tarek's baked goods yourself, he makes them to order. You can reach him via Instagram at @tarek_bakes and through email at tarekbakes@gmail.com.