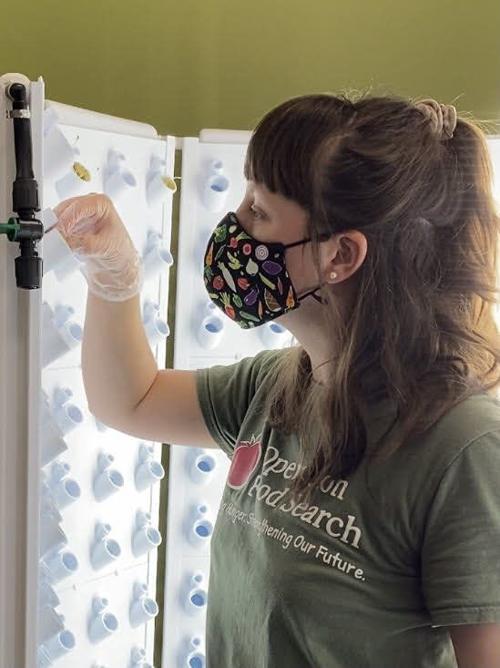 In just a couple of weeks, the local nonprofit organization Operation Food Search will be able to give low-income people some lettuce that is locally grown.
Like, they don't even have to go outside of their own warehouse to pick it.
This month, the organization received a donation of two Flex Farms, which are miniature, self-contained hydroponic farms. It allows Operation Food Search to grow its own produce indoors — in this case, in its warehouse.
Because the mini-farms have a growing period of just 21 to 28 days, the organization can have a new crop every month or even less. The farms are most suitable for growing leafy green vegetables and herbs, and each one can produce up to 25 pounds of produce during each growing cycle.
Operation Food Search is a hunger-relief organization that distributes free food to nearly 200,000 people in 30 Missouri and Illinois counties each month through a network of food banks, charities and religious institutions.
Most of the fresh produce that it distributes is purchased from local farmers. But now, with the addition of these two mini-farms, organizers will be able to grow a small part of it themselves.
The two units ordinarily cost $5,000 apiece and were donated by UnitedHealthCare Community Plan of Missouri and by Fork Farms, the Wisconsin company that makes them.
"We're excited that we're the first organization to have them in the state of Missouri. There are 25 others in the United States and Canada. It is exciting to be on the cutting edge," said Kristen Wild, the executive director of Operation Food Search.
"It is wonderful to be contributing to sustainability. And it is exciting because they require zero pesticides."
Each Flex Farm takes up about 10 square feet of floor space. They come in a tall, circular shape that opens up to reveal rows and rows of trays that are aligned vertically so that water can trickle down over them ("it sounds like a very gentle waterfall," Wild said). In the center is a grow light, which provides all the energy the delicate plants need. And they only require about two hours of work each month.
"I don't have sophisticated knowledge of how it works. I'm just glad that it works," Wild said.
The produce that comes out of the farms will specifically go to the organization's Fresh RX program, which provides weekly shares of food (and other services, such as cooking classes) to pregnant women and their families in an effort to reduce premature births, Wild said.
A registered dietitian and a community chef work together to develop seasonal menus for the participants in the Fresh RX program. The menus that they create will determine what crops are planted in the future.
The Fresh RX Food Systems Associate, Jade Umberger, is the primary person responsible for the new farms. She also spearheaded the effort a couple of years ago to grow produce in pots.
But those pots are all the way outdoors.