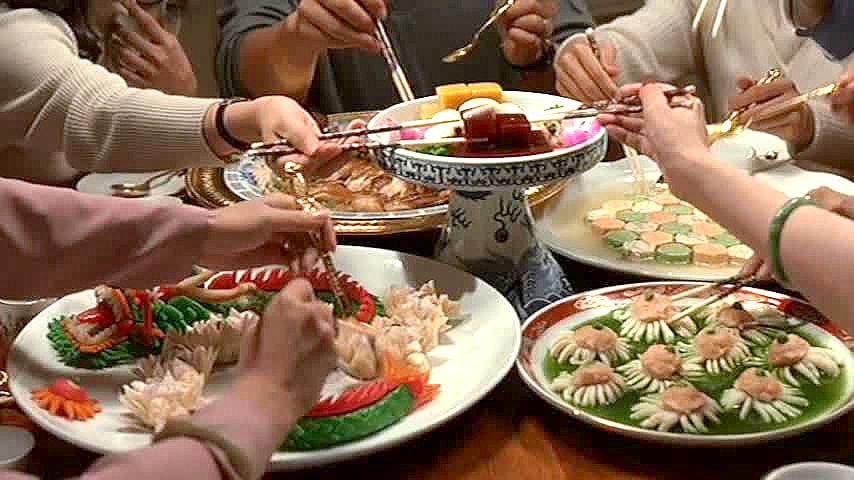 My father — a fan of movies, among his other attributes — always said the sexiest scene he had ever watched in a film involved no actual sex. Or nudity. Or, for that matter, any kissing.
My father held that the sexiest scene ever filmed involved eating. In the Oscar-winning 1963 version of "Tom Jones," Tom (Albert Finney) and Mrs. Waters (Joyce Redmon) wordlessly seduce each other by eating lobster, chicken, lamb, oysters and juicy, mouth-watering fruit.
Let's just say Tom eats with a certain libidinous gusto, while Mrs. Waters dines with finesse. And then they dash off to bed.
Remembering that scene, which I do with alarming frequency, had me thinking about the best food-related scenes in the movies.
Who can forget the great deli scene in "When Harry Met Sally," in which Meg Ryan pretends to be enjoying her meal rather more than is entirely seemly? Even so, it's the action in the story, rather than the food, that stands out. For the record, Billy Crystal is eating a pastrami sandwich, and Ryan ("I'll have what she's having") has a turkey sandwich.
Their food choices were revealing. The Jewish Crystal noshes on the prototypical Jewish deli sandwich, while the WASPy Ryan eats (and rearranges) meat that is unmistakably white. It's the same idea propelling the famous scene in "Annie Hall" at a different deli, in which Woody Allen orders a pastrami sandwich and Diane Keaton also orders one — on white bread, with mayonnaise, lettuce and tomato.
That one sentence reveals the cultural chasm between them, and shows the reason they will eventually break apart.
The 1997 film "Soul Food" was one of the best of what was even then recognized as a new genre, food movies. It tells the story of a family that is falling apart, especially after the death of the matriarch (Irma P. Hall) — whose Sunday dinners were a unifying ritual.
Just as the family is about to fracture forever, it is healed by a continuation of the Sunday-dinner tradition (and a related kitchen fire). The movie wants us to think that it is love and faith that bring them back together, but we know it is really the food. And why not? For that concluding meal, they feast on: chicken and dumplings, deep-fried catfish, sweet cornbread, macaroni and cheese, black-eyed peas, collard greens, green beans, corn and peach cobbler.
It's mouth-watering just to look at, which was always the subtext of food movies. Before the term "food porn" was conceived, these movies were food porn.
Sometimes kind of literally. With all due respect to my father and "Tom Jones," the sexiest scene I have ever seen in a film was in the 1992 Mexican film "Like Water for Chocolate." Based on the magical realist book by Laura Esquivel (it was a bestseller in the United States but was not as popular in Mexico), it tells of a forbidden love that can only express itself through cooking.
Lumi Cavazos stars as a young cook who is kept from the man she loves. After her tears fall into the batter for the would-be lover's wedding cake, everyone at the table palpably yearns for their lost loves. When the lover later gives her roses that cut her over her heart, she uses them to make quail in rose-petal sauce. This time, the guests fall into a reverie that can only be a heightened state of lust.
For some great films, it isn't just a specific scene that stands out; a theme of food runs through the entire movie.
The glorious "Mostly Martha," a German film from 1994, shows a cold-hearted German chef slowly opening up to an Italian cook she has hired because of the food he serves her and her sort-of adopted daughter.
"Eat Drink Man Woman," also from 1994 and directed in Mandarin by the then little-known Ang Lee ("Brokeback Mountain," "Life of Pi," "Sense and Sensibility") depicts a Taiwanese chef who helps his three daughters navigate their complicated love lives over sumptuous weekly dinners.
In "Big Night," from 1996, two restaurant-owning brothers break apart during the preparation of a huge meal to impress jazz impresario Louis Prima, only to come back together again the next morning over a truly delicious-looking omelet.
But my favorite food movie has to be the quiet, and quietly stunning, "Babette's Feast." The 1987 Danish film, based on a novella by Isak Dinesen, tells a story of two aging, straightlaced sisters who take in a refugee from the Franco-Prussian War to be their housemaid. After the servant wins a lottery, she uses all the money to prepare a meal for the sisters and their friends that is simply the most amazing food ever. It is a tremendously affecting act of love and appreciation.
What lessons can we take from these films? That food is love, food is sensual and food is sometimes sex. Food brings us together in difficult times. But mostly, that when we want to express ourselves, especially without words, that the best way to do it is with food.
A weekly treasure trove of tastiness, featuring reviews from restaurant critic Ian Froeb and how-to videos by food writer Dan Neman.