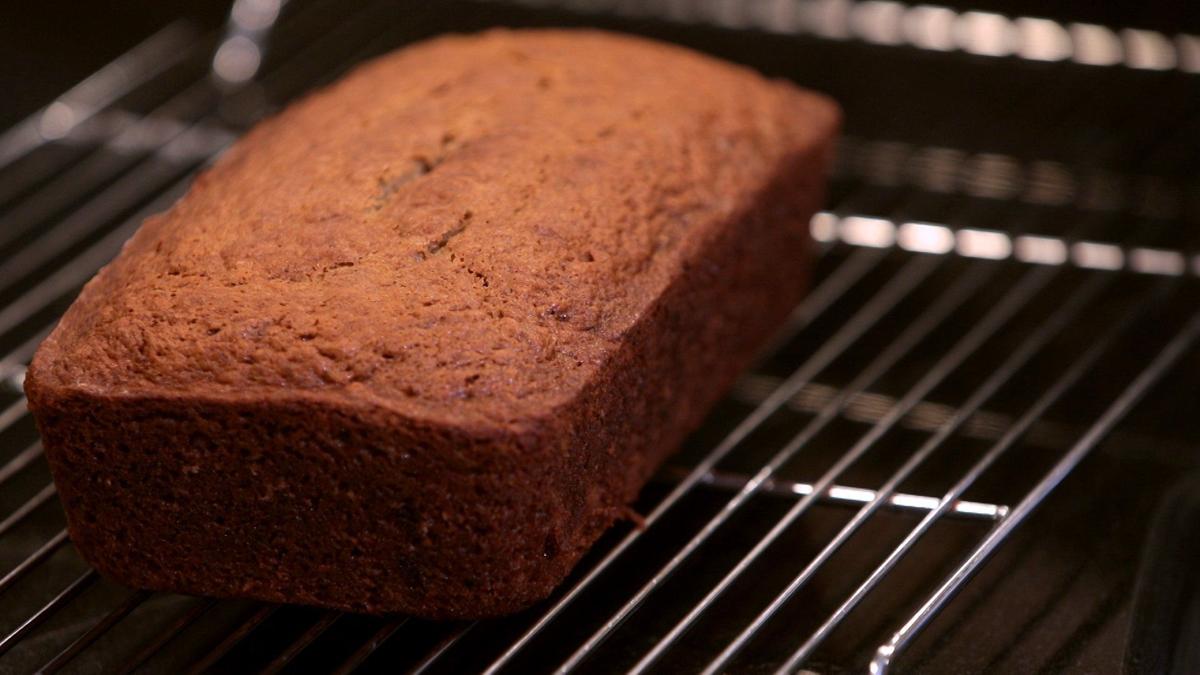 As night follows day, as a rainbow follows the storm, so too does home cooking follow a pandemic. Apparently.
It turns out that in these stay-at-home days, a lot of us are taking the sometimes unfamiliar time in our kitchens to do a little cooking. Which means that a lot of us are looking up recipes on the internet.
Google Trends has been keeping track of the recipes people have been searching for all around the world for the last 30 days (Google knows all. Google sees all. Google is all.) The results are both surprising and not so surprising.
Not surprising is the fact that people are looking up more recipes now than at any time in the still-not-very-long history of the internet. Perhaps surprising is the fact that, based on the recipes that are being searched, Americans and people influenced by American taste seem to utterly dominate the internet.
Unsurprising is the fact that the folks or algorithms at Google Trends include hand sanitizer as one of the recipes that people are looking for, along with all of the various foods. A recipe is a recipe, I suppose.
And there it is, hand sanitizer, sitting clean but un-nutritious at No. 3.
But when you look at the other nine items on the list, perhaps it belongs there after all, at least in terms of healthful eating.
What we want to eat in this Pandemic Age are sweets, treats and meals from our childhood. It is like an offshoot of comfort food — it's comfort food that is also a little bit of a celebration. It's comfort food with calories.
No. 1 on the list is banana bread, which is clearly more of a dessert than a bread. It's what you make when you don't quite want to eat those bananas but you you can't quite bear to part with them yet, either. What we can learn from this is that a lot of quasi-quarantined people are buying more bananas than they can use.
The second recipe on the list is pizza dough, which is certainly encouraging to those of us who advocate home cooking. Frozen and refrigerated pizza doughs are available, and yet people are choosing to make their own. Or maybe the stores are out of the frozen and refrigerated types; after all, homemade pizza sauce is not on the top-10 list.
No. 3, as we have mentioned, is hand sanitizer. Um … yum?
French toast, the fourth most-searched recipe, is the epitome of what people seem to be looking for in these still-unusual times: It is not an everyday meal, it is something a lot of us associate more with childhood than adulthood, it has more calories than are good for you (especially with syrup), and it is delicious and easy to make.
Next on the list is chocolate cake, which, to be honest, I never even think about unless it's somebody's birthday. I'm guessing my fellow shut-ins have the same associations with it (childhood, celebration, fattening), which is why so many of us seem to be making it.
I hadn't even heard of No. 6 on the list, dalgona coffee. Apparently, it is everywhere on the internet, especially Instagram and TikTok. But I don't tik, I don't tok and I don't gram. So I was blissfully ignorant of this massively popular drink from South Korea that floats whipped coffee and sugar — two whole tablespoons of sugar — on top of milk.
We're talking 252 calories for a single serving, with 36 grams of sugar and 40 grams of carbohydrates. That's more in each category than a Snickers bar.
The seventh searched-for recipe is the exception that (otherwise) proves the rule: chicken breasts. There are many ways to make chicken breasts, and people at home are presumably looking for new ones. Sometimes a cigar is just a cigar.
But No. 8? That's carrot cake. Now we're talking.
When done right, carrot cake is the most sublime dessert known to man or woman. It's the best way I know to pack calories on top of calories and make it seem healthy because it has carrots in it.
Ground beef, at No. 9, is like the chicken breasts: It's versatile and it's relatively inexpensive. People are looking for recipes for it because they have ground beef on hand and are looking for new, non-hamburger ways to make it.
And coming in at No. 10 is, let me see, fried rice.
Really? Fried rice? I mean, I like fried rice fine, or at least I don't actively dislike it. But the 10th most-searched recipe on the internet during a virus? And one of the 10 was hand sanitizer?
Our versions of the top Google-searched recipes
No. 1: Banana bread
Daniel Neman demonstrates how to make banana bread in a Prep School video. 
No. 2 Pizza dough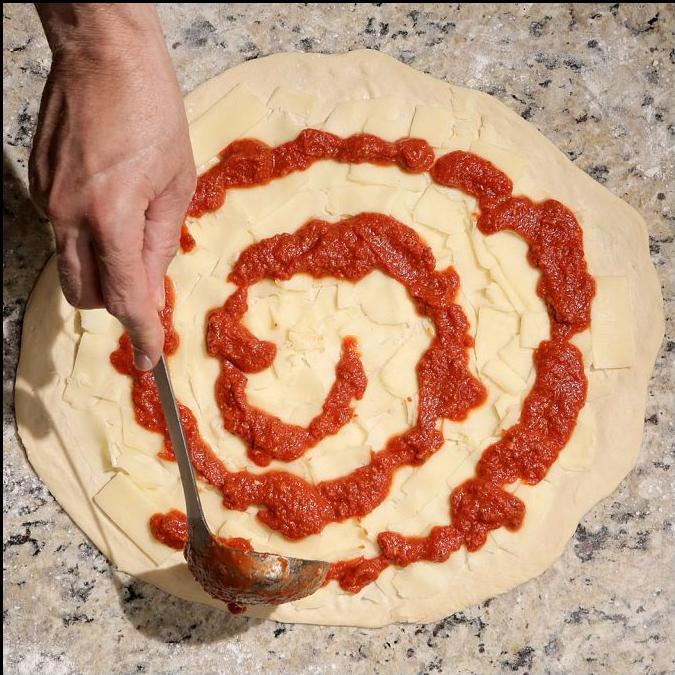 Yield: 2 pizzas (4 servings)
1 package active dry yeast
1 cup warm water, around 110 degrees
Pinch granulated sugar
1½ teaspoons salt
1½ tablespoons extra-virgin olive oil, plus more for coating bowl
2½ to 3 cups all-purpose flour, divided
1. In a large bowl, mix yeast, water and sugar, and stir well to combine. Set aside until foamy, about 5 to 10 minutes. Add the salt, olive oil and 1¼ cups of the flour, and mix well to thoroughly combine. Add another 1¼ cups flour and mix well with your hands, working to incorporate the flour little by little. The dough should be slightly sticky to the touch.
2. Transfer dough to a lightly floured work surface and knead for 5 to 7 minutes, adding additional flour as necessary to form a smooth and elastic dough that is not sticky. Transfer to a lightly oiled 2- or 3-quart bowl and turn to coat with oil. Cover with a damp towel and let rise in a warm place until doubled in size, about 1 hour.
3. Divide dough into 2 equal portions and form into balls. Use immediately or wrap individually in plastic wrap and refrigerate for up to one day.
Per serving: 390 calories; 69g carbohydrates; 7g fat; 9g protein; 872mg sodium; no sugar
Adapted from Emeril Lagasse, via Food Network
No. 3: Hand sanitizer
Sorry, Let's Eat doesn't have a recipe for this. 
No. 4: French toast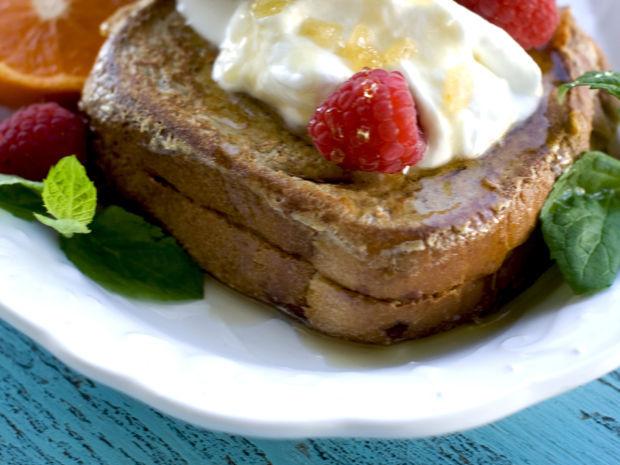 Cranberry Cream Cheese Stuffed French Toast
Yield: 4 servings
4 ounces cream cheese, softened
1/4 cup chopped dried cranberries
2 tablespoons finely chopped crystallized ginger
1 tablespoon honey
8 slices cinnamon swirl bread
4 eggs
2/3 cup fat-free half-and-half
1 teaspoon cinnamon
1/2 teaspoon ground dry ginger
Butter, as needed
Maple syrup, to serve
1. In a small bowl, mix together the cream cheese, cranberries, crystallized ginger and honey. Divide this mixture between 4 slices of the cinnamon swirl bread, spreading to just 1/2 inch from the edge. Top with the remaining 4 slices of bread to make 4 sandwiches.
2. In a medium bowl, whisk together the eggs, half-and-half, cinnamon and dry ginger. Dunk each of the sandwiches into the egg mixture to thoroughly coat and soak them.
3. In a large skillet over medium heat, melt just enough butter to coat the pan. Working in batches, fry the sandwiches for 4 minutes per side, or until nicely toasted and heated through. Add butter between batches. Serve warm with maple syrup.
Per serving: 470 calories; 25g fat; 230mg cholesterol; 45g carbohydrate; 5g fiber; 21g sugar; 15g protein; 440mg sodium.
Recipe from the Associated Press
No. 5: Chocolate cake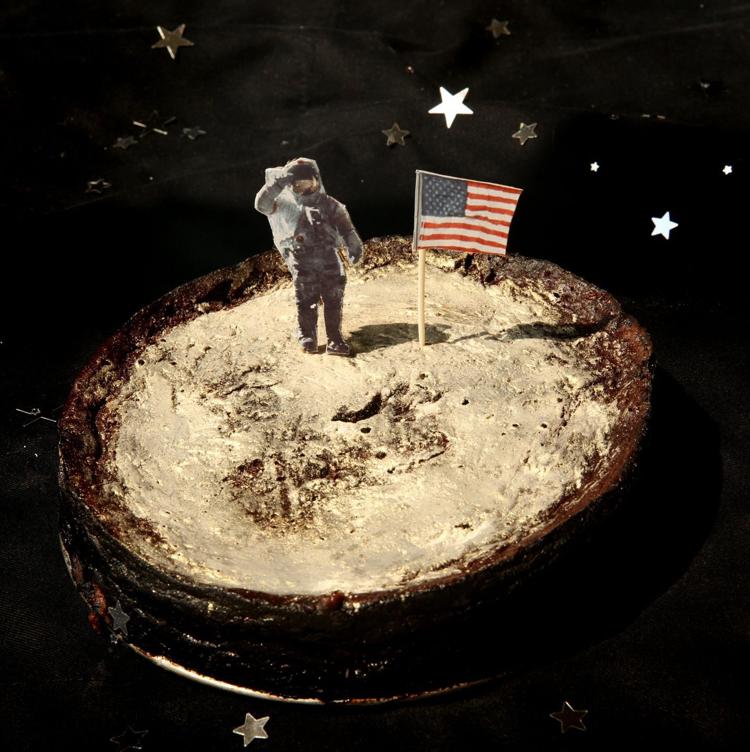 Chocolate Moon Cake
Yield: 8 to 10 servings
7 ounces (1¾ sticks) butter, cut into pieces, plus more for greasing pan
Cocoa, for dusting pan
10 ounces bittersweet or semisweet chocolate, coarsely chopped
½ teaspoon almond extract
5 large eggs, room temperature
1 cup granulated sugar
About 1 gram pearl luster decorating dust or antique lace luster decorating dust, see note
Astronaut cutout and American flag, for decorating
Note: Pearl luster decorating dust and antique lace luster decorating dust are available at baking supply stores or online.
1. Preheat oven to 350 degrees. Put a kettle of water on to boil.
2. Grease a 9-inch springform pan with butter and dust it with cocoa powder, tapping out any excess. If your springform pan is not completely water-tight, wrap the outside with aluminum foil, making sure it goes all the way up to the top rim.
3. Set a bowl over a pot of simmering water and melt the chocolate and butter, stirring occasionally, until smooth (or melt them together in a microwave, stirring together until smooth). Stir in the almond extract. Remove from heat.
4. In a large bowl, whisk together the eggs and sugar, then whisk in the melted chocolate mixture until smooth. Pour this batter into the prepared springform pan and cover the top snugly with aluminum foil. Set the pan inside a larger baking pan, such as a roasting pan, and add enough boiling water to the baking pan to come about halfway up the side of the cake pan.
5. Bake for 1 hour and 15 minutes. The cake is done when it feels just set, like quivering chocolate pudding. If you gently touch the center, your finger should come away clean.
6. Lift the cake pan from the water bath and remove the foil. Let cake cool completely on a cooling rack. When cake is cool, brush on the decorating dust with a clean fingertip. Serve at room temperature. Cake can be wrapped and chilled in the refrigerator for 3 to 5 days. Decorate with a cutout of an astronaut and an American flag.
Per serving (based on 8): 518 calories; 35g fat; 22g saturated fat; 167mg cholesterol; 7g protein; 45g carbohydrate; 38g sugar; 3g fiber; 46mg sodium; 23mg calcium
Adapted from a recipe by David Lebovitz by thekitchn.com
No. 6: Dalgona coffee
Let's Eat has never featured Dalgona coffee, but a quick internet search yielded many results, including this one from Delish.com.
Yield: 1 serving
2 tablespoons granulated sugar
2 tablespoons instant coffee
2 tablespoons cold water
Ice, for serving
Milk, for serving
1. In a medium bowl, combine sugar, coffee, and water. Vigorously whisk until mixture turns silky smooth and shiny, then continue whisking until it thickens and holds its lofty, foamy shape.
2. Fill a glass most of the way full with ice and milk, then dollop and swirl the whipped coffee mixture on top, mixing before drinking, if desired.
No. 7: Chicken breasts
Stuffed Chicken Breasts
Yield: 4 servings
4 boneless, skinless chicken breast halves
3 tablespoons butter, divided
1 cup dry white wine
1. Preheat oven to 375 degrees. Make a pocket in each breast by cutting it horizontally almost all the way to the far side. Stuff with one of the following stuffings, or make one up yourself. Close pockets with toothpicks.
2. In a large skillet over medium-high heat, melt 2 tablespoons of the butter. Without crowding the pan, cook chicken until golden brown on both sides; you may have to do this in two batches. Do not clean this pan. Transfer chicken to a rimmed baking sheet or a pan (or pans) large enough to hold the breasts in a single layer. Cook in oven until done, about 30 minutes.
3. Meanwhile, over medium-high heat, reheat the original pan in which you cooked the chicken (skip this whole step if you made Asian-Style stuffing). Add the wine and use a wooden spoon to scrape up any browned bits from the bottom of the pan. Boil the wine until it reduces by about half. Remove from the heat and add the remaining 1 tablespoon of butter, swirling it in the pan until it is completely incorporated with the reduced wine. Pour this sauce over the cooked chicken, and serve.
Per serving: 243 calories; 12g fat; 6g saturated fat; 96mg cholesterol; 27g protein; 1g carbohydrate; no sugar; no fiber; 66mg sodium; 18mg calcium.
Italian-Style Chicken Breasts • Melt 1 tablespoon butter in a medium pan over medium-high heat. Sauté ½ cup plus 2 tablespoons diced tomatoes or sliced cherry tomatoes until softened. Add ¼ cup thinly sliced basil and remove from heat. Stir in ¼ cup Parmesan cheese, and stuff in equal portions into chicken breasts.
Mushroom 'n' Swiss Chicken Breasts • Melt 1 tablespoon butter in a medium pan over medium-high heat. Add 1 cup sliced mushrooms, season with salt and pepper, and sauté until mushrooms release their liquid. Stuff into chicken breasts in equal portions, and add 1 ounce of sliced Swiss cheese to each pocket.
Springtime Chicken Breasts • Snap off bottom few inches of 4 asparagus spears and steam stalks in a little boiling water until cooked through, about 3 to 4 minutes. Cut into ¼-inch slices. In a medium pan over medium-high heat, melt 1 tablespoon butter. Add ¼ cup shallots and cook until translucent, about 3 to 5 minutes. Add 1 cup sliced mushrooms, season with salt and pepper, and cook until mushrooms release their liquid. Stir in chopped asparagus and stuff into chicken breasts in equal portions.
Asian-Style Chicken Breasts • In a medium pan over medium-high heat, heat 1 tablespoon oil. Add ¼ cup chopped shallots and 2 teaspoons minced ginger and cook until shallots are translucent, about 3 to 5 minutes. Add 1 cup sliced mushrooms, season with pepper, and cook until mushrooms release their liquid. Stir in ¼ cup soy sauce and 1 tablespoon chopped scallions. Stuff into chicken breasts in equal portions.
Recipe by Daniel Neman
No. 8: Carrot cake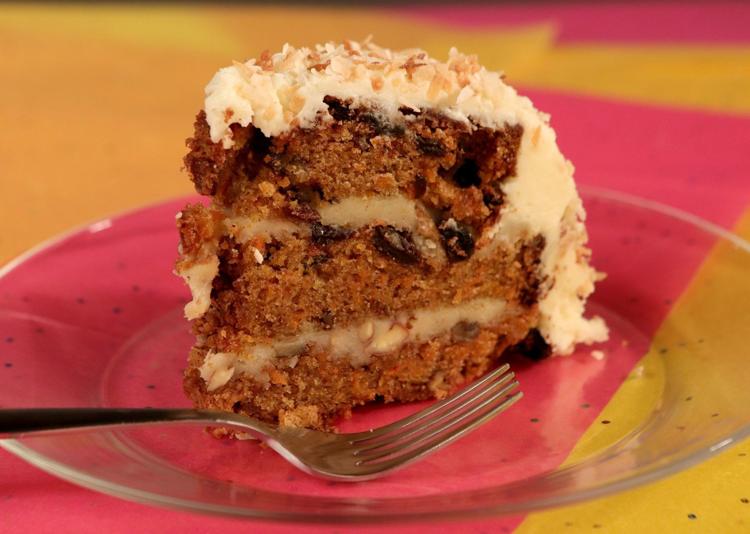 Commissary Carrot Cake
Yield: 16 servings
For pecan cream filling:
1½ cups granulated sugar
¼ cup all-purpose flour
¾ teaspoon salt
1½ cups heavy cream
6 ounces (¾ cup) unsalted butter
1¼ cups chopped pecans
2 teaspoons vanilla extract
For carrot cake:
1¼ cups corn oil
2 cups granulated sugar
2 cups all-purpose flour
2 teaspoons cinnamon
2 teaspoons baking powder
1 teaspoon baking soda
1 teaspoon salt
4 eggs
4 cups grated carrots
1 cup raisins
1 cup chopped pecans
For cream cheese frosting:
8 ounces soft unsalted butter
8 ounces soft cream cheese
1 pound powdered sugar
1 teaspoon vanilla extract
For assembly:
4 ounces (1½ cups) shredded, sweetened coconut
1. Make the filling: In a heavy saucepan, blend well the sugar, flour and salt. Gradually stir in the cream. Add the butter. Cook and stir the mixture over low heat until the butter has melted, then let simmer 20 to 30 minutes until golden brown in color, stirring occasionally. Cool to lukewarm. Stir in the nuts and vanilla. Let cool completely and then refrigerate, preferably overnight. If too thick to spread, bring to room temperature before using.
2. Make the cake: Preheat the oven to 350 degrees. Grease and flour a 10-inch tube cake pan. In a large bowl, whisk together the corn oil and sugar. Sift together the flour, cinnamon, baking powder, baking soda and salt. Sift half the dry ingredients into the sugar-oil mixture and blend. Alternately sift in the rest of the dry ingredients while adding the eggs, one by one. Combine well. Add the carrots, raisins and pecans. Pour into the prepared tube pan and bake for exactly 70 minutes. Cool upright in the pan on a cooling rack. If you are not using the cake that day, it can be removed from the pan, wrapped well in plastic wrap and stored at room temperature.
3. Make the frosting: Cream the butter well. Add the cream cheese and beat until blended. Sift in the sugar and add the vanilla. If too soft to spread, chill a bit. Refrigerate if not using immediately, but bring to a spreadable temperature before using.
4. Assemble the cake: Preheat the oven to 300 degrees. Spread the coconut on a baking sheet and bake for 10 to 15 minutes until it colors lightly. Toss the coconut occasionally while it is baking so that it browns evenly. Cool completely. Have the filling and frosting at a spreadable consistency. Loosen the cake in its pan and invert onto a serving plate. With a long serrated knife, carefully split the cake into 3 horizontal layers (keep the cake flat while doing this). Spread the filling between the layers. Spread the frosting over the top and sides. Pat the toasted coconut onto the sides of the cake. If desired, reserve ½ cup of the frosting and color half with green food coloring and half with orange. Then decorate the top of the cake with green and orange icing piped through a 1/16-inch wide, plain pastry tube to resemble little carrots. Serve the cake at room temperature.
Note: This cake is most easily made if you start it at least a day ahead, because the filling, for one thing, is best left to chill overnight. In fact, the different components can all be made even several days in advance and stored separately until you are ready to assemble the cake.
Per serving: 1,008 calories; 65g fat; 27g saturated fat; 145mg cholesterol; 7g protein; 104g carbohydrate; 84g sugar; 3.5g fiber; 515mg sodium; 85mg calcium.
Recipe from "The Frog Commissary Cookbook," (Carmino Books, 2002)
No. 9: Ground beef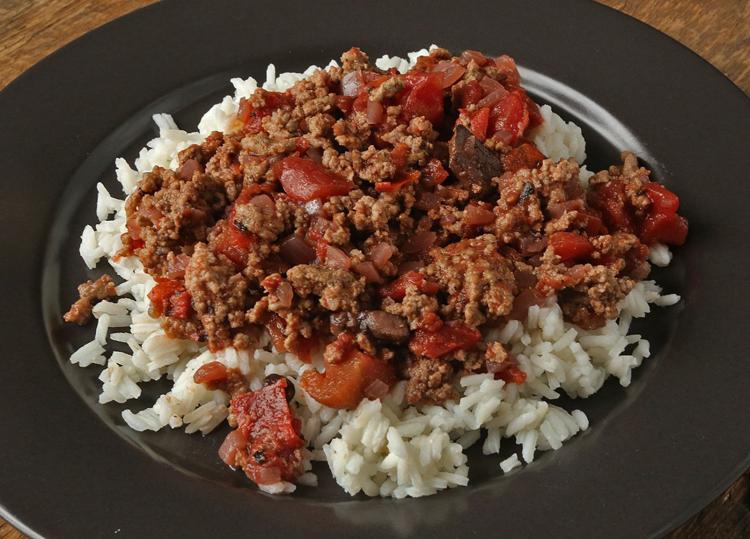 Prim Joseph
Yield: 4 servings
1 tablespoon olive oil
½ cup chopped onion
4 ounces sliced mushrooms
2 cloves garlic, crushed
Salt and pepper
¼ teaspoon oregano
¼ cup red wine
1 (14½-ounce) can diced fire-roasted tomatoes
1 pound cooked ground beef
4 cups cooked rice
1. Heat oil in a large pot over medium-high heat. Add onion, mushrooms and garlic, and season with salt and pepper; cook, stirring occasionally, until onions are translucent, about 5 minutes. Stir in oregano and cook until fragrant, about 30 seconds. Add wine and cook until liquid is reduced by half.
2. Stir in tomatoes and simmer for 7 to 10 minutes to let the flavors merge. Stir in the ground beef and cook until the meat is reheated, about 1 to 2 minutes. Remove the garlic and serve over hot cooked rice.
Per serving: 467 calories; 22g fat; 5g saturated fat; 63mg cholesterol; 23g protein; 52g carbohydrate; 5g sugar; 3g fiber; 741g sodium; 81mg calcium
No. 10: Fried rice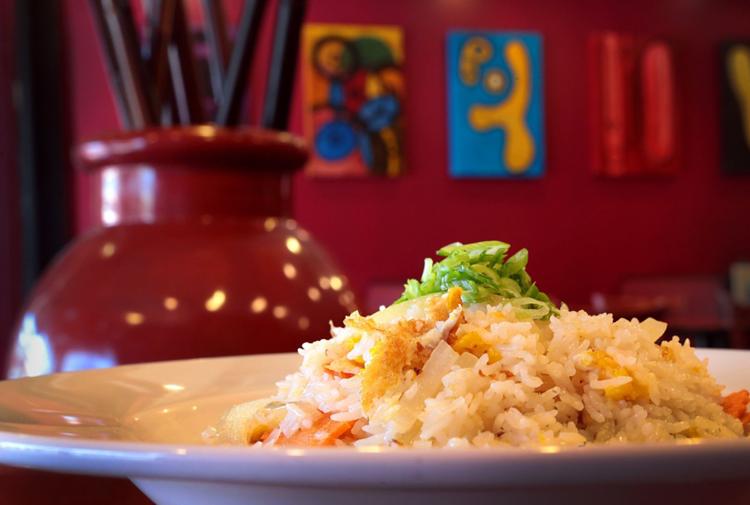 Tei Too's Thai Fried Rice
Yield: 1 serving
¼ cup vegetable oil
1 jumbo egg
¼ cup onion cut in ½-inch wide lengths
¼ cup 1/8-inch thick carrot rounds
2 cloves garlic, minced
3 cups cooked jasmine rice (see note)
2 teaspoons granulated sugar
1 teaspoon salt
1 teaspoon Thai soy sauce, preferably Kwong Hung Seng Sauce (see note)
Minced green onion, for serving
Notes: Tei Too rinses jasmine rice twice before cooking. First place the dry rice in a large bowl, then fill it with very cold water. With the water running, gently lift and separate the rice with your fingertips for about 30 seconds, letting the starch rise up and run off. Drain the bowl, then repeat the process, leaving the rice grains wet but not soaked. Cook the rice in a rice cooker "al dente" using a 2:1 ration of water:rice. Finally, let the cooked rice rest for at least 10 minutes before opening the cooker.
• Look for tall bottles of Thai soy sauce at Global Foods Market in Kirkwood; do not substitute other soy sauces.
1. Collect and prepare all ingredients before beginning to cook.
2. Heat oil on high heat in a wok or high-sided sauté pan with a large surface area that allows plenty of room for cooking the rice.
3. Add egg to oil, let rest for a few seconds until egg begins to firm up, then stir quickly with a heat-safe spatula, breaking up egg into a mix of large and small tender, golden-colored pieces.
4. Add onion and carrot, let cook, stirring constantly, just until onion is translucent and carrot is softening; if pan is too hot, turn heat down or off but keep stirring, then return to high heat. Stir in garlic and cook briefly.
5. About a tablespoon of oil should be in the bottom of the wok. Add rice, sugar, salt and soy sauce; work quickly to thoroughly mix rice with other ingredients and heat through.
6. To serve Tei Too-style, mound rice in the center of a wide-brimmed bowl. Top with green onion and serve hot.
Per serving: 1,285 calories; 61g fat; 11g saturated fat; 234mg cholesterol; 22g protein; 158g carbohydrate; 12g sugar; 2g fiber; 2,774g sodium; 68mg calcium.
Recipe adapted for home kitchens by the Post-Dispatch.
A weekly treasure trove of tastiness, featuring reviews from restaurant critic Ian Froeb and how-to videos by food writer Dan Neman.