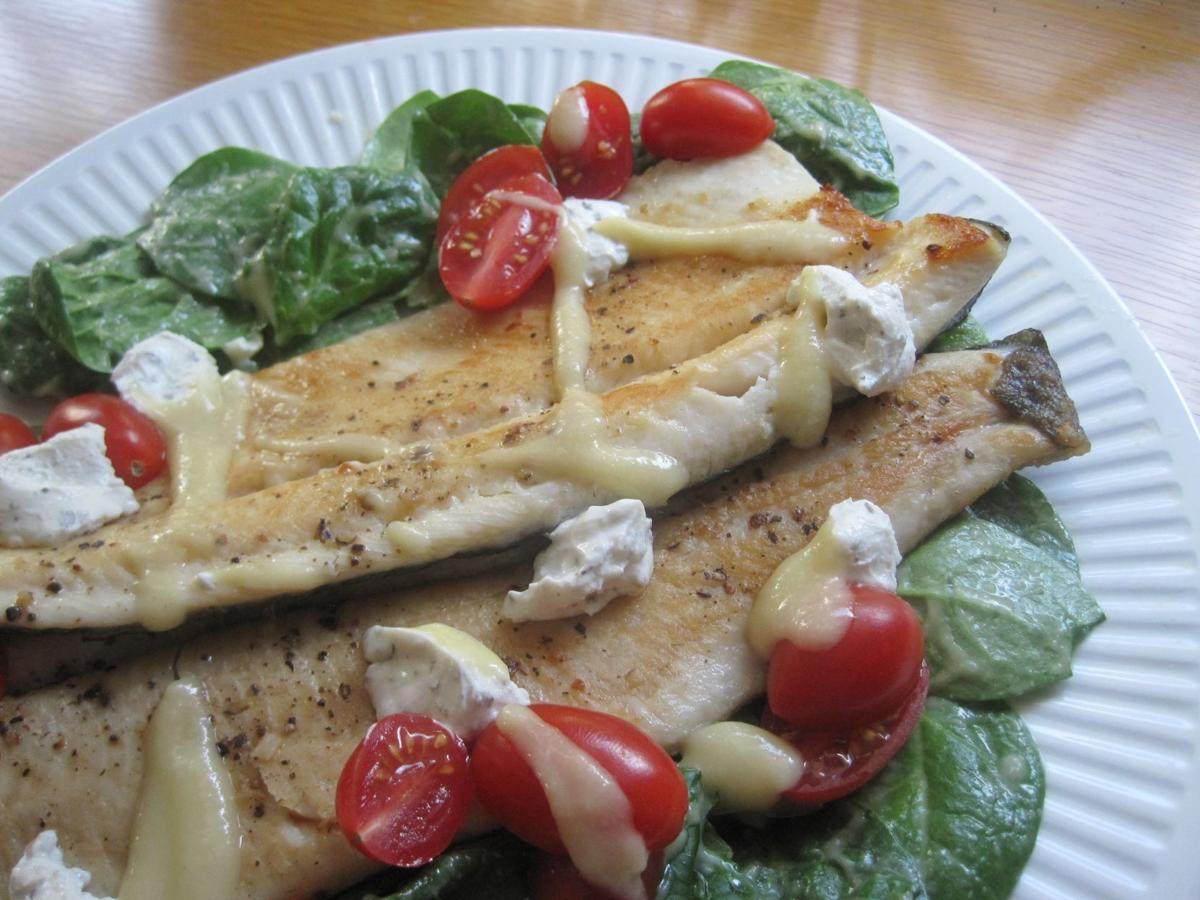 Q • Last March I had a delicious, simple dish from Big Sky Cafe — the pan-seared trout. Would it be possible to get the recipe. I would love to make it at home. — Jackie Detering, St. Louis
A • When we asked chef Dominic Weiss if he would share the recipe for Big Sky Cafe's pan-seared trout, he asked, "Which trout recipe would Ms. Detering like?"
That's because the restaurant features menus where specials change often, in tune with the seasons. Today's recipe reflects this season, in between winter and spring, with its skin-on rainbow trout with smoked pear vinaigrette, goat cheese, grape tomatoes and spinach.
"Today, for carry-out, we would make this dish with fresh green beans instead of fresh spinach," Weiss says. It's one of the thoughtful changes he and his staff made to maintain high standards of quality in their to-go dishes.
Spinach wilts, but green beans keep their snap, retaining the beauty of the dish.
The recipe wasn't difficult to make. The blend of flavors and textures of the trout, the slightly smoky pear vinaigrette, the bright tomatoes, the spinach and the sharp tang of goat cheese made for a memorable meal at home.
"I think I speak for a lot of restaurant people when I say the pandemic came upon us suddenly, and we needed to change how we did things immediately," Weiss says. "It was like we were building the plane while it was in the air, but I think everybody's done a good job from what I can see. I'm certainly proud of what we do here."
Although the Big Sky Cafe dining room is now open, the restaurant continues to do a brisk business in foods to take home. "Although operating at a considerably reduced capacity, it's nice to have people in again. The restaurant just feels better when people are here," Weiss says.
The restaurant also offers seating outside as well, with heaters in place, and with blankets laundered after each use available for guests. "We've found it's got to be over 45 degrees before it's truly comfortable. It was notable to me that we had some people outside at about 36 degrees, and they were as happy as clams," he says.
Although the restaurant is usually closed on Sundays, mark your calendars for two upcoming events. Look for the annual Big Sky PI day to take place on March 14 when patrons can eat pie at the restaurant, or take home a special pie. "We've always offered an apple pie, as well as different pies — we don't have the menu set, but PI day is a good excuse to welcome people in and have a little something to talk about."
Look for an Easter Sunday event as well, although the details aren't yet firmed up. The weather may just be perfect for an outing to Big Sky Cafe, no blankets necessary.
---
Big Sky Cafe
475 Old Orchard; Webster Groves
---
Would you like to request a recipe from a restaurant that is still open in the St. Louis area? Send your request along with your full name and the city you live in to reciperequest@post-dispatch.com.
45 recipes from some of St. Louis' favorite restaurants