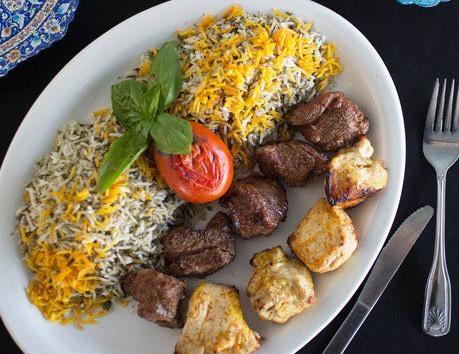 Q • As a longtime patron of Cafe Natasha's, I would like to have the recipe for their Persian rice. — Mary Anne Sedey, St. Louis
A • At Cafe Natasha's, aromatic basmati rice comes to the table light and fluffy, the individual grains defined. Chef and owner Hamishe Bahrami tops each serving with a scattering of lush saffron rice. Sometimes, the rice is tossed with finely chopped herbs. Rice is never an afterthought at Cafe Natasha's.
The recipe and processes Cafe Natasha's shares with readers for this slow-steamed rice take time to achieve best results. Although the restaurant doesn't serve this rice with tadeeq, the crispy potato crust, chef Bahrami included instructions to make it at home as a special treat.
"Persian rice is a pleasure food that takes time, patience and a certain finesse. The goal is to create individual long grain rice pillows of happiness for your mouth. When finished, your house will be filled with the warmth and aroma of Persian cooking," Natasha Bahrami wrote when she sent the recipe. She is Hamishe's daughter and grew up in the restaurants her parents began. Cafe Natasha's is named after her.
"Tadeeq is one of the coveted comfort foods of Persian cuisine. The literal interpretation means 'bottom of the pot' of rice. Tadeeq can be made with potatoes, bread or even just rice," Natasha says. "We will be teaching the potato tadeeq technique. The process is to prepare the bottom of the pot with a pour of vegetable oil — not olive oil — to make sure the rice doesn't burn during the long steam cooking."
Hamishe Bahrami often makes tadeeq for special occasions. She's affectionately known as "Mom" to a wide-ranging group of her industry friends, including Bernie Lee, the chef and owner of Akar. "Tadeeq is a real treat," he says. "We last had this when Hamishe cooked for Natasha's birthday."
It's not unusual for these industry friends to cook for one another, and look out for one another, especially in these challenging times.
"I know if I ask her, Mom will make her Persian rice for me. She enjoys my food, too. When she and I cook together, we look at each other, we talk, we drink and sometimes we cuss. A friendship is not a given, a friendship is built by both on trust, love and care — if that makes sense — and that happens when you cook and share food together."
Cafe Natasha's
3200 South Grand Boulevard
---
Would you like to request a recipe from a restaurant that is still open in the St. Louis area? Send your request along with your full name and the city you live in to reciperequest@post-dispatch.com.
45 recipes from some of St. Louis' favorite restaurants