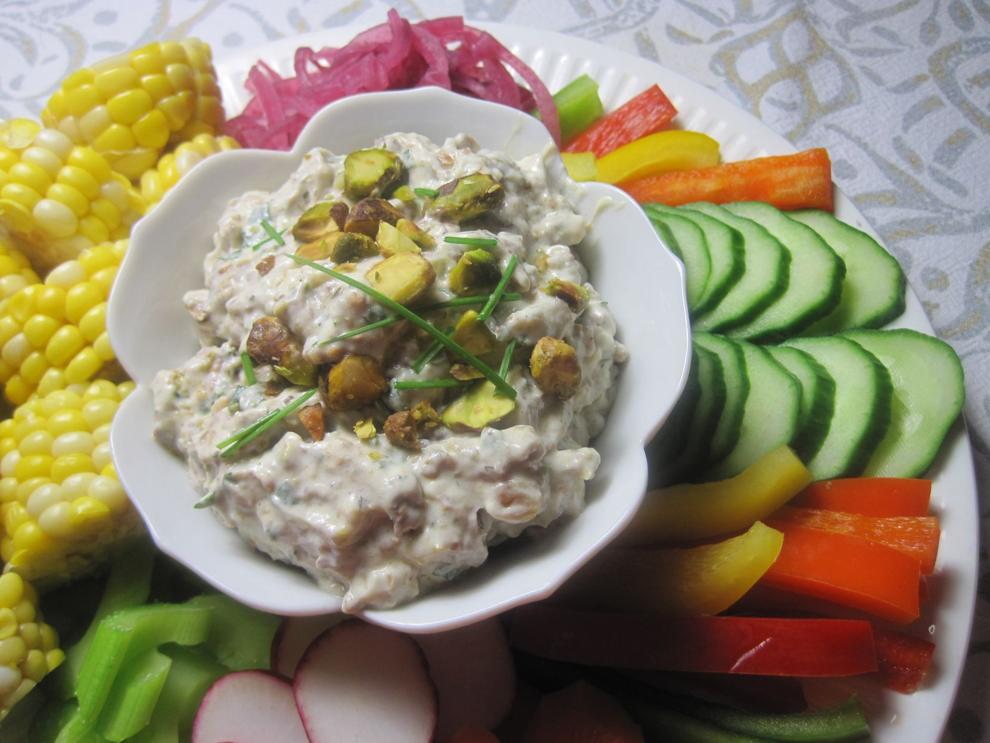 Q • We recently had the most wonderful, flavorful dips from Gwin's Tiny Kitchen. One was a pistachio dip, the other was a tomato/pineapple chutney over cream cheese. These were appetizers served with assorted veggies and crackers. Do you think they would share these recipes? — Mary Hanson, Kirkwood
A • Lydia Gwin was pleased to share the recipes with us for these appetizers. It's been a year since she started her business, Gwin's Tiny Kitchen. She began teaching cooking classes during the pandemic for children and adults. Her business is expanding now to include premade foods to sell at farmers markets.
We'll publish the pistachio dip first, and the chutney recipe late in the summer when tomatoes are plentiful.
Over the years, Gwin has perfected the pistachio recipe, tinkering with the ingredients until she landed on the version we're publishing. "I didn't think the original recipe had enough life to it, so I worked with it to get a dip that's herbaceous, nutty, creamy and just salty enough. It's one people could thin out to make a salad dressing. You could use it as a sandwich spread if you like," Gwin says.
The recipe yields a generous 4½ cups as written, which would be perfect for a party or a shower. It can be easily halved as well to make a smaller amount.
The recipe is easy, and is best done using the mise en place method to gather and measure all ingredients before you begin. Gwin suggests planning ahead to allow the flavors to develop for at least one hour in the refrigerator.
Gwin, who has worked in culinary education since the pandemic shuttered the restaurant where she had worked for many years, has been teaching culinary education in schools and online as well as developing a line of foods she plans to sell at farmers markets in the future.
She teaches a variety of classes at Kitchen Conservatory throughout the spring and summer, which are posted on the Kitchen Conservatory site. The listings include grilling sessions, date night dinners, cooking with young children and teens, as well as specialty classes.
"I'll be teaming up with Caryn Dugan of the Center for Plant-Based Living to teach classes at Kirkwood Farmers Market beginning June 12.
"Our goal is to help people expand their knowledge of seasonal and local foods, maybe to that fruit that looks a little intimidating. How many of people walked past fennel in a grocery store and thought 'That looks interesting, but what do I do with it?'" she says.
Check the Facebook pages for Gwin's Tiny Kitchen, the Center for Plant Based Living, and the Kirkwood Farmers Market for class information.
Would you like to request a recipe from a restaurant that is still open in the St. Louis area? Send your request along with your full name and the city you live in to reciperequest@post-dispatch.com.
45 recipes from some of St. Louis' favorite restaurants