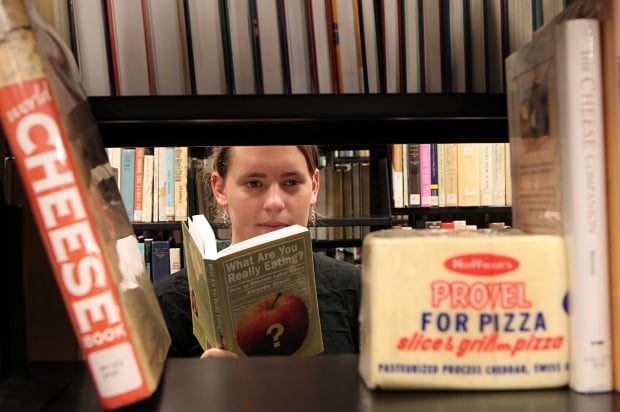 It took a fan of New York-style pizza to connect the dots on the origins of Provel cheese.
Washington University anthropology major Caitlin Heim chose Provel as the focus of a paper on how specific foods become intertwined with local communities' identities. Heim, who lives in New Jersey when school isn't in session, was in a class taught by Glenn Stone, a professor known for his study of the anthropology of food.
Drawing on articles in this newspaper and the work of local food blogger Andrew Mark Veety — and then doing considerable digging on her own — Heim traced the trademark application for Provel to 1947. That helped to reconcile two conflicting stories that appeared in the Post-Dispatch in 2007.
In one of those stories, I interviewed Abe "Toots" Pezzani, president of Roma Grocery Co., the distributor for Provel. Pezzani traced the cheese's origins to Tony Costa of Costa Grocery, which operated until the late 1960s at 1029 North Seventh Street downtown. The then-84-year-old Pezzani said that Costa had worked with the J.S. Hoffman Co. in the early '60s to develop Provel.
Pezzani also said that Provel's proliferation at St. Louis pizzerias had its basis in experiments by Ed Imo when Imo worked at the old Helen's Pizzeria No. 1 before opening his own chain in 1964. Pezzani was Ed Imo's uncle.
Six months after the first article, my colleague Jane Henderson interviewed Mary Sigillito, then 96, for a cooking story. Sigillito said that her late husband, John, had introduced Provel in St. Louis in the late 1940s through International Food Products, his downtown grocery and distributor.
Heim asked me about my initial story and any background that might not have been included in it. When Stone saw the conflicting stories of Provel's origins while critiquing an early draft of Heim's paper, he suggested that she delve deeper into the ownership of the trademark for Provel.
Between the publication of my 2007 article and Heim's research, the U.S. Patent and Trademark Office had digitized much of the file on the trademark application for Provel.
When Heim found those documents online, she found the date of the original trademark application — June 20, 1947. And because the file also included records of reassignment of the trademark's ownership as Hoffman became part of various corporate entities — Churny Co., Anderson Clayton Foods and ultimately, Kraft — Heim found some 50 additional pages of history spanning more than 40 years.
For example, the original 1947 application was initially denied because an examiner thought the word Provel was phonetically similar to another type of cheese, Provole, and their names contained the same number of syllables. Hoffman's attorneys argued that Provole wasn't a cheese and was pronounced with three syllables, not two.
As part of that filing, however, the attorneys answered an oft-asked question about Provel: What does the name mean?
Answer: Nothing. "The word Provel is an arbitrarily coined word in the English language," the filing says. "(A)pplicant's mark is a fanciful aggregation of letters without meaning."
Provel's trademark was ultimately registered in 1950, although Hoffman said that it had been in commercial use since 1947. Photos of various packaging over the years disprove the popular theory that Provel was a conglomeration of PROVelone and MozzarELla: The initial components listed on the packaging were processed Cheddar and provolone cheeses, later evolving to processed American and provolone and then to the currently used mix of processed Cheddar, Swiss and provolone.
And in another interesting tidbit that contrasts with Provel's almost-exclusive association with the St. Louis area, one of the documents shows that Provel was being sold in 1955 in Dayton, Ohio.
Pezzani died in 2009, and Sigillito died in 2010. But Veety — who maintains his own research on Provel on his website, andrewmarkveety.com — received an email from Mary Sigillito's great-nephew Jim in 2010. Jim Sigillito reaffirmed his great-aunt's version of the story and added that when John Sigillito's International Foods Co. went out of business, a nearby downtown Italian grocer, Italo-American, took over distribution of Provel. The owners of Italo-American, he said, "were all friends of my Uncle John and Aunt Mary and treated us very well because of our relation to them."
Veety also interviewed Ed and Marge Imo, who told him that they'd never been associated with Helen's Pizza, conflicting with another aspect of Pezzani's recollection of events.
Heim wasn't able to draw a definitive line between Italo-American and Roma Grocery, but I was. Filings registered with the Missouri secretary of state show that Italo-American Importing Co. was dissolved in 1987, but its last registered agent listed its address as 5831 Elizabeth Avenue — the current address of Roma Grocery.
One question remains: What prompted J.S. Hoffman to develop Provel?
Heim hypothesizes that Provel was a convergence of Old World Italian traditions and New World technology.
As she presented this hypothesis to her class, she bound her arguments together by serving homemade St. Louis-style pizza — based on a recipe from Italian food superstar Lidia Bastianch.
Lidia's recipe for St. Louis Pizza, plus a recipe for St. Louis-Style Pizza developed by the Cook's Illustrated's test kitchen, can be found at stltoday.com/recipes.