In these uncertain times, it is comforting to know that we can turn to our pantries for sustenance.
The stores may be completely out of what you're looking for, even if it is something that no one could possibly need in large amounts. But if you have a well-stocked larder, you should be good for several days.
In these Virus Days, I decided to make four meals from items commonly found in pantries, or at least in my pantry. Now that I think about the dishes I made, I see that they lean toward comfort food.
At this current point in time, that is not such a bad thing.
It also makes sense. Typically, we keep on hand things we use a lot of in cooking. It is the unusual items, the treats that we give ourselves, that require a special trip to the store.
At this point, I need to make a minor confession: I had to go to the store to pick up some of the items for this story. You may have to, too. But the items I bought were all in plentiful supply as of last week.
Then again, I already had flour and yeast in my pantry. Judging by the empty aisles at my local Schnuckbergs, an awful lot of people now have flour and yeast in their pantries.
And that is good, because now they will be able to make No-Knead Brioche.
A brioche is an exceptional, rich and slightly sweet bread from France; it's like challah, but even better. It improves any sandwich it is used in and, with its high butter-and-egg content, it can almost be eaten by itself as dessert.
It doesn't even need butter (trust me, it has enough butter in the dough). I just now had a piece of it toasted, with a drizzle of honey. That's definitely the way to go.
This brioche takes a while to make, though, including a rising period in the fridge of at least 16 hours, and up to 48 hours. It also takes a bit more work than most breads — but less work than other brioches that require kneading.
In the end, it's like having a baby: All the labor is forgotten when you see that perfect, golden-brown loaf.
If you are so inclined, the brioche goes particularly well with a steaming bowl of Hearty Tuscan Bean Stew, which may be the most comforting comfort food ever cooked. It is also the ultimate pantry food. You're already likely to have everything you need to cook it, with one possible exception, as we shall see.
I used a pound of dried beans for mine, but if you happen to have enough cans of white beans on hand, they will work too, and will cut out one step of the work.
Beans are best when flavored with bacon, of course, and this recipe also makes the most out of a standard mirepoix — chopped onion, celery and carrots. White beans also love to absorb the flavor of garlic, and this dish uses a lot of it, along with chicken broth, a can of tomatoes and kale, collard greens or mustard greens.
If you don't keep kale, collard greens or mustard greens in your fridge, don't worry. Even in the shortagest of shortages, no one buys kale, collard greens or mustard greens.
If you're like me, you keep a package of frozen shrimp in your freezer at all times; that's what makes my next dish a pantry staple meal. If you don't happen to have the shrimp, it is also an ingredient that was widely available last week. Scallops will work well, too.
Orange-Scented Stir-Fry Shrimp is fast to cook and easy to prepare, even though it contains a significant number of ingredients — 12, plus rice. So I guess 13.
As with all stir-fries, it is absolutely vital to have every ingredient prepared and ready to go before you begin to cook. There simply isn't enough time between adding ingredients to measure out the ginger or cut the green beans into pieces. You'll end up with overcooked shrimp, and nobody wants to end up with overcooked shrimp.
The secret of Orange-Scented Stir-Fry Shrimp is the orange-scented part. It is achieved by cutting thin strips of orange zest, which yields just the faintest hint of an orange flavor. If you want a less subtle taste of orange, just use more zest.
My final pantry-staple dish is a Tex-Mex favorite, migas. Unlike the Spanish and Portuguese versions, which mix water-soaked stale bread with eggs and many other ingredients, the Tex-Mex version is a relatively simple affair. It's scrambled eggs with chopped tortilla chips mixed in at the last minute.
If you like, you can top the dish with any number of appropriate items. I used salsa, red onion, chopped avocado and shredded cheese, but you can let your imagination run wild.
Use whatever you have in the pantry.
Recipes using food from your pantry
RECIPE: Orange-Scented Stir-Fried Shrimp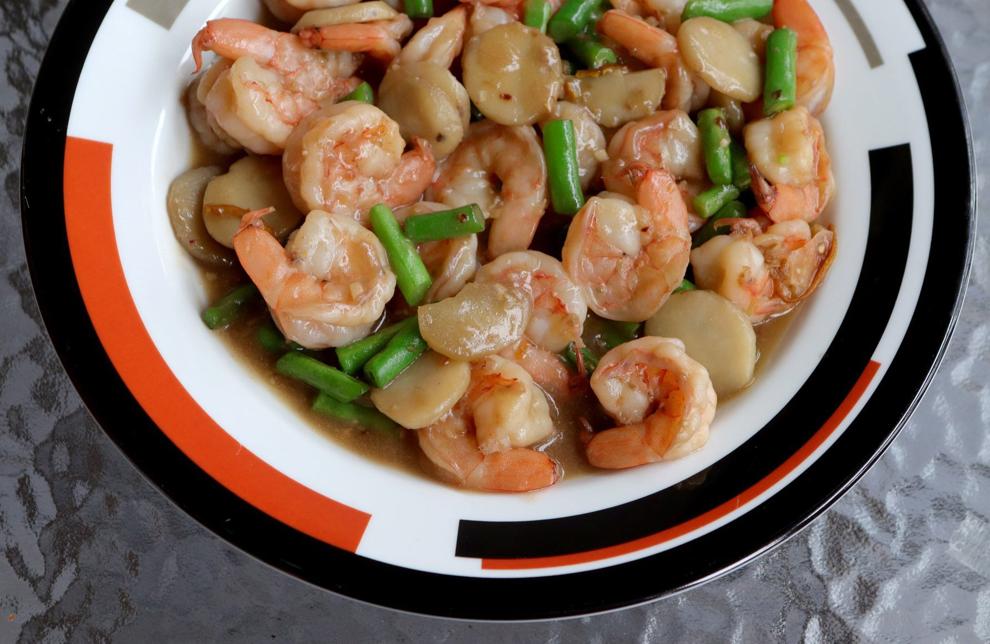 1½ pounds shrimp, peeled and deveined
2 tablespoons dry sherry or Chinese rice wine
1 tablespoon dark soy sauce
2 tablespoons peanut oil, corn oil, vegetable oil or safflower oil
2 (3-inch) strips orange zest, cut into very fine julienne, or more if desired
2 garlic cloves, finely chopped
1 tablespoon minced ginger
½ teaspoon crushed red pepper, or to taste
1 (8-ounce) can water chestnuts, rinsed, drained and sliced thin
¼ pound green beans, cut into 1-inch pieces
1. Marinate the shrimp in the sherry and soy sauce in the refrigerator for 2 hours.
2. Work the cornstarch to a smooth paste with 1 tablespoon of the chicken broth, and then stir the paste into the remaining broth.
3. Heat the oil in a wok or large skillet over medium heat. When the oil begins to ripple, stir in the orange zest, garlic, ginger and crushed pepper. Stir for about 1 minute — the ingredients should sizzle but not brown — and toss in the water chestnuts, shrimp and green beans. Turn the heat up to high and stir or toss the mixture until the shrimp curls and turns pink, about 3 minutes.
4. Give the chicken broth/cornstarch another stir and pour into the pan. Continue stirring over high heat until the liquids come to a boil and coat the shrimp and vegetables, about 1 minute. Serve immediately over rice.
Per serving: 278 calories; 7g fat; 6g saturated fat; 274mg cholesterol; 36g protein; 15g carbohydrate; 3g sugar; 5g fiber; 483mg sodium; 130mg calcium
Adapted from "Fish & Shellfish," by James Peterson
RECIPE: Hearty Tuscan Bean Stew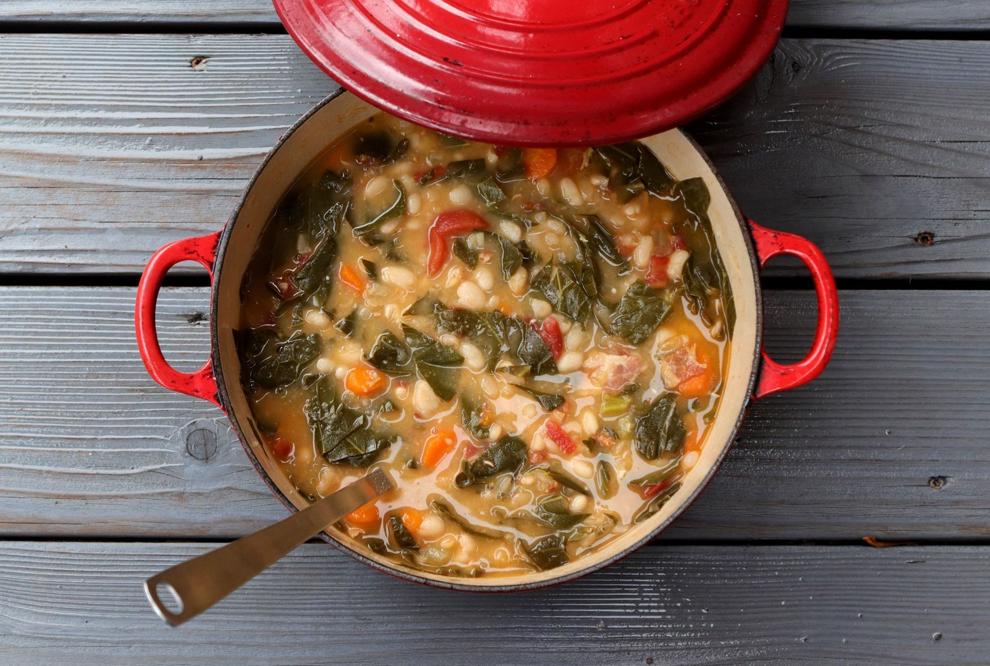 1 pound (2½ cups) dried cannellini beans, picked over and rinsed
6 ounces bacon, cut into ¼-inch pieces
2 carrots, peeled and cut into ¼-inch pieces
2 celery ribs, cut into ½-inch pieces
8 garlic cloves, peeled and smashed
1 pound kale, collard greens or mustard greens, stemmed and chopped
1 (14.5-ounce) can diced tomatoes, drained
1 teaspoon dried rosemary
1. Dissolve 3 tablespoons salt in 4 quarts cold water in large bowl. Add beans and soak at room temperature for at least 8 hours or up to 24 hours. Drain and rinse well. Note: If using canned beans, skip this step, but be sure to liberally salt the beans.
2. Adjust oven rack to lower-middle position and heat oven to 250 degrees. Heat Dutch oven on stove over medium heat and add bacon Cook, stirring occasionally, until bacon is lightly browned and has rendered its fat, about 5 to 10 minutes. Add onion, carrots and celery, and cook, stirring occasionally, until softened and lightly browned, about 10 minutes. Stir in the garlic and cook until fragrant, 1 minute.
3. Stir in broth, water, bay leaves and beans, and bring to a boil. Cover, transfer pot to oven and cook until beans are almost tender (very center of beans will still be firm), 45 minutes to 1 hour.
4. Stir in kale, tomatoes and rosemary. Cover and cook until beans and greens are fully tender, 30 to 40 minutes. Taste and season with salt and pepper, if necessary. Remove bay leaves before serving.
Per serving: 341 calories; 10g fat; 3g saturated fat; 17mg cholesterol; 20g protein; 46g carbohydrate; 6g sugar; 12g fiber; 728mg sodium; 249mg calcium
Adapted from "The Complete Mediterranean Cookbook," by America's Test Kitchen
RECIPE: No-Knead Brioche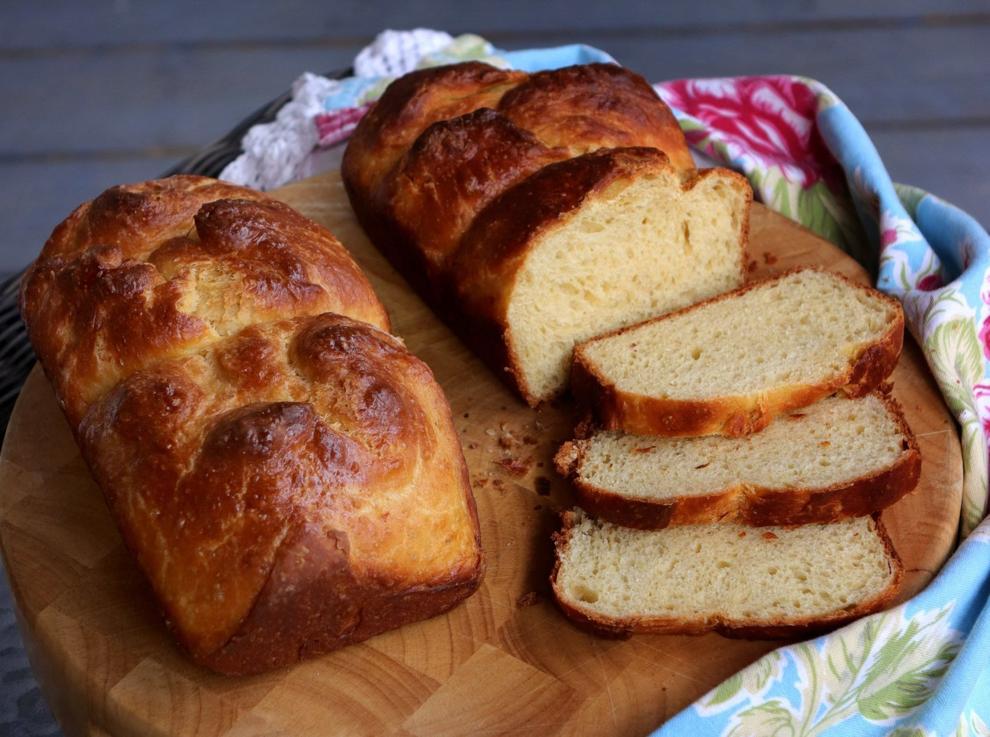 Yield: 24 servings (2 loaves)
3¼ cups bread flour or all-purpose flour
2¼ teaspoons (1 package) instant or rapid-rise yeast
½ cup water, room temperature
16 tablespoons (2 sticks) butter, melted and cooled slightly
1. Whisk flour, yeast and 1½ teaspoons salt together in large bowl. Whisk 6 of the eggs, water and sugar together in medium bowl until sugar has dissolved. Whisk in melted butter until smooth. Add egg mixture to flour mixture and stir with wooden spoon until uniform mass forms and no dry flour remains, about 1 minute. Cover bowl with plastic wrap and let stand for 10 minutes.
2. Holding edge of dough with your fingertips, gently fold one side of dough over on top of the other side. Turn bowl 45 degrees; fold again. Turn bowl and fold 6 more times, for a total of 8 turns. Cover with plastic and let rise for 30 minutes. Repeat folding and rising every 30 minutes for 3 more times. After fourth set of folds cover bowl tightly with plastic wrap and refrigerate for at least 16 hours and up to 48 hours.
3. Transfer dough to well-floured counter and divide into 4 pieces. Working with 1 piece of dough at a time, pat dough into 4-inch disk. Working around circumference of dough, fold edges of dough toward center until ball forms. Flip dough over and, without applying pressure, move your hands in small circular motions to form dough into a smooth, taut round. (If dough sticks to your hands, lightly dust top of dough with flour.) Repeat with remaining dough. Cover dough rounds loosely with plastic wrap and let rest for 5 minutes.
4. Grease 2 (8½-by-4½-inch) loaf pans. After 5 minutes, flip each dough ball so seam side is facing up, pat into 4-inch disk, and repeat rounding step. Place 2 rounds, seam-side down, side by side into prepared pans and press gently into corners. Cover loaves loosely with plastic and let rise at room temperature until almost doubled in size (dough should rise to about ½ inch below top of pan), 1½ to 2 hours.
5. Thirty minutes before baking, adjust oven rack to middle position, place baking stone or baking sheet on rack, and heat oven to 350 degrees. Beat remaining 1 egg with a pinch of salt. Brush loaves gently with egg. Set pans on stone or baking sheet and bake until golden brown and internal temperature registers 190 degrees, 35 to 40 minutes, rotating pans halfway through baking.
6. Transfer pans to wire rack and let cool for 5 minutes. Remove loaves from pans, return to wire rack and let cool completely before slicing and serving, about 2 hours.
Per serving: 168 calories; 9g fat; 5g saturated fat; 75mg cholesterol; 4g protein; 17g carbohydrate; 3g sugar; 1g fiber; 119mg sodium; 13mg calcium
Adapted from "Cooks Illustrated Revolutionary Recipes"
RECIPE: Migas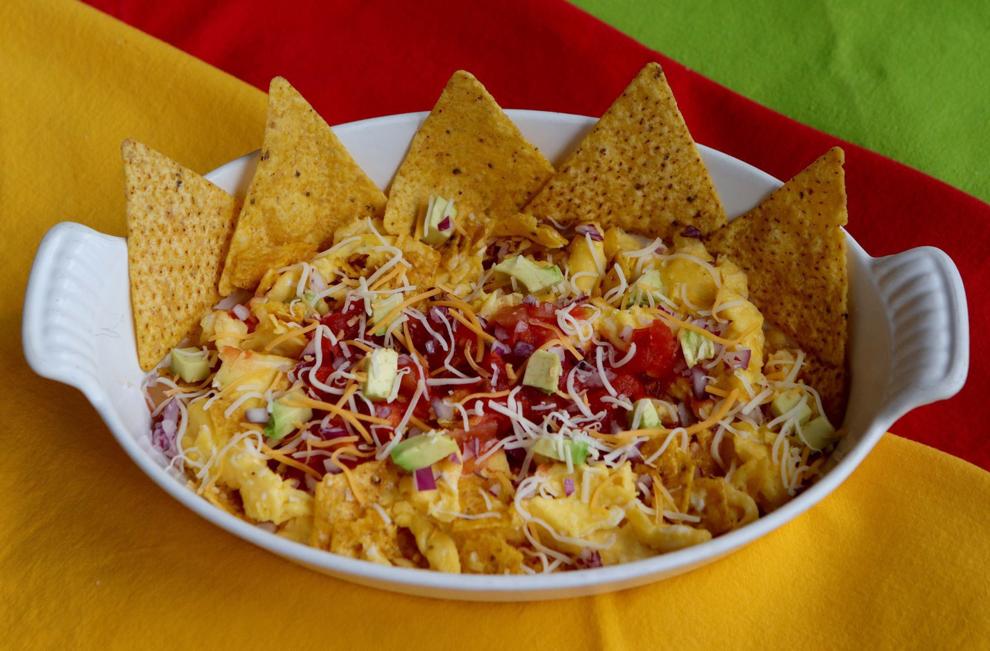 ½ cup roughly chopped or broken tortilla chips
1 tablespoon chopped red onion, optional
¼ avocado, chopped, optional
2 tablespoons shredded Mexican-style cheese, optional
Place eggs and butter in an unheated skillet. Turn heat to medium-high, and slowly stir. Cook until eggs are just a little wetter than you like them. Stir in tortilla chips and remove from heat; eggs will continue to cook off heat. Transfer to a platter and cover with optional toppings of your choice.
Per serving: 327 calories; 22g fat; 8g saturated fat; 386mg cholesterol; 16g protein; 15g carbohydrate; 2g sugar; 3g fiber; 411mg sodium; 132mg calcium
RECIPE: Pappardelle With Corn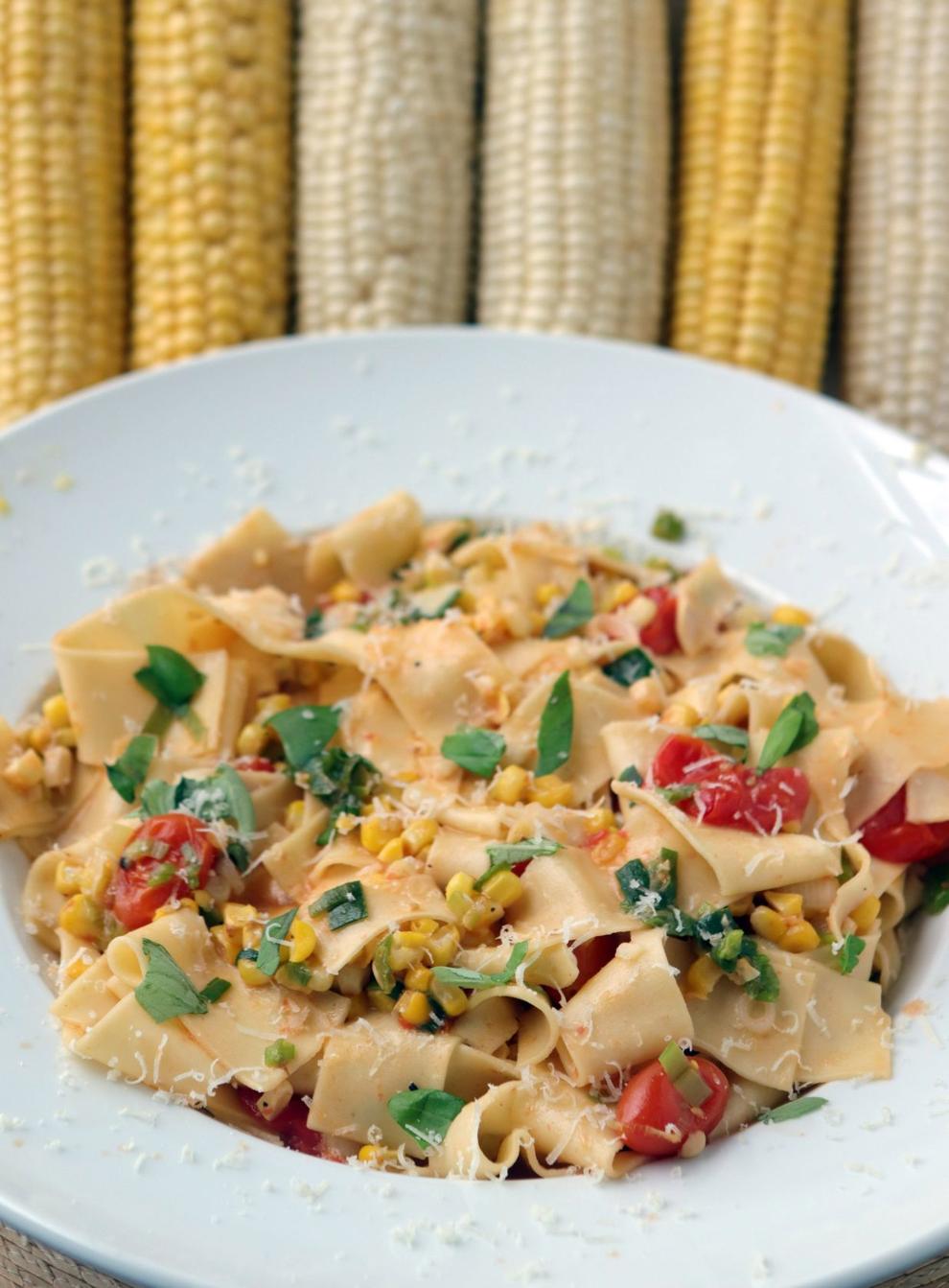 2 ears corn (or use canned corn)
5 tablespoons unsalted butter, divided
12 ounces pappardelle pasta, see note
1 small bunch scallions, thinly sliced
½ cup grated Parmesan, plus more for topping
Note: Pappardelle pasta is available in Italian and international markets.
1. Bring a large pot of salted water to a boil. Add the corn and cook until slightly tender, about 3 minutes. Remove with tongs, reserving the boiling water. Let the corn cool slightly, then cut off the kernels.
2. Melt 2 tablespoons of the butter in a large skillet over medium heat. Add the tomatoes, 1 teaspoon salt and ½ teaspoon pepper and cook until the tomatoes soften, about 4 minutes. Add the garlic and cook 1 more minute. Add the wine and cook until reduced by half, about 5 minutes.
3. Meanwhile, cook the pappardelle in the corn water as the label directs. Reserve 1 cup of the cooking water, then drain the pasta. Add the chicken broth and corn kernels to the skillet and bring to a simmer.
4. Add the pasta to the skillet; add the scallions, Parmesan, the remaining 3 tablespoons of the butter and ½ teaspoon salt. Toss to combine, adding the reserved cooking water as needed. Season with salt and pepper. Top with more Parmesan and basil.
Per serving: 561 calories; 20g fat; 11g saturated fat; 50mg cholesterol; 28g protein; 81g carbohydrate; 9g sugar; 5g fiber; 1,005 mg sodium; 129mg calcium
Recipe by the Food Network
RECIPE: Tuna Ring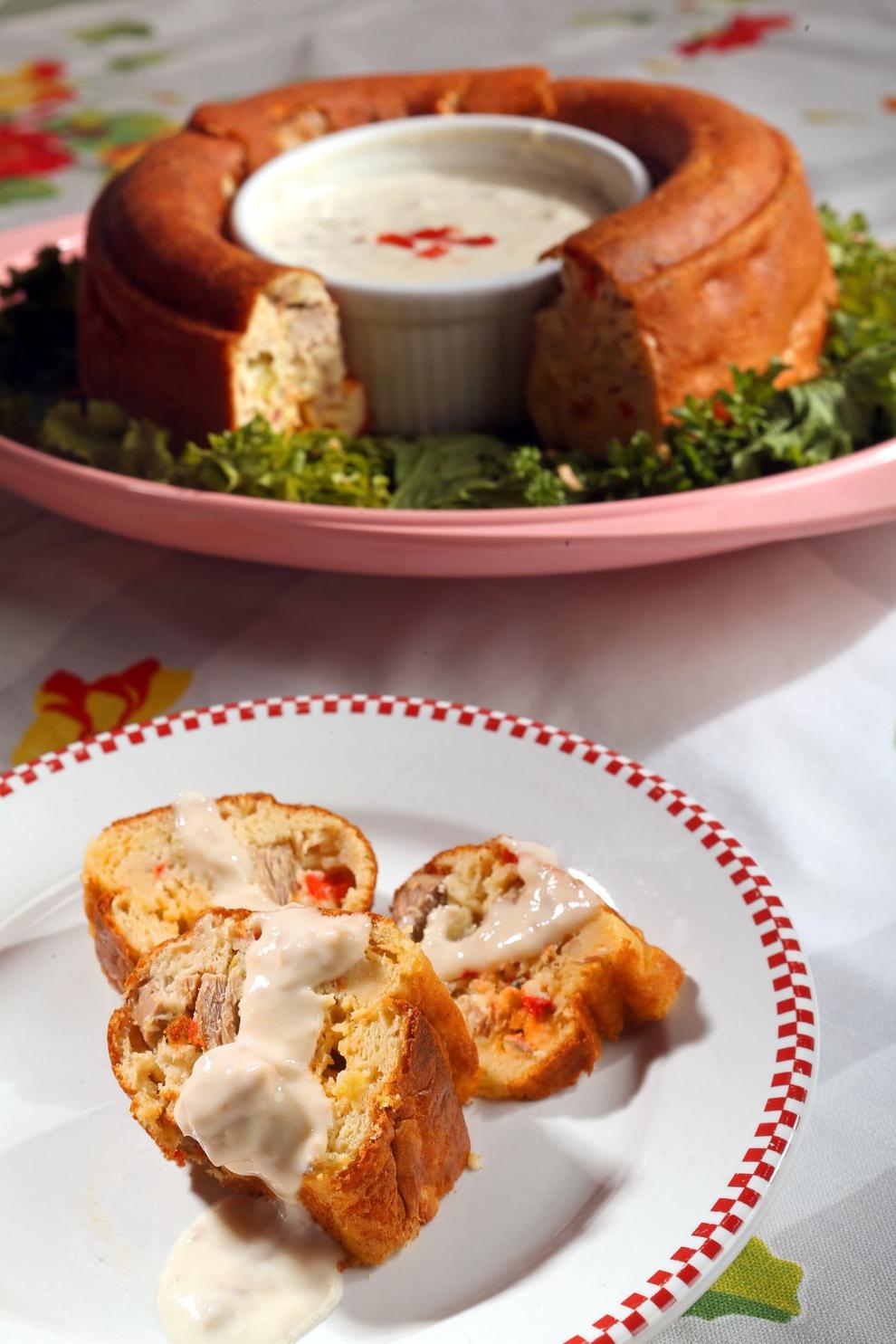 2 cups plus 2 tablespoons Bisquick, divided
1 2/3 cups evaporated milk, divided
½ teaspoon pepper, divided
2 (7-ounce) cans or 3 (5-ounce) cans tuna, flaked with oil, drained, divided
½ cup grated sharp Cheddar cheese, divided
1 tablespoon chopped onion
1. Preheat oven to 400 degrees. Grease a 9-inch square baking dish, an 11-by-7-inch baking dish or a 9-inch ring mold.
2. In a medium bowl, blend 2 cups of the Bisquick, 2/3 cup of the evaporated milk, 1/3 cup of the water, the eggs, ½ teaspoon of the salt and ¼ teaspoon of the pepper. Beat vigorously 30 seconds. Mix in 10 ounces of the tuna (1½ of the 7-ounce cans or 2 of the 5-ounce cans), ¼ cup of the cheese, the onion, pimento and celery. Spread batter in prepared pan. Sprinkle the remaining ¼ cup cheese over top. Bake 30 to 35 minutes.
3. Make sauce: Put the remaining 2 tablespoons Bisquick, the remaining ½ teaspoon salt and the remaining ¼ teaspoon pepper in a small pot off the heat. Gradually stir in the remaining 1 cup evaporated milk and the remaining 2/3 cup water. Stir in the remaining tuna. Heat to a simmer, stirring occasionally.
4. Remove tuna ring from mold before serving. Serve sauce in a bowl in the middle of the ring.
Per serving: 358 calories; 18g fat; 6g saturated fat; 116mg cholesterol; 21g protein; 28g carbohydrate; 6g sugar; 2g fiber; 1,088mg sodium; 234mg calcium.
Recipe by the Betty Crocker Co.
RECIPE: Teriyaki Salmon Patties with Sweet Chili Sauce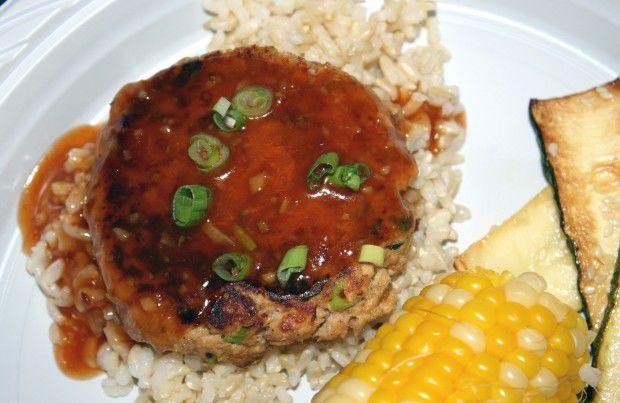 2 (14.75-ounce) cans salmon, skin and bones removed
1 2-inch piece ginger, peeled and minced
8 green onions, chopped (plus more for garnish)
2 large eggs, lightly beaten
Sesame or peanut oil for frying
1. Combine cleaned salmon with ginger, green onion, teriyaki sauce and bread crumbs.
2. Add lightly beaten eggs and stir until all ingredients are combined.
3. Form into 8 medium-sized patties (about 3 inches across) and flatten slightly. If making the patties ahead, cover and place them in the refrigerator.
4. Heat a small amount of oil in 12-inch skillet over medium heat and preheat the oven to 250 degrees.
5. When oil is hot, add as many patties as will fit without crowding, usually 4 or 5. Compress patties slightly to allow even heating.
6. Cook completely on one side, about 5 minutes, and repeat on the other side.
7. Remove patties from the pan and place them on a serving dish. Fry the remaining patties, keeping the cooked ones warm in the preheated oven.
8. Serve with brown rice, vegetables and Sweet Chili Sauce (recipe follows) or on a bun as a burger.
Per serving: 260 calories; 11g fat; 2g saturated fat; 95mg cholesterol; 26g protein; 13g carbohydrate; 3g sugar; 1g fiber; 555mg sodium; 45mg calcium.