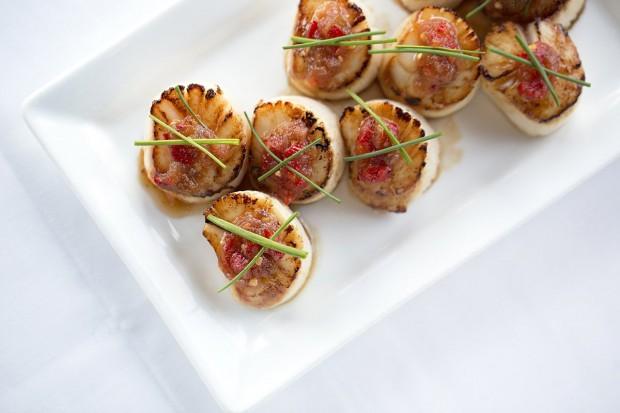 Yield: 6 to 8 servings
For the apple chutney
1 pound Granny Smith apples, peeled, cored and diced
1 medium onion, diced
1 clove garlic, thinly sliced
1 cinnamon stick
1 tablespoon minced ginger
1 cup cider vinegar
1 cup Vignoles or Traminette
1 cup water
1½ cups vanilla sugar
1 teaspoon red pepper flakes
½ pound golden raisins
Kosher salt
Freshly ground black pepper
Minced pickled jalapeños to taste
For the scallops:
3 tablespoons canola oil
16 10/20 count Viking Village or Georges Bank sea scallops
1 tablespoon unsalted butter, melted
Kosher salt
Freshly ground black pepper
1. To make the chutney, place apples, onion, garlic, cinnamon, ginger, wine, water, sugar, red pepper and raisins in a 2-quart saucepan and bring to a boil. Reduce to a simmer and cook 1 to 1½ hours, until candied. Allow to cool. Season to taste with salt, pepper and minced pickled jalapeños.
2. To make the scallops, bring canola oil to smoke point in a nonstick sauté pan. Brown scallops on each side, about 2 minutes a side. Place scallops on a tray and finish with butter, salt and pepper, then top with apple chutney.
Note: To make vanilla sugar, use 1 vanilla bean for every 2 cups sugar. Cut a slit down one side of the vanilla bean and, using the back of the knife, scrape the inside of the bean. Place the split and scraped vanilla bean, its scrapings and the sugar in a tightly sealed jar. For best flavor, wait at least 2 weeks for flavor to develop.
Pair with: Augusta Seyval Blanc 2011, Augusta, Mo., Gold Medal, 2012 Riverside International Wine Competition
Per serving: 360 calories; 7g fat; 1.5g saturated fat; 10mg cholesterol; 5g protein; 71g carbohydrate; 62g sugar; 2g fiber; 135mg sodium; 30mg calcium.
Recipe from chef Lou Rook III, Annie Gunn's