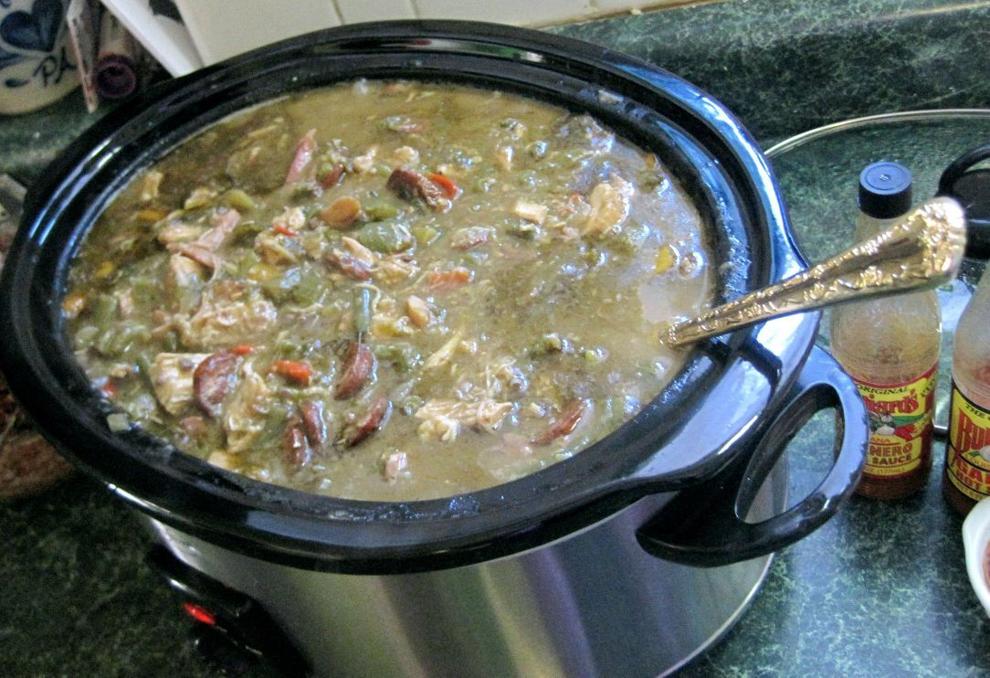 2 fully cooked rotisserie chickens
1 cup fat (chicken fat, bacon grease, butter or other)
2 tablespoons olive or vegetable oil
3 whole garlic cloves, peeled and roughly chopped
2 medium yellow onions, trimmed and cut in ½-inch dice
2 large stalk celery cut in ½-inch dice
1 large or 2 small red bell pepper, seeded and cut in ¾-inch pieces
1 large or 2 small green bell pepper, seeded and cut in ¾-inch pieces
½ pound green beans, ends trimmed, cut in ¾-inch pieces
1 large (8-inch) zucchini, cut in half lengthwise then cut in ¾-inch pieces
1 (8-ounce) bag frozen okra
1 ½ pounds precooked Andouille sausage, cut in ¼-inch slices
2 tablespoons filé gumbo powder
6 cups cooked rice (see notes)
Notes: The gumbo flavors blend best if the dish is made a day ahead. Hofer reheats the gumbo in a roasting pan covered with aluminum foil placed in a 425-degree oven for 45 minutes to an hour. Hofer uses red cargo rice for this gumbo.
1. The day before cooking the gumbo, make the stock. Remove skin from roasted chickens and place the skin in a large stockpot. Pull cooked meat from the bones. Cut chicken into ¾-inch pieces. Place in a covered container and refrigerate. Any meat left on bones will cook off during the making of the stock.
2. Add bones to skin in stockpot. Cover with water to a depth of 2 inches over bones and skin. Cook over medium high heat until it reaches a medium boil. Reduce heat and cook for 3 to 4 hours. Add water if necessary. Skim any scum off stock with a skimmer or spoon every 20 minutes.
3. Allow stock to cool, strain and refrigerate overnight. Remove hardened chicken fat from the stock and reserve for use in the roux.
4. The following day, make the roux. Use 1 cup of fat. It can be a mix of chicken fat, bacon grease, butter or oil. Heat the fat in an 8- or 9-inch skillet until it melts. Cast iron works well for this. Gradually add 2 cups of flour and stir into the fat to make a thick paste. Cook the flour paste, stirring constantly, until it darkens to a medium brown. It is essential not to burn the roux. If the roux burns, it will need to be made again. Remove from pan to a small mixing bowl, cool and refrigerate until ready to use.
5. Heat olive oil until it just shimmers in a 4- or 5-quart pot. Add garlic and stir to coat, reduce heat to low and cook 7 to 10 minutes. Don't allow the garlic to brown.
6. Add onions and celery to skillet, raise heat to medium low and cook for 5 minutes, stirring once. If needed, add a little chicken stock or water. Add red and green peppers, green beans, zucchini and frozen okra. Cook for 10 minutes.
7. Cover cooked vegetables with reserved chicken stock and bring to a slow boil over medium high heat. Stir in roux, a few tablespoonsful at a time, until desired thickness is reached. Turn heat to low and cook for 30 minutes. Add sausage and reserved chicken pieces. Season with salt and taste. Add filé gumbo powder and cook for 30 minutes longer. Taste, and adjust seasoning as needed.
8. Serve over cooked rice.
Per serving: 574 calories; 35g fat; 10g saturated fat; 117mg cholesterol; 36g protein; 30g carbohydrate; 7g sugar; 3g fiber; 905mg sodium; 72mg calcium.
Amy Bertrand 314-340-8284
@abertrand on Twitter