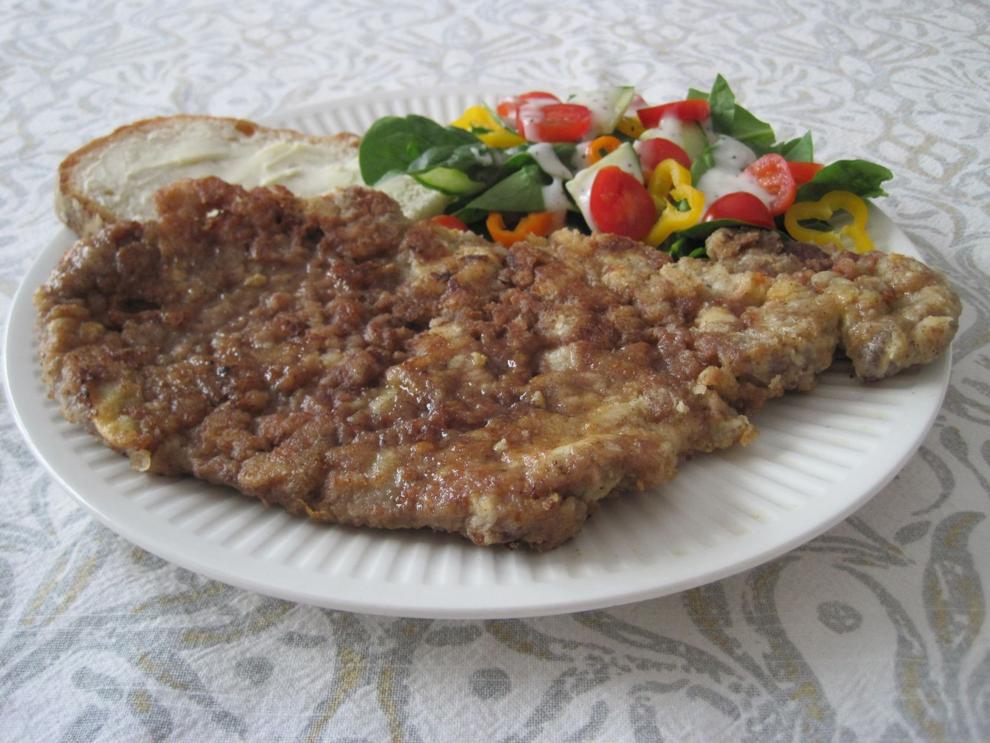 Yield: 1 large or 2 small servings
1 (6-ounce) sirloin steak
½ teaspoon ground black pepper
1 tablespoon very cold water
¾ cups seasoned flour (see notes)
¼ cup plus 2 tablespoons clarified butter
Notes: A meat tenderizer mallet with a textured side and a flat side works best to pound out the steak to the proper thickness. There are several alternative methods to pound the steaks shown in online videos that work without special tools.
• To make the seasoned flour for this recipe, whisk together 1 ¼-cups self-rising flour with ¼ cup plus 2 tablespoons cornstarch, ½ teaspoon black pepper, 3/8 teaspoon white pepper, ¼ teaspoon cayenne pepper, ½ teaspoon granulated garlic, and a pinch of marjoram. Store the leftover seasoned flour in an airtight container in a cool dark place for up to a year.
• Clarified butter has a higher smoke point than regular butter for frying these steaks. It also aids in browning. Directions to make it at home on the stovetop can be found online.
• To pan fry this steak, we used the largest skillet in the house, a nonstick 12-inch professional skillet, that just fit the pounded-out steak. A cast-iron skillet is preferable for this dish, but the nonstick skillet did work.
1. Pound out the steak, beginning in the center of the meat. Use the textured end of the mallet and pound, working out to the edges. Turn it over and repeat, turning each time, until the steak is pounded out to a 1/8-inch thickness and set aside. This step took about 20 minutes to complete.
2. Sprinkle salt and pepper over both sides of the steak.
3. Place the all-purpose flour in a shallow bowl or plate and dredge the pounded pieces, coating both sides. Set aside on a baking sheet or plate.
4. Set up to bread and fry the steak by whisking the egg and cold water together and place in a flat, shallow bowl. Add the seasoned flour to a separate shallow dish.
5. Preheat a large 10- or 12-inch skillet. Add clarified butter and raise heat to medium high.
6. To bread the steak, coat the floured meat on all sides with egg wash, then hold it up to drip off any excess.
7. Dredge the prepared meat through the seasoned flour, coating both sides.
8. Check the heat of the butter by dropping flour in the skillet. It should sizzle when ready but not brown immediately. If it browns, reduce the heat a little. Place the steak in the skillet and fry until the edges start to look golden brown. This step took 4 to 5 minutes in the test. Using a tongs, lift a corner to see that the bottom is nicely browned.
9. Turn the steak carefully with tongs and cook until done to an interior temperature of 150.
10. Removed steak to a plate lined with paper towels to absorb excess grease.
11. Plate and serve. The steak is often is topped with white or brown gravy.
Per serving (based on 2): 735 calories; 41g fat; 24g saturated fat; 235mg cholesterol; 31g protein; 61g carbohydrate; no sugar; 2g fiber; 671mg sodium; 58mg calcium