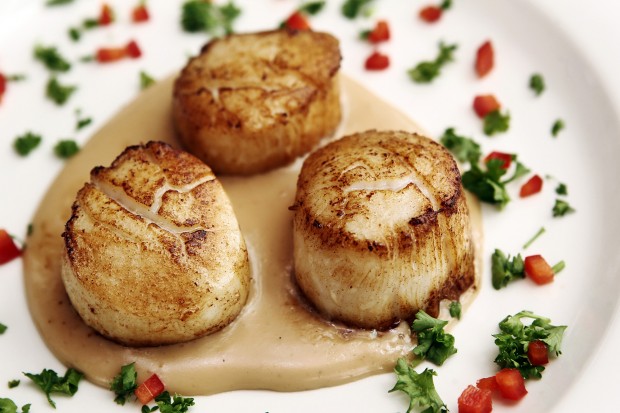 Q: For special celebrations, I dine at Surf & Sirloin in Des Peres and order the scallops. They are huge, with a sauce that is part of the delicious taste.
A: Surf & Sirloin is a "classic steak and seafood house," says Larry Karagiannis, who opened the restaurant in 1994 with his wife, Aleka. Both were born in Greece and immigrated as children with their families to the United States. Today, their son Haralambo ("Harry") heads the restaurant's kitchen. Aleka Karagiannis makes the restaurant's top-selling dessert, traditional Greek baklava, tiny triangles of phyllo soaked with honey, butter and spices.
Along with USDA prime beef, the Sea Scallops with Sherry Cream Sauce has been on Surf & Sirloin's menu from the beginning. For a dish so simple, Larry Karagiannis says, top-quality ingredients are essential: "Real butter. Heavy cream. Good sherry. Nice and thick fresh scallops."
Both generations of the family insist on dry-packed scallops, which are shucked and shipped without chemical additives. They cost more than wet-packed scallops but brown better and retain a briny sweetness. Most nights, the restaurant features large sea scallops plucked by divers from the sea floor off the coast of Maine. During November, expect smaller velvety Nantucket bay scallops, which Harry Karagiannis says are 'so good".
To best re-create this dish at home, make sure to cook the scallops in a very hot skillet. Otherwise, they will cook but remain pale.
Special Request is written by Kirkwood resident Alanna Kellogg, author of the online recipe column KitchenParade.com and "veggie evangelist" at the food blog about vegetables, A Veggie Venture.