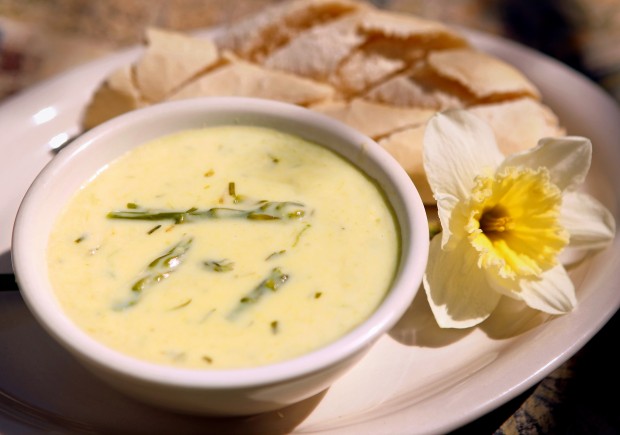 Yield: 4 1-1/2 cup servings
2 teaspoons dried tarragon
1. Slice off asparagus tips and reserve. Slice off woody stems and discard. Cut remaining spears into 2-inch pieces.
2. In a large pot, bring chicken stock and asparagus pieces to a boil, once boiling, reduce heat and let simmer about 10 minutes.
3. Transfer mixture to a blender and puree. (Caution: To avoid spewing hot liquid, always puree hot liquids in batches, filling blender no more than half full at a time.)
4. Return mixture to pot, add reserved asparagus tips, cream and tarragon and bring just to a boil but do not allow to boil.
5. To thicken the soup, stir together cornstarch and water until smooth. Stir into soup and cook, stirring often, until soup thickens, then for 5 more minutes.
6. Stir in butter a teaspoon at a time, stirring until butter melts.
7. To serve Magpie's-style, serve the hot soup with a slice of home-baked French bread on the side.
Per serving: 450 calories; 36g fat; 22g saturated fat; 125mg cholesterol; 10g protein; 23g carbohydrate; 6g sugar; 3g fiber; 375mg sodium; 90mg calcium.
Recipe adapted for home kitchens by the Post-Dispatch.