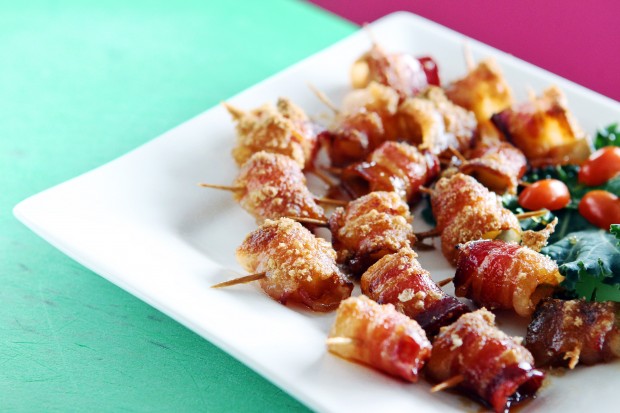 12 strips thick-cut bacon (16 to 18 slices per pound)
1 (15-ounce) can pineapple chunks, drained
3/4 cup packed brown sugar
1. Position an oven rack as low as possible. Preheat the oven to 375 degrees.
2. Cut bacon strips horizontally in half. Wrap a half-strip around a pineapple chunk; secure with a toothpick. Repeat with remaining strips and pineapple chunks. Arrange pieces in a baking dish or half-sheet pan in a single layer. Sprinkle with brown sugar.
3. Bake on bottom oven rack until bacon is crispy, about 20 to 35 minutes. Serve hot.
Per piece: 35 calories; 2.5g fat; 1g saturated fat; 5mg cholesterol; 2g protein; 1g carbohydrate; 1g sugar; no fiber; 125mg sodium; no calcium.
Note: If you double this recipe, use two baking dishes. Don't place more than 24 pieces in a single baking dish or the bacon will render so much fat that the appetizers won't cook properly.
Recipe adapted for home kitchens by the Post-Dispatch.