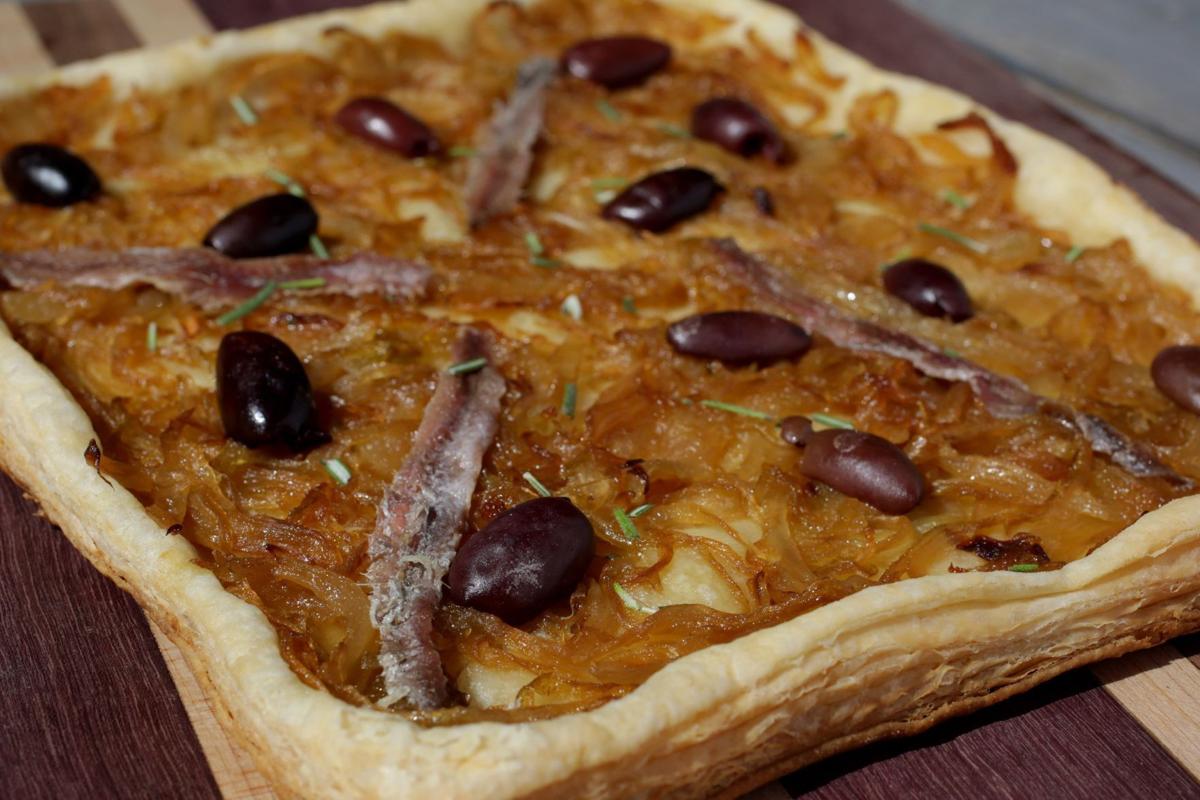 1 pound yellow onions, cut lengthwise into ¼-inch slices
1¼ teaspoons fresh rosemary, divided
1 sheet frozen puff pastry, thawed
8 pitted kalamata olives, halved lengthwise
4 to 6 anchovy fillets, optional
1. Preheat oven to 400 degrees. Line a baking sheet with parchment paper.
2. Heat the oil in a large skillet (preferably nonstick) over medium heat. Add the onions and salt, and cook, stirring often and adjusting the heat as needed, until the onions are caramelized, about 35 minutes; they should be soft and darkened to a golden shade of tan. If the onions are sticking in the pan, add a little water.
3. Add 1 teaspoon of the rosemary and season with salt to taste. Transfer to a plate and let cool to lukewarm, at least 15 minutes.
4. Meanwhile, prepare the dough. Gently unfold the sheet of puff pastry on a lightly floured surface. Mend any cracks in the seams by pinching the dough together. Roll out the dough to an 11-inch square. Lift it gently and set it on the prepared pan. Prick the dough with a fork in several places (but not the rim). Refrigerate until you're ready to assemble the tart.
5. Distribute the onions evenly over the dough (tuck in any strands that extend beyond the square, or they will burn). Arrange the olives evenly on top. If using, lay the anchovies between the olives. Bake until the crust is golden on top and underneath all the way to the center (lift it up to check), 20 to 25 minutes.
6. Transfer to a cutting board and sprinkle with the remaining ¼ teaspoon of rosemary. Serve warm.
Per serving: 264 calories; 18g fat; 3g saturated fat; 12mg cholesterol; 7g protein; 20g carbohydrate; 3g sugar; 2g fiber; 701mg sodium; 59mg calcium
Adapted from a recipe in "Knives Cooks Love" by Sarah Jay
Satisfy your cravings
With our weekly newsletter packed with the latest in everything food.