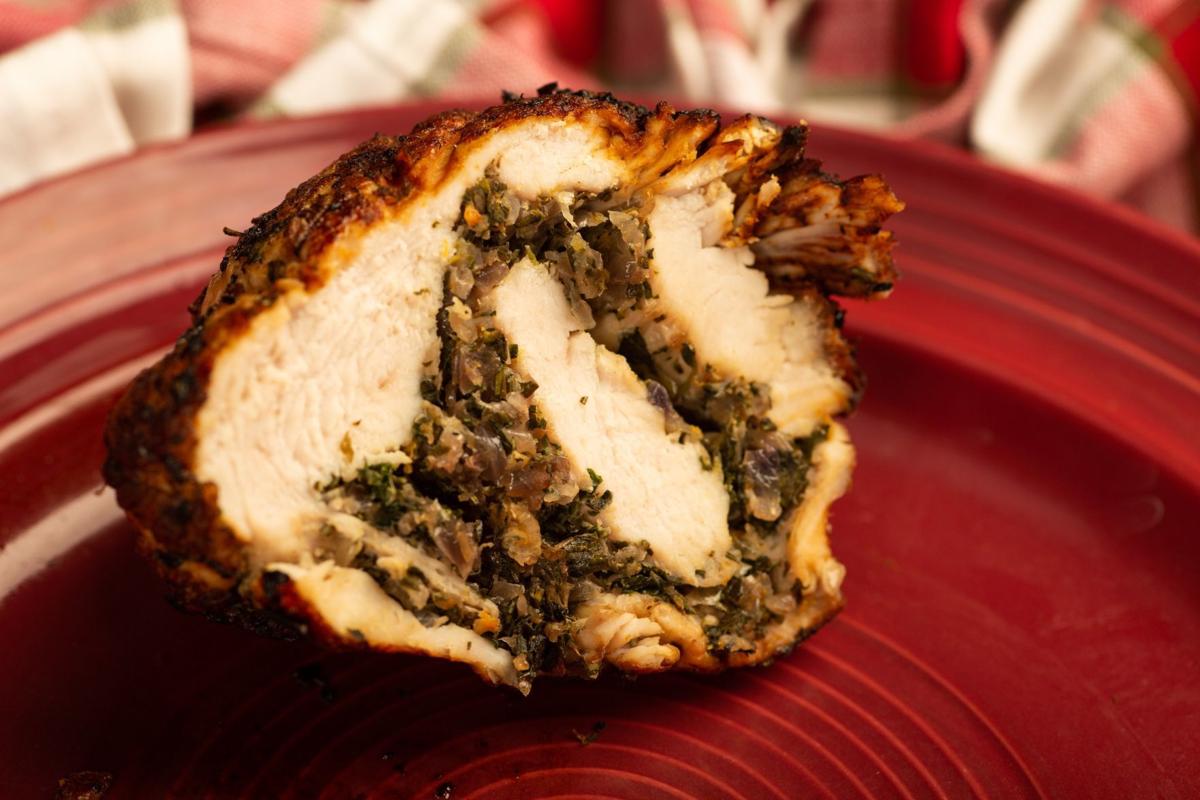 ¼ cup grapeseed or canola oil, divided
2 tablespoons fresh rosemary leaves, minced
1 tablespoon fresh tarragon leaves, minced
¼ cup fresh marjoram or oregano leaves, minced
4 fresh sage leaves, minced
¼ cup parsley leaves, minced
1 (4-pound) skin-on turkey breast, see note
Note: This recipe can also be made with skinless turkey breast.
1. Preheat oven to 350 degrees.
2. In a large sauté pan, heat 1 to 2 tablespoons of the oil over medium heat. Add the onions and garlic and cook until the onions turn translucent, about 3 to 5 minutes, stirring frequently. Add the orange zest, lemon zest, rosemary, tarragon, marjoram, sage and parsley, and cook 5 minutes. Remove from heat and let cool to room temperature.
3. Lay the turkey breast out on a plastic-wrap-covered cutting board and butterfly the flesh, leaving the skin as intact as possible, cutting so that it has a thickness of about ½ inch. Pound out the meat with a mallet, if needed, to flatten.
4. Evenly distribute the herb mixture on the inside of the turkey breast. Roll up the turkey, folding in the edges as you go (like a pinwheel), enclosing the outside surface of the rolled turkey with the skin as thoroughly as possible, if using turkey with skin.
5. Tie up the rolled turkey with a long piece of kitchen twine and use bamboo skewers to secure any areas that can't be easily tied. Sprinkle the rolled turkey with salt and pepper.
6. In a large sauté pan with an oven-safe handle, heat the remaining 2 tablespoons oil over medium-high heat. Sear the turkey on all sides and then place in the oven. Roast the turkey until fork-tender, with an internal temperature between 170 and 175 degrees as measured with a meat thermometer, about 55 minutes to 1 hour.
7. Remove the turkey from the oven and let rest 10 to 15 minutes before slicing.
Per serving: 355 calories; 11g fat; 1g saturated fat; 130mg cholesterol; 55g protein; 9g carbohydrate; 4g sugar; 1g fiber; 552mg sodium; 66mg calcium
Recipe by Robert Irvine via the Daily Meal